Ledger/LCJ newsletter 10-16-2020
The Ledger/LCJ newsletter for Friday
Subscribe to the Ledger/LCJ newsletter for $50 a year and also receive the Ledger's newspaper and e-edition.
The Ledger/LCJ daily podcast: https://www.spreaker.com/show/ledger-lcj-podcast
NEWS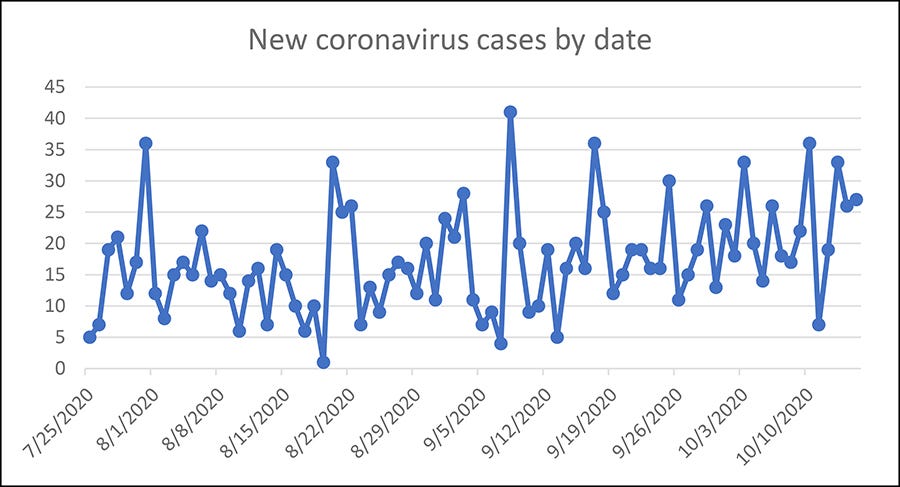 Coronavirus update 10-15-2020
LeFlore County had 27 new coronavirus cases in Thursday's report by the Oklahoma Department of Health.
Poteau had 10, Heavener five, Spiro four, Arkoma and Talihina each had two, while Bokoshe and Wister both had one.
The county now has 220 active cases, down two from Wednesday. LeFlore County has now had 1,514 cases with 1,274 recoveries and 20 deaths from coronavirus or complications from the virus.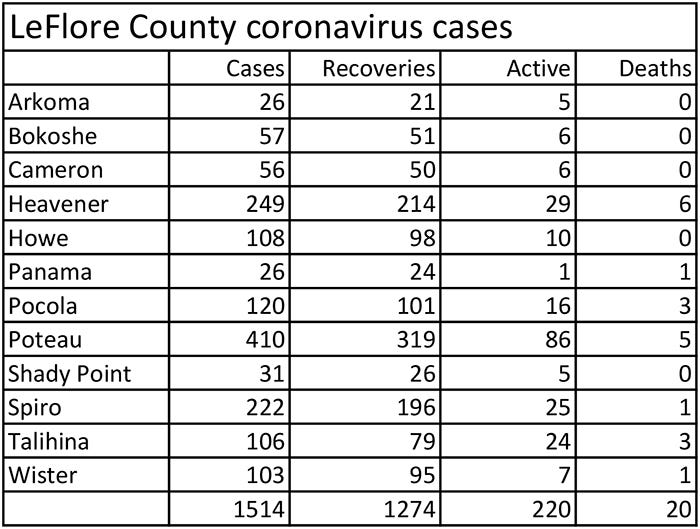 Poteau has the most active cases with 86, Heavener has 29, Spiro 25 and Talihina 24.
Oklahoma had 1,221 new cases, 11 deaths and 1,205 recoveries in Thursday's report. Oklahoma has now had 103,836 cases, 1,143 deaths and 88,780 recoveries. The state has 13,913 active cases, up five from Wednesday.
The United States had 59,494 new cases, 985 deaths and 31,201 recoveries. Totals are now 7,916,099 with 216,872 deaths and 3,155,794 recoveries. There are 4,543,433 active cases, up 27,308 from Wednesday.
Oklahoma unemployment lowest since pandemic start
OKLAHOMA CITY (AP) — Oklahoma's four-week average of unemployment claims has fallen below 100,000 for the first time since the jobless rate skyrocketed due to the coronavirus pandemic, the state employment security commission reported Thursday.
The rolling average for the week ending Oct. 10 was 90,445, down from 100,464 the previous week and the unadjusted number of initial claims was 4,840, down by 940 from the prior week's revised total 5,780.
A record of more than 182,000 continuing claims were reported in late June as the state reopened following Gov. Kevin Stitt's shutdown of many businesses to stem the spread of the virus.
The state health department on Thursday reported 1,221 additional virus cases and 11 more deaths due to COVID-19, the illness caused by the disease, for a total of 103,836 cases and 1,143 deaths since the pandemic began. The actual number of cases is likely higher because many people haven't been tested, and studies suggest people can be infected and not feel sick.
For most people, the virus causes mild or moderate symptoms that clear up in two to three weeks. For some, especially older adults and people with existing health problems, it can cause more severe illness, including pneumonia, and death.
SPORTS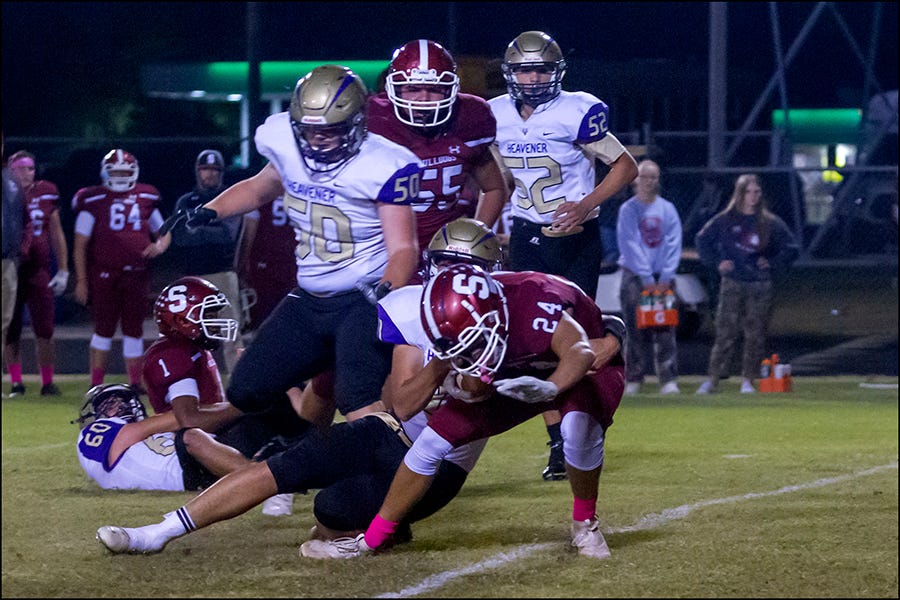 Spiro's Conner Rodgers tries to get away from Heavener's Jacob Thompson in Thursday's 42-0 win Thursday.
County teams capture two wins Thursday
LeFlore County football teams came away with two wins in Week 7 games Friday night.
Spiro took an easy 42-0 win over county rival Heavener, Poteau stayed perfect in district play with a 47-0 victory over Stilwell, Cascia Hall stayed atop the 2A-5 standings with a 35-7 win at Panama while Vian steamrolled Pocola, 84-0.
Talihina's game at Warner and Arkoma's contest at Cave Springs were cancelled due to coronavirus.
Spiro upped its record to 5-1 and 3-1 with the win over the Wolves (1-6, 0-4). Spiro travels to Keys next week while Heavener is back home to host Roland.
Poteau won its 21st straight district game with the blowout of Stilwell. The Pirates have now won five straight and are 5-2 overall, 4-0 in district play. Stilwell drops to 1-6 and 0-4.
The Pirates travel to Muldrow next week.
Cascia Hall improved to 6-1 overall and 4-0 in district play with the win at Panama (3-4, 2-2). Despite the loss, the Razorbacks are still in the running for a playoff spot. Panama visits Vian next week.
After getting handed a rare loss last week, Vian bounced back with a vengeance in the lopside win at Pocola. The Wolverines improve to 6-1 and 3-1. Pocola drops to 1-6 and 0-4.
Pocola goes to Cascia Hall next week.
Talihina is scheduled to play Colcord at home next week while Arkoma visits Watts. Talihina has only played twice and has not taken the field since Sept. 11. Arkoma's last two games have been cancelled.
Week 7 football scores
By The Associated Press
Ada 49, Harrah 7
Adair 52, Kansas 7
Anadarko 56, McLoud 22
Ardmore def. Capitol Hill, forfeit
Atoka 34, Hartshorne 0
Bixby 51, Sand Springs 20
Blackwell 37, Newkirk 19
Blanchard 34, Tecumseh 14
Booker T. Washington 49, Putnam West 0
Bristow 37, Cleveland 19
Broken Arrow 27, Yukon 22
Broken Bow 38, McLain/TSST 6
Cache 31, Chickasha 0
Cascia Hall 35, Panama 7
Checotah 42, Westville 6
Cherokee 48, Okeene 0
Choctaw 26, Muskogee 10
Collinsville 56, Glenpool 13
Community Christian 22, Christian Heritage Academy 21
Coweta 20, McAlester 17
Crescent 35, Watonga 6
Davenport 56, Depew 6
Dewar 46, Webbers Falls 0
Empire 40, Snyder 14
Enid 20, Edmond Memorial 7
Eufaula 51, Wilburton 6
Frederick 40, Comanche 14
Heritage Hall 49, Douglass 12
Hilldale 48, Muldrow 14
Hobart 48, Mangum 20
Holland Hall 31, Berryhill 7
Hooker 47, Burns Flat-Dill City 14
Idabel 26, Antlers 22
Kingfisher 38, Perkins-Tryon 31
Laverne 46, Seiling 0
Lincoln Christian 42, Seminole 13
Lindsay 26, Marietta 6
Marlow 35, Davis 6
Metro Christian 49, Victory Christian 21
Midway 46, Oaks 0
Midwest City 53, Deer Creek 0
Mustang 35, Edmond North 6
Newcastle 26, Bethany 14
Okmulgee 20, Haskell 0
Owasso 43, Southmoore 13
Pauls Valley 35, Madill 13
Perry 46, Alva 14
Pioneer-Pleasant Vale 48, Olive 0
Ponca City 10, Bartlesville 7
Poteau 47, Stilwell 0
Putnam North 10, Del City 6
Regent Prep 70, Drumright 18
Sallisaw 39, Fort Gibson 34
Sapulpa 64, Tulsa (Nathan) Hale 0
Sharon-Mutual 22, Boise City 14
Skiatook 42, Grove 21
Sperry 42, Salina 12
Spiro 42, Heavener 0
Stigler 56, Booneville, Ark. 14
Tulsa Edison 25, Durant 15
Tyrone 49, Corn Bible Academy 0
Union 62, Moore 12
Vian 84, Pocola 0
Wagoner 70, Miami 8
Waurika 56, Central High 6
Wayne 27, Dibble 21
Weleetka 12, Porum 6
Wewoka 55, Liberty 0
POSTPONEMENTS AND CANCELLATIONS=
Arkoma at Cave Springs, cancelled
Morris vs. Beggs, ccd.
Mount St. Mary vs. Bridge Creek, ccd.
Mountain View-Gotebo vs. Grandfield, ccd.
Talihina at Warner cancelled
Cincinnati-Tulsa game postponed
By RALPH D. RUSSO AP College Football Writer
No. 8 Cincinnati's game at Tulsa on Saturday has been postponed because of positive COVID-19 tests among Bearcats players.
The American Athletic Conference announced Thursday the game is being rescheduled for Dec. 5.
Later, FIU at Charlotte was postponed because of an increase in positive tests in the FIU program. Charlotte athletic director Mike Hill said in a statement the schools will work with Conference USA to reschedule the game in December.
The number of Cincinnati players who have tested positive or have been quarantined through contact tracing was not revealed by the school, which has not been making those numbers public throughout its testing of athletes.
Cincinnati is next scheduled to play Oct. 24 at No. 17 SMU.
FIU is scheduled to play Oct. 23 against Jacksonville, a game originally scheduled for Sept. 3 but pushed back when FIU delayed the start of its fall sports competition to Sept. 16.
Overall, six major college games slated to be played this week have been rescheduled because of the virus, including five since Sunday. The Southeastern Conference has called off two games, including LSU at No. 10 Florida, the first postponements in the league since it began Sept. 26.
The SEC was also rocked this week by the news that Alabama coach Nick Saban tested positive for the virus ahead of the second-ranked Crimson Tide's showdown at home with No. 3 Georgia. Saban said Wednesday he did not have symptoms. He is unlikely to coach Saturday against Georgia.
The number of games involving FBS teams to be postponed and canceled since Aug. 26 is now 31.
Tulsa has had three games postponed, including its opener against Oklahoma State, which it was able to make up. The Golden Hurricane have played only twice this season. They are scheduled to play at USF on Oct. 23.
"I'm disappointed, first, for our football student-athletes and coaches, and obviously for our staff who has prepared so diligently, our campus and the city of Tulsa," Tulsa athletic director Rick Dickson said. "This TU Homecoming game was a great opportunity to showcase our football program, the community and the American Athletic Conference against the nation's No. 8 team."
Like Tulsa, Charlotte has yet to be play a home game. The 49ers are next scheduled to play Oct. 24 at home against UTEP.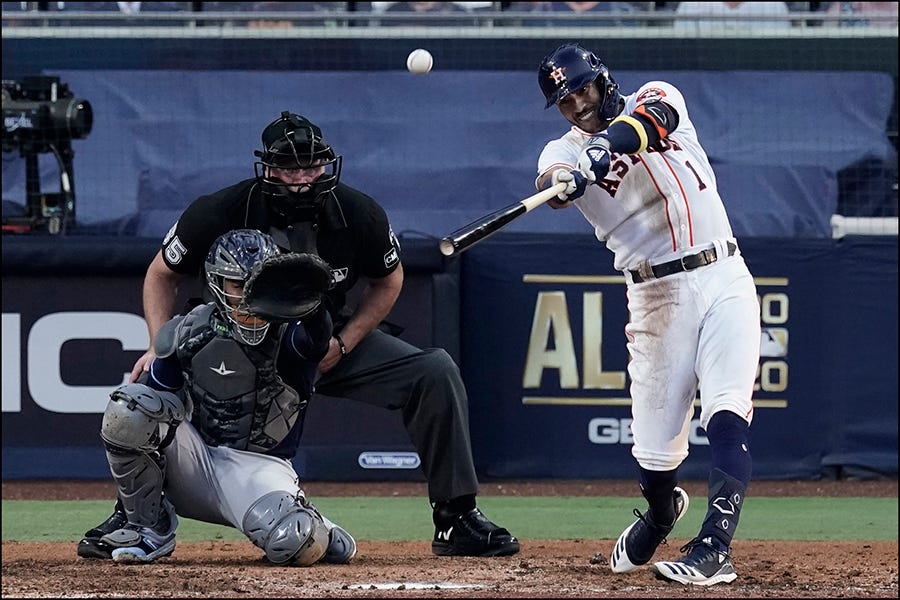 Houston Astros Carlos Correa hits a walk off home run during the ninth inning in Game 5 of a baseball American League Championship Series, Thursday, Oct. 15, 2020, in San Diego. The Astros defeated the Rays 4-3 and the Rays lead the series 3-2 games. (AP Photo/Jae C. Hong)
Correa keeps Astros alive in ALCS
By BERNIE WILSON AP Sports Writer
SAN DIEGO (AP) — Before Carlos Correa headed to the plate in the ninth inning of Game 5 of the AL Championship Series, he told Dusty Baker, "Walkoff."
The 71-year-old manager replied, "Go ahead, man," and then said a quick prayer to his father and brother.
If the Houston Astros had been forced to go extra innings against the Tampa Bay Rays, Baker thought, he'd have to burn Framber Valdéz, his projected Game 6 starter.
Baker's prayer was answered with a loud crack.
Correa homered with one out in the ninth, and the Astros beat the Rays 4-3 Thursday behind sensational pitching from five rookies, closing to 3-2 in the series.
Correa drove a fastball at the letters from Nick Anderson just past the palm trees to the right of the batter's eye at Petco Park, watched the ball for a few steps and then flung his bat. He was greeted at home by his ecstatic teammates and had a long hug with Baker.
"I don't mean no disrespect when I call my shot," said Correa, who added that he went to the indoor cage after his second and third at-bats to work with hitting coach Alex Cintron and make adjustments.
"We felt it and it was like, 'Wow. This feels good,'" the shortstop said.
He passed on his positive view to teammate Altuve after the eighth.
"I told Altuve walking off the field, 'I'm going to end it,'" Correa recalled. "I could feel that my swing was in sync, I could feel that my rhythm was good, I could feel that I wanted to drive the ball. When he threw me the fastball I swung good and got exactly what I wanted."
Correa is only 3 for 18 in the series, but two of the hits are homers.
Houston won a second straight elimination game thanks in large part to starter Luis Garcia  and four fellow rookies, who combined to hold the Rays to two runs and four hits through 6 2/3 innings before Baker finally turned to a veteran,  Josh James. Ryan Pressly, the seventh Astros pitcher, got the victory.
The Astros forced Game 6 on Friday, a rematch of the first game started by left-handers Blake Snell of Tampa Bay and Valdéz.
In the ALCS for a fourth straight year, the Astros are trying to join the 2004 Boston Red Sox as the only teams to come back from a 3-0 deficit in a best-of-seven series. The Red Sox beat the New York Yankees in the ALCS and went on to win their first World Series in 86 seasons.
Otherwise, big league clubs leading 3-0 in a best-of-seven postseason series are 37-1.
"Boy, that will go down as one of greatest games in history and hopefully go down as one of greatest comebacks in history after two more games," said Baker, the first manager to take five different teams to the playoffs. "That's as big a game as I've been involved in. That's one of the reason's that I came back."
The Astros, who got into the playoffs with a 29-31 regular-season record, are trying to reach the World Series for the third time in four years. They are attempting to get there in a year when they have been criticized for their role in a cheating scandal en route to the 2017 title that was uncovered last offseason.
Correa also hit a walkoff homer in Game 2 of the 2017 ALCS off Aroldis Chapman of the New York Yankees.
"I still made a good pitch, and he wasn't coming off the heater," Anderson said. "I don't think anybody is worried."
George Springer homered on opener John Curtiss' first pitch and Michael Brantley broke a tie with a two-run single. Houston became the first team with a leadoff and walk-off home run in a postseason game.
"You go from feeling pretty good about our chances to knowing the game was over a short time after that," Rays outfielder Kevin Kiermaier said.
Tampa Bay's Ji-Man Choi tied the game with a homer leading off the eighth.
Rookie Randy Arozarena continued his remarkable postseason by hitting his sixth homer in 12 games and Brandon Lowe also connected for the Rays, who need one more win to reach the Fall Classic for the second time.
Springer led off the bottom of the first by sending Curtiss' first pitch onto the second balcony of the Western Metal Supply Co. Building in the left field corner. On Wednesday night, he drove a two-run shot onto the third balcony to break a tie and lead the Astros to a 4-3 win.
It was his fourth homer this postseason and 19th of his career, the most in franchise history and tying Albert Pujols for fourth all-time.
After Lowe homered off Blake Taylor leading off the third to tie the game, Brantley hit a two-run single against Josh Fleming.
Arozarena pulled the Rays to 3-2 with an opposite-field shot to right-center off Enoli Paredes with one out in the fifth. Arozarena homered for the second straight game, third time this series and sixth time this postseason, tying the rookie record set by Tampa Bay's Evan Longoria in 2008.
His 20 postseason hits are two shy of Derek Jeter's rookie record in 1996.
Garcia held Tampa Bay hitless in two innings while striking out two and walking one. Taylor allowed one hit and one run in two-thirds of an inning, Paredes allowed one run and one hit in 1 2/3 innings, Andre Scrubb gave up two hits in 1 ½ innings and  Brooks Raley worked a scoreless inning with two strikeouts, including fanning Arozarena leading off the seventh.
Garcia, making his first postseason appearance, got out of a bases-loaded jam in the second. Paredes got consecutive strikeouts with runners on first and second in the fourth. Scrubb came on with a runner on first and one out in the fifth and struck out Yandy Diaz before allowing Ji-Man Choi's single. He got Manuel Margot to hit a grounder to third baseman Alex Bregman, who bare-handed it and threw him out to end the inning.
Baker's instincts won out again when he decided to leave in Garcia with two on and two out in the second. After a visit by pitching coach Brent Strom, Garcia walked Willy Adames and retired Mike Zunino on a flyout to the warning track.
Taylor took over opening the third and gave up Lowe's leadoff homer.
"We get to play another day," Baker said. "Tomorrow is huge. I mean, we're one step closer to getting over that mountain, and that hurdle that seemed way off in the distance a couple days ago."
 TRAINER'S ROOM
Rays: Kiermaier was out of the starting lineup a second straight day after getting hit by a pitch on the left hand on Tuesday night. He pinch ran in the ninth.
UP NEXT
Astros: Valdéz lost the ALCS opener 2-1.
Rays: Snell pitched five innings to win the opener.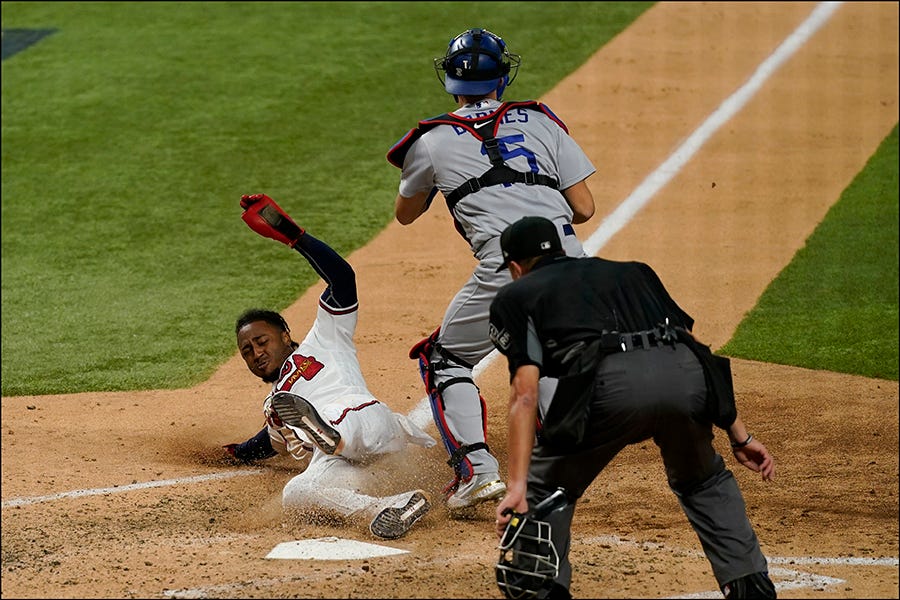 Atlanta Braves' Ozzie Albies scores past Los Angeles Dodgers catcher Austin Barnes on a double by Dansby Swanson during the sixth inning in Game 4 of a baseball National League Championship Thursday, Oct. 15, 2020, in Arlington, Texas. (AP Photo/Eric Gay)
Braves one win from Series
By STEPHEN HAWKINS AP Baseball Writer
ARLINGTON, Texas (AP) — Marcell Ozuna and the Atlanta Braves turned things around in a hurry, and now are one win from ending a two-decade World Series drought.
Ozuna homered twice, rookie right-hander Bryse Wilson made his postseason debut by outpitching a three-time Cy Young Award winner Clayton Kershaw and the Braves bounced back from a lopsided loss with a rout of their own, beating the Los Angeles Dodgers 10-2 on Thursday night.
"Feels good, feels really good," Braves manager Brian Snitker said. "Still have a lot of work to do, you know how quick things can turn. I was really proud of the guys, how they bounced back."
The Braves took a 3-1 lead in the NL Championship Series, a night after a 15-3 loss. Atlanta will try to reach its first World Series since 1999 when it plays Game 5 Friday night.
Atlanta became the first team in MLB history to have back-to-back games in a single postseason where they lost by at least eight runs and then won by at least eight runs, according to STATS.
Dustin May, the 23-year-old Texan who has thrown 4 2-3 scoreless innings in three appearances this postseason, will start for the Dodgers with them facing potential elimination. Atlanta will likely go with a bullpen day.
Ozuna had four hits and drove in four runs. It was 1-all in the sixth when the Braves scored six times, with MVP candidate Freddie Freeman hitting a tiebreaking double and Ozuna following with an RBI double that chased Kershaw.
A night after the Dodgers had a record 11-run first, they managed only one hit — a solo homer by Edwin Ríos — over six innings against the 22-year-old Wilson.
"He was in complete control. ... He had a really good look about him. He had good tempo, and the stuff was live," Snitker said. "It was huge, a huge effort by him."
Ronald Acuña Jr. led off the decisive six-run sixth with an infield single on a play that ended with him, Kershaw and second baseman Kiké Hernández all on the ground. They all took tumbles because of their effort, and weren't knocked down by the sometimes bothersome breezy conditions in the new Texas ballpark with the roof open.
Kershaw fell down after coming off the mound while reaching up to try to field the high chopper. Hernández went to the ground after grabbing the ball and making a sidearm throw then went wide while Acuña tumbled after passing the base and landed awkwardly on his left wrist that was irritated twice during the regular season. Acuña went to second base because of the errant throw after being tended to for several moments.
After trying glasses in the field and getting eyedrops early in the game, Freeman apparently had no problems seeing when he doubled home Acuña for a 2-1 lead before Ozuna followed with another double. Reliever Brusdar Graterol got the first out before giving up three consecutive hits, including Dansby Swanson's two-run double and Austin Riley's RBI single. Rookie Cristian Pache capped the inning with an RBI single that made it 7-1.
"They're similar to us as far as they build on momentum really well," Kershaw said. "It just seems like they have that domino effect when one thing gets going. They just continue to build on that. And they've got great hitters, too."
Freeman and Ozuna each added RBI singles in the eighth.
"We have fun today," Ozuna said. "Yesterday, before we start, we were on a little streak. Today, we come in with the same energy and give our best."
Atlanta had gotten even 1-1 in the fourth when Ozuna turned an 86 mph slider from Kershaw into a 109 mph rocket that went 422 feet to left for his second postseason homer. Ozuna went even deeper  in the seventh, a 434-foot shot to straightaway center.
Wilson became the third-youngest pitcher to allow one or no hits over at least six innings in a postseason game. He struck out five and walked one, starting with a 1-2-3 first on 10 pitches.
"Once I got out there and threw the first pitch I felt calm, cool and collected," Wilson said. "We were able to stick to the game plan and that helped a bunch to execute pitches."
Kershaw, scratched from his scheduled start in Game 2 two days earlier because of back spams, struck out four, walked one and allowed four runs on seven hits in five-plus innings. He is now 11-12 with 4.31 ERA in postseason, as opposed to his 175-76 record and 2.43 ERA in the regular season during his 13 years in the big leagues.
Ríos, batting seventh and the fourth left-hander in a row in the Dodgers starting lineup against Wilson, homered to right leading off the third.
After being left off the NL Division Series roster because of a groin injury, and not playing in the NLCS opener, Ríos homered when starting the last two games. He had one of the Dodgers' postseason record five on Wednesday night.
"It's tough. We've got three left," Ríos said. "We've just got to win 'em."
WIND BLOWN
Major League Baseball said it wanted to keep the roof open at $1.2 billion Globe Life Field — barring rain — when the agreement was reached for the new home of the Texas Rangers to host three rounds of the playoffs in the pandemic-shortened season. Fox reported during the telecast that Roberts told umpire Cory Blaser between innings that Kershaw and first baseman Max Muncy were having trouble seeing. The reported wind speed at the start of the game was 6 to 15 mph.
TOP OF THE ORDER
Acuña, Freeman and Ozuna — batting 1-2-3 for the Braves — were a combined 8 for 14, driving in six runs and scoring six.
"Coming off the game we had last night, we might have thought we needed an offensive day and those guys took care of business," Snitker said.
GIVING 'EM UP
Kershaw has now allowed 27 postseason homers, second most in history behind Andy Pettitte (31).
OTHER STORIES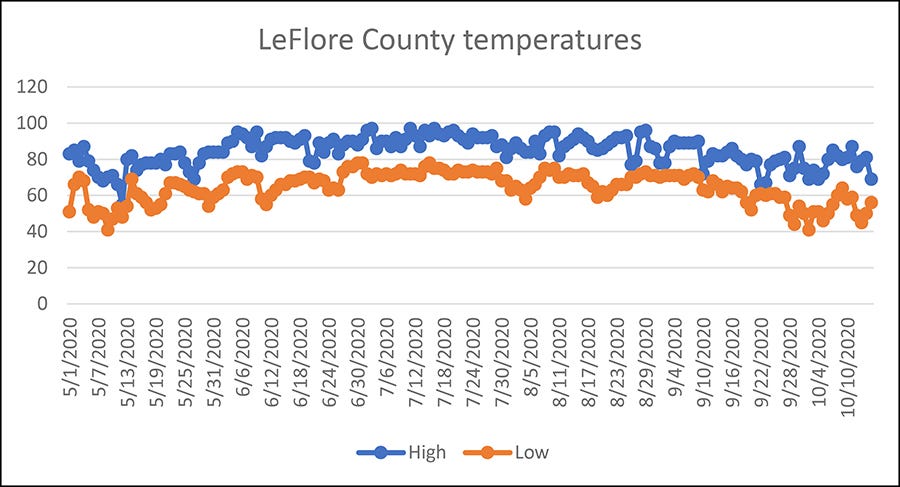 Cooler temperatures continue Friday in county
Mostly clear skies and cool again Friday in LeFlore County.
The high will be 68 degrees with a low of 47 degrees.
Sunrise is at 7:25 a.m. with sunset at 6:41 p.m.
Thursday's high was 69 with a low of 56.
Average temperatures for Oct. 16 are a high of 75 and a low of 45. Records for the date were a high of 91 in 1972 and a low of 27 in 1974.
LeFlore County calendar of events
The LeFlore County calendar of events lists the upcoming events in the area. This is a free service so if you or your group have an event coming up and would like it added to the calendar, please send an email to craig@heavenerledger.com.
Friday
Funeral service for Eulice Butler
Saturday
Faithbridge Methodist Church in Heavener yard sale 7:30 a.m. to 1:30 p.m.
Cross country: Poteau cross country meet
Funeral services for Leonard Thornburg
Spiro Mounds Archaeology month event
Monday
LeFlore County commissioners meet 9 a.m.
Cross country: Heavener at Wright City meet
Tuesday
Poteau Evening Lions Club meet 6 p.m. CASC
LeFlore County Democrat zoom meeting with Daniel Lanier at 6 p.m.
Wednesday
Poteau Rotary Club meets noon at EOMC
Thursday
Poteau Kiwanis Club meets noon at Western Sizzlin'
Heavener VFW bingo 6 p.m. Highway 59 north.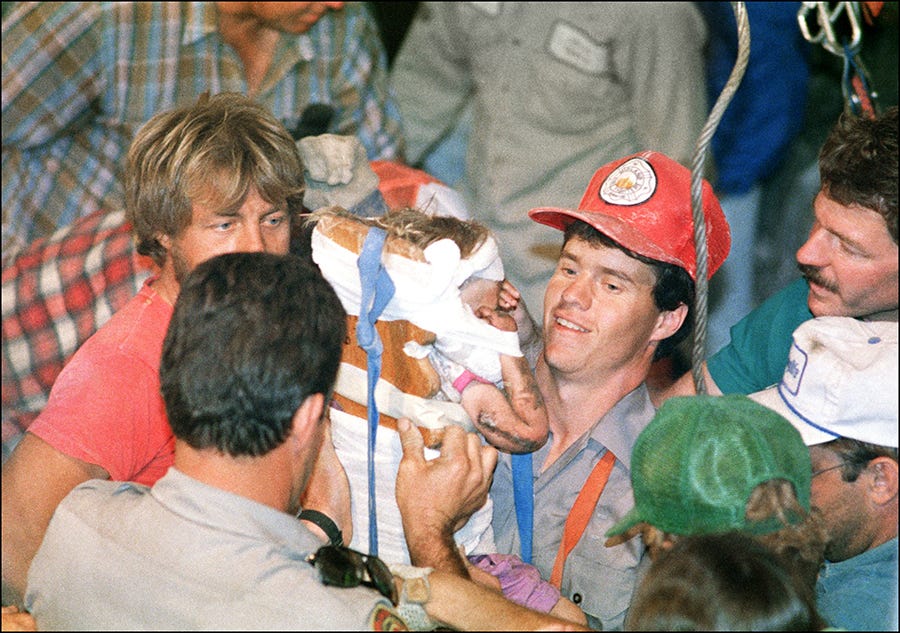 Rescue worker Steven Forbes carries 18-month-old Jessica McClure after she was rescued from abandoned water well in Midland, Texas, Oct. 16, 1987. (AP Photo/Eric Gay)
Today in history for Oct. 16
By The Associated Press
Today is Friday, Oct. 16, the 290th day of 2020. There are 76 days left in the year.
Today's Highlight in History:
On Oct. 16, 1968, American athletes Tommie Smith and John Carlos sparked controversy at the Mexico City Olympics by giving "Black power" salutes during a victory ceremony after they'd won gold and bronze medals in the 200-meter race.
On this date:
In 1793, during the French Revolution, Marie Antoinette, the queen of France, was beheaded.
In 1859, radical abolitionist John Brown led a group of 21 men in a raid on Harpers Ferry in western Virginia. (Ten of Brown's men were killed and five escaped. Brown and six followers were captured; all were executed.)
In 1901, Booker T. Washington dined at the White House as the guest of President Theodore Roosevelt, whose invitation to the Black educator sparked controversy.
In 1916, Planned Parenthood had its beginnings as Margaret Sanger and her sister, Ethel Byrne, opened the first birth control clinic in Brooklyn, New York. (The clinic ended up being raided by police and Sanger was arrested.)
In 1934, Chinese Communists, under siege by the Nationalists, began their "long march" lasting a year from southeastern to northwestern China.
In 1962, the Cuban missile crisis began as President John F. Kennedy was informed that reconnaissance photographs had revealed the presence of missile bases in Cuba.
In 1978, the College of Cardinals of the Roman Catholic Church chose Cardinal Karol Wojtyla (voy-TEE'-wah) to be the new pope; he took the name John Paul II.
In 1991, a deadly shooting rampage took place in Killeen, Texas, as a gunman opened fire at a Luby's Cafeteria, killing 23 people before taking his own life.
In 1995, a vast throng of Black men gathered in Washington, D.C. for the "Million Man March" led by Nation of Islam leader Louis Farrakhan.
In 2002, President George W. Bush signed a congressional resolution authorizing war against Iraq. The White House announced that North Korea had disclosed it had a nuclear weapons program.
In 2009, agricultural officials said pigs in Minnesota had tested positive for the H1N1 virus, or swine flu, the first such cases in the U.S.
In 2017, Army Sgt. Bowe Bergdahl, who had been captured and held by the Taliban for five years after walking away from his post in Afghanistan, pleaded guilty to desertion and endangering his comrades. (A military judge later decided not to send him to prison.)
Ten years ago: Iran freed an American businessman jailed in Tehran for more than two years on suspicion of ties to an allegedly violent opposition group. (Reza Taghavi, 71, hadn't been charged with a crime and denied knowingly supporting the organization, known as Tondar.) Actor Barbara Billingsley, the matriarch of TV's "Leave It to Beaver," died in Santa Monica, California, at age 94.
Five years ago: Interior Secretary Sally Jewell announced that the federal government was canceling federal petroleum lease sales in U.S. Arctic waters that had been scheduled for 2016 and 2017. Four Palestinians, including one assailant, were killed by Israeli fire amid continuing widespread unrest as the U.N. Security Council convened an emergency meeting to discuss the escalation.
One year ago: President Donald Trump declared that the U.S. had no stake in defending Kurdish fighters in Syria who had died by the thousands as America's partners against Islamic State extremists; Trump's stance on the Kurds was condemned by Democrats and some Republicans who'd been staunch Trump supporters. House Speaker Nancy Pelosi and other top Democrats walked out of a meeting at the White House, with Pelosi accusing Trump of having a "meltdown"; Trump replied on Twitter that it was Pelosi who had a "total meltdown" and called her a "very sick person." Bargainers for General Motors and the United Auto Workers reached a tentative contract deal to end a monthlong strike that brought the company's U.S. factories to a standstill. (Workers voted to approve the contract the following week.) Former Chicago Cubs manager Joe Maddon agreed to a three-year deal to manage the Los Angeles Angels.
Today's Birthdays: Actor Angela Lansbury is 95. Actor Peter Bowles is 84. Actor-producer Tony Anthony is 83. Actor Barry Corbin is 80. Sportscaster Tim McCarver is 79. Rock musician C.F. Turner (Bachman-Turner Overdrive) is 77. Actor Suzanne Somers is 74. Rock singer-musician Bob Weir is 73. Producer-director David Zucker is 73. Record company executive Jim Ed Norman is 72. Actor Daniel Gerroll is 69. Actor Morgan Stevens is 69. Actor Martha Smith is 68. Comedian-actor Andy Kindler is 64. Actor-director Tim Robbins is 62. Actor-musician Gary Kemp is 61. Singer-musician Bob Mould is 60. Actor Randy Vasquez is 59. Rock musician Flea (Red Hot Chili Peppers) is 58. Movie director Kenneth Lonergan is 58. Actor Christian Stolte is 58. Actor Todd Stashwick is 52. Actor Terri J. Vaughn is 51. Singer Wendy Wilson (Wilson Phillips) is 51. Rapper B-Rock (B-Rock and the Bizz) is 49. Rock singer Chad Gray (Mudvayne) is 49. Actor Paul Sparks is 49. Actor Kellie Martin is 45. Singer John Mayer is 43. Actor Jeremy Jackson is 40. Actor Caterina Scorsone is 40. Actor Brea Grant is 39. Actor Kyler Pettis is 28. Philadelphia Phillies outfielder Bryce Harper is 28. Tennis star Naomi Osaka is 23.