Ledger/LCJ newsletter 10-2-2020
The Ledger/LCJ newsletter for Friday
Subscribe to the Ledger/LCJ newsletter for a month for $5 or a year for $50 and also receive the Ledger's newspaper and e-edition.
NEWS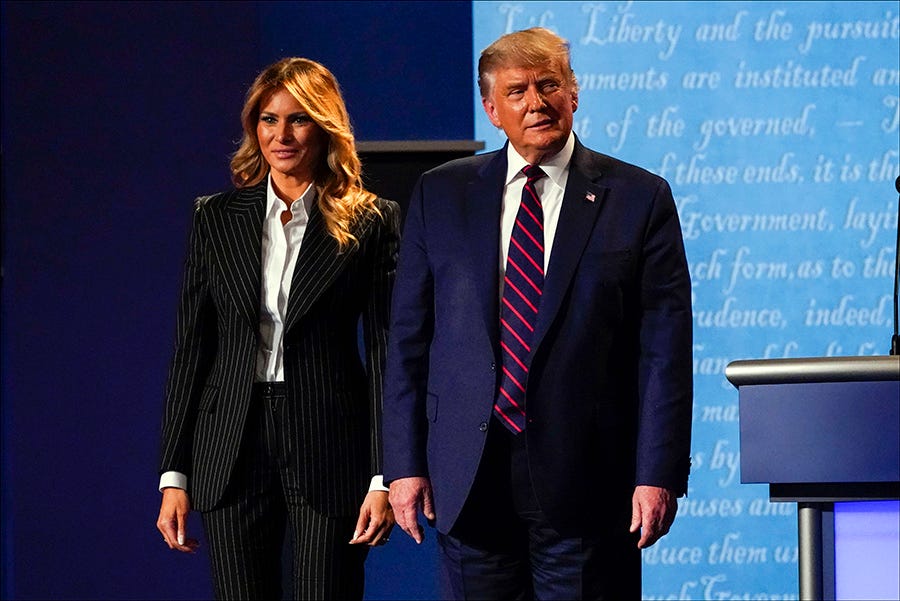 President Donald Trump stands on stage with first lady Melania Trump after the first presidential debate with Democratic presidential candidate former Vice President Joe Biden Tuesday, Sept. 29, 2020, at Case Western University and Cleveland Clinic, in Cleveland, Ohio. President Trump and first lady Melania Trump have tested positive for the coronavirus, the president tweeted early Friday. (AP Photo/Julio Cortez)
Trump, first lady test positive for coronavirus
By JILL COLVIN and ZEKE MILLER Associated Press
WASHINGTON (AP) — President Donald Trump said early Friday that he and first lady Melania Trump have tested positive for the coronavirus, a stunning announcement that plunges the country deeper into uncertainty just a month before the presidential election.
Trump, who has spent much of the year downplaying the threat of a virus that has killed more than 205,000 Americans, said he and Mrs. Trump were quarantining. The White House physician said the president is expected to continue carrying out his duties "without disruption" while recovering.
Still, Trump's diagnosis was sure to have a destabilizing effect in Washington, raising questions about how far the virus had spread through the highest levels of the U.S. government. Hours before Trump announced he had contracted the virus, the White House said a top aide who had traveled with him during the week had tested positive.
"Tonight, @FLOTUS and I tested positive for COVID-19. We will begin our quarantine and recovery process immediately," Trump tweeted just before 1 a.m. "We will get through this TOGETHER!"
Trump was last seen by reporters returning to the White House on Thursday evening and did not appear visibly ill. Trump is 74 years old, putting him at higher risk of serious complications from a virus that has infected more than 7 million people nationwide.
The president's physician said in a memo that Trump and the first lady, who is 50, "are both well at this time" and "plan to remain at home within the White House during their convalescence."
The diagnosis marks a devastating blow for a president who has been trying desperately to convince the American public that the worst of the pandemic is behind them. In the best of cases, if he develops no symptoms, which can include fever, cough and breathing trouble, it will force him off the campaign trail just weeks before the election.
Trump's handling of the pandemic has already been a major flashpoint in his race against Democrat Joe Biden, who spent much of the summer off the campaign trail and at his home in Delaware because of the virus. Biden has since resumed a more active campaign schedule, but with small, socially distanced crowds. He also regularly wears a mask in public, something Trump mocked him for at Tuesday night's debate.
"I don't wear masks like him," Trump said of Biden. "Every time you see him, he's got a mask. He could be speaking 200 feet away from me, and he shows up with the biggest mask I've ever seen."
There was no immediate comment from the Biden campaign on whether the former vice president had been tested since appearing at the debate with Trump or whether he was taking any additional safety protocols.
Trump had been scheduled to attend a fundraiser and hold another campaign rally in Sanford, Florida, on Friday evening. But just after 1 a.m., the White House released a revised schedule with only one event: a phone call on "COVID-19 support to vulnerable seniors."
Trump's announcement came hours after he confirmed that Hope Hicks, one of his most trusted and longest-serving aides, had been diagnosed with the virus Thursday. Hicks began feeling mild symptoms during the plane ride home from a rally in Minnesota on Wednesday evening, according to an administration official who spoke on condition of anonymity to disclose private information. She was isolated from other passengers aboard the plane, the person said.
Hicks had been with Trump and other senior staff aboard Marine One and Air Force One en route to that rally and had accompanied the president to Tuesday's presidential debate in Cleveland, along with members of the Trump family. They did not wear masks during the debate, in violation of the venue rules.
Multiple White House staffers have previously tested positive for the virus, including Vice President Mike Pence's press secretary, Katie Miller, national security adviser Robert O'Brien and one of the president's personal valets.
But Trump has consistently played down concerns about being personally vulnerable, even after White House staff and allies were exposed and sickened. Since the coronavirus emerged earlier this year, Trump has refused to abide by basic public health guidelines — including those issued by his own administration — such as wearing masks in public and practicing social distancing. Instead, he has continued to hold campaign rallies that draw thousands of supporters.
"I felt no vulnerability whatsoever," he said told reporters back in May.
The news was sure to rattle an already shaken nation still grappling with how to safely reopen the economy without driving virus transmission. The White House has access to near-unlimited resources, including a constant supply of quick-result tests, and still failed to keep the president safe, raising questions about how the rest of the country will be able to protect its workers, students and the public as businesses and schools reopen.
Questions remain about why it took so long for Trump to be tested and why he and his aides continued to come to work and travel after Hicks fell ill. Trump traveled to New Jersey on Thursday for a fundraiser, exposing attendees to the virus.
Pence's aides had no immediate comment on whether the vice president had been tested or in contact with Trump.
It is unclear where the Trumps and Hicks may have caught the virus, but in his Fox interview, Trump seemed to suggest it may have been spread by someone in the military or law enforcement.
"It's very, very hard when you are with people from the military or from law enforcement, and they come over to you, and they want to hug you, and they want to kiss you," he said, "because we really have done a good job for them. And you get close. And things happen."
The White House began instituting a daily testing regimen for the president's senior aides after earlier positive cases close to the president. Anyone in close proximity to the president or vice president is also tested every day, including reporters.
Yet since the early days of the pandemic, experts have questioned the health and safety protocols at the White House and asked why more wasn't being done to protect the commander in chief. Trump continued to shake hands with visitors long after public health officials were warning against it, and he initially resisted being tested.
Trump is far from the first world leader to test positive for the virus, which previously infected Brazilian President Jair Bolsonaro and British Prime Minister Boris Johnson, who spent a week in the hospital, including three nights in intensive care. Former Italian Prime Minister Silvio Berlusconi was hospitalized last month while fighting what he called a "hellish" case of COVID-19.
While there is currently no evidence that Trump is seriously ill, the positive test raises questions about what would happen if he were to become incapacitated due to illness.
The Constitution's 25th Amendment spells out the procedures under which the president can declare himself "unable to discharge the powers and duties" of the presidency. If he were to make that call, Trump would transmit a written note to the Senate president pro tempore, Republican Sen. Chuck Grassley of Iowa, and House Speaker Nancy Pelosi, D-Calif. Pence would serve as acting president until Trump transmitted "a written declaration to the contrary."
The vice president and a majority of either the Cabinet or another body established by law can also declare the president unable to discharge the powers and duties of his office, in which case Pence would "immediately assume the powers and duties of the office as Acting President" until Trump could provide a written declaration to the contrary.
Heavener School weekly update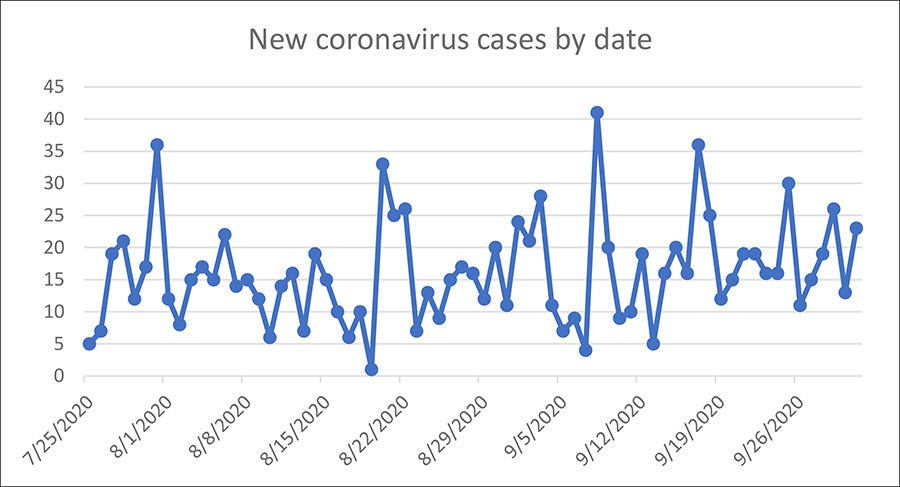 Coronavirus update 10-2-2020
LeFlore County had 23 new coronavirus cases in Thursday's report by the Oklahoma Department of Health.
Poteau had six cases, Spiro and Wister both had three, Arkoma, Cameron, Howe and Pocola had two, Panama, Shady Point and Talihina all had one.
The county now has 211 active cases, up from the 204 Thursday. Poteau has 68 active cases.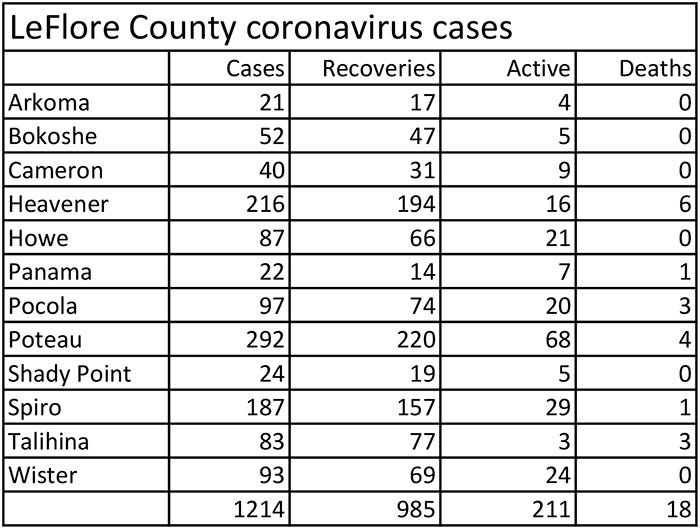 LeFlore County has had 1,214 cases, 985 recoveries and 18 deaths from the virus or complications from coronavirus.
Oklahoma had 1,170 new cases, four deaths and 1,383 recoveries Thursday. Overall, the state has had 88,369 cases, 1,035 deaths and 74,483 recoveries. Actual cases are 12,851, down 1.7 percent from Wednesday.
The United States had 44,717 new cases, 857 deaths and 19,962 recoveries. The totals are 7,277,759 cases, 207,789 deaths and 2,860,650 recoveries. Active cases are 4,209,320, up .6 percent from Wednesday.
SPORTS
LeFlore County sports scoreboard 10-1-2020
The LeFlore County scoreboard for Thursday.
Fast pitch softball
Class 4A district
Poteau 11, Wagoner 1
Poteau 11, Wagoner 7
Class 3A regional
At Pocola
Pocola 3, Morris 1
Pocola 2, Kansas 1
Class 2A regional
At Howe
Howe 7, Pawnee 0
Oktaha 7, Howe 2
At Pawhuska
Pawhuska 5, Panama 1
Panama 13, Chelsea 4
Class A regional
At Fairland
Fairland 4, Wister 3
Wister 10, Gans 0
Class B regional
At Whitesboro
LeFlore 10, Indianola 0
Whitesboro 12, Oaks 0
Whitesboro 10, LeFlore 0
Fall baseball
Regionals
Class A
At Dale
Byng 5, Wister 2
Class B
At Red Oak
Red Oak 10, LeFlore 0
At Varnum
Whitesboro 8, Moss 5
Varnum 12, Whitesboro 2
To report scores or information on LeFlore County teams, send an email to craig@heavenerledger.com or text (918) 372-3641.
All county teams expected to play Friday
For the first time in the 2020 football season, all seven LeFlore County football teams are expected to play Friday night.
There are some interesting matchups. The biggest game of the week has Spiro (3-0) and (1-0) visiting Cascia Hall (3-1 and 1-00,) which will go a long way toward determining the final district standings.
There is also a matchup of LeFlore County teams as Panama visits Heavener for the 62nd battle between the two teams. The Wolves lead the overall series 39-19-3, but Panama has won the last four games against Heavener.
Both teams are 1-3 and 0-1.
Poteau will look to improve to 2-0 in district play as the Pirates travel to Tulsa to take on McClain, which is 1-3 overall and 0-1 in district play after losing to Sallisaw, 18-12, last week. The Pirates have won two straight and defeated previously undefeated Hilldale, 38-24, despite playing without several starters.
Pocola hosts Keys in another district matchup with both teams looking for their first district win. Pocola lost to Roland while Keys was routed by Vian last week, 64-0.
After missing two games due to coronavirus, Talihina is expected to make it back on the field as the Golden Tigers visit Hulbert. Talihina is 0-2 while Hulbert is 0-3 and 0-1 after losing to Canadian last week in its district opener.
Arkoma will try to win its fourth straight game in the final non-district contest for the Mustangs as they host Weleetka (1-3).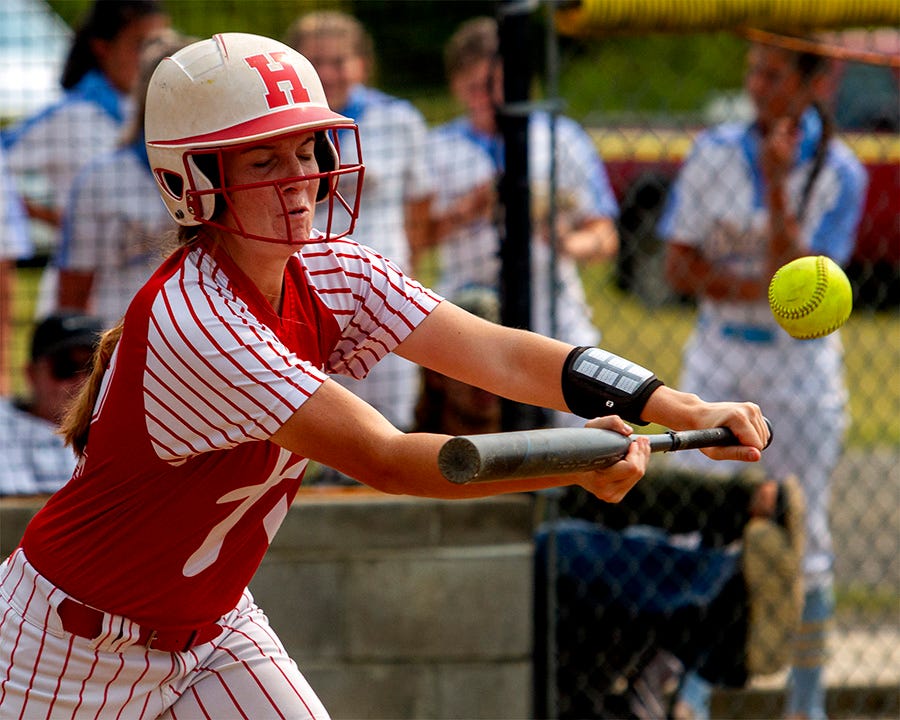 Howe's Caitlyn Stacy lays down a bunt in Howe's win over Pawnee.
Howe splits regional games
HOWE – Howe splits its regional fast pitch softball games here Thursday.
The Lady Lions opened with a 7-0 win over Pawnee, before coming up short against Oktaha, 7-2.
Howe plays Coalgate at noon with the winner advancing to play Oktaha.
In the win over Pawnee, Kalan Nye and Kaelbi Duval teamed up to throw a two hitter. Nye went four innings, allowing one hit with five strikeouts and two walks. Duval pitched three innings, also giving up one hit with two strikeouts.
After scoring two runs in the second, Howe added five more runs in the top of the fourth to seal the win.
Abby Huie was 3-4 with a RBI and a run; Karsyn Nye went 3-4 with a RBI and a run; Kalan Nye hasd a 2-5 game with a RBI; Dani Collins finished 2-4 with a run; and Caitlyn Stacy doubled while going 1-3.
Howe 7, Pawnee 0
HHS 0 2 0 5 0 0 0—7 14 0
PHS 0 0 0 0 0 0 0—0 2 3
In the second game, Howe held a 2-1 lead until Oktaha scored five runs in the top of the fifth.
Stacy doubled again and went 1-3 with two RBI.
Maddi Nobles pitched 4.1 innings, allowing five hits and three runs, two earned, with three strikeouts and a walk. Kalan Nye went the final 2.2 innings, giving up four hits and four runs, one earned, with a strikeout.
Oktaha 7, Howe 2
OHS 0 1 0 0 5 0 1—7 9 0
HHS 2 0 0 0 0 0 0—2 5 5
OTHER STORIES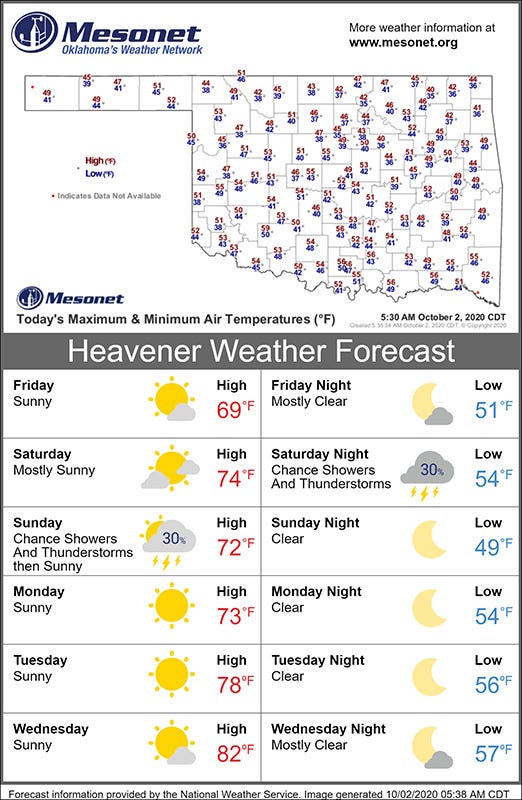 LeFlore County weather 10-2-2020
Partly cloudy skies and below-normal temperatures continue Friday with a high of 69 degrees and a low of 51 degrees.
Sunrise is at 7:14 a.m. with sunset at 7 p.m.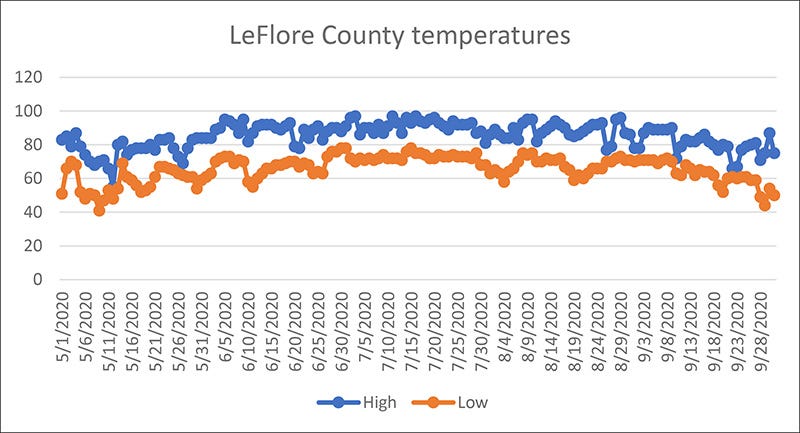 Thursday's high was 75 with a low of 50.
Average temperatures for Oct. 2 are a high of 80 and low of 51. Records for the date were a high of 92 with a low of 32.
Calendar of events
The LeFlore County calendar of events lists the upcoming events in the area. This is a free service so if you or your group have an event coming up and would like it added to the calendar, please send an email to craig@heavenerledger.com.
Friday
Funeral service for Dr. Terry Harrison
Funeral service for Grady Adams
Graveside funeral services for Larry McKinney
Funeral services for Elverett Permenter
High school football: Panama at Heavener; Poteau at Tulsa McLain; Spiro at Cascia Hall; Keys at Pocola; Talihina at Hulbert; Weleetka at Arkoma.
High school softball: Class 3A regional at Pocola; Class 2A regionals at Howe and Pawhuska; Class A regional at Fairland; Class B regional at Whitesboro.
Fall baseball: Class A regional at Dale; Class B regionals at Dale and Varnum
Saturday
Cross country: Poteau at Chili Pepper in Fayetteville
Monday
LeFlore County commissioners meet 9 a.m.
City of Poteau meetings 7 p.m.
Thursday
OK Motorcycle Rally
Cross country: Heavener at Greenwood, Arkansas meet
Poteau Kiwanis Club meets noon at Western Sizzlin'
Heavener VFW bingo 6 p.m. Highway 59 north.
Today in history for Oct. 2
By The Associated Press
Today is Friday, Oct. 2, the 276th day of 2020. There are 90 days left in the year.
Today's Highlight in History:
On Oct. 2, 1944, German troops crushed the two-month-old Warsaw Uprising, during which a quarter of a million people had been killed.
On this date:
In 1869, political and spiritual leader Mohandas K. Gandhi was born in Porbandar, India.
In 1890, comedian Groucho Marx was born Julius Marx in New York.
In 1941, during World War II, German armies launched an all-out drive against Moscow; Soviet forces succeeded in holding onto their capital.
In 1950, the comic strip "Peanuts," created by Charles M. Schulz, was syndicated to seven newspapers.
In 1958, the former French colony of Guinea in West Africa proclaimed its independence.
In 1967, Thurgood Marshall was sworn as an associate justice of the U.S. Supreme Court as the court opened its new term.
In 1970, one of two chartered twin-engine planes flying the Wichita State University football team to Utah crashed into a mountain near Silver Plume, Colorado, killing 31 of the 40 people on board.
In 1984, Richard W. Miller became the first FBI agent to be arrested and charged with espionage. (Miller was tried three times; he was sentenced to 20 years in prison, but was released after nine years.)
In 2002, the Washington, D.C.-area sniper attacks began, setting off a frantic manhunt lasting three weeks. (John Allen Muhammad and Lee Boyd Malvo were finally arrested for killing 10 people and wounding three others; Muhammad was executed in 2009; Malvo was sentenced to life in prison.)
In 2005, a tour boat, the Ethan Allen, capsized on New York's Lake George, killing 20 elderly passengers. Playwright August Wilson died in Seattle at age 60. Actor-comedian Nipsey Russell died in New York at age 87.
In 2017, rock superstar Tom Petty died at a Los Angeles hospital at the age of 66, a day after suffering cardiac arrest at his home in Malibu, California.
In 2018, President Donald Trump ignited a crowd at a campaign rally in Mississippi by mocking Christine Blasey (BLAH'-zee) Ford over her claim that she had been sexually assaulted by Supreme Court nominee Brett Kavanaugh decades ago; Trump also said it's a "very scary time for young men in America" who could be considered guilty based on an accusation.
Ten years ago: A coalition of progressive and civil rights groups marched by the thousands on the Lincoln Memorial in Washington D.C., pledging to support Democrats struggling to keep power on Capitol Hill.
Five years ago: President Barack Obama said he wouldn't sign another temporary government funding bill after the current one expired Dec. 11, insisting that congressional Republicans and Democrats work out a long-term budget deal with the White House. Secretary of Education Arne Duncan announced his resignation, which President Obama reluctantly accepted. Former Panamanian President Eric Arturo Delvalle, 78, who was deposed in 1988 after challenging then-dictator Manuel Noriega, died in Cleveland, Ohio.
One year ago: House Democrats threatened to make White House defiance of a congressional request for testimony and documents potential grounds for an article of impeachment. Secretary of State Mike Pompeo acknowledged for the first time that he had been on the phone call in which President Donald Trump pressed Ukraine's president to investigate Democrat Joe Biden. Democratic presidential candidate Bernie Sanders canceled campaign events "until further notice," a day after being treated for what his campaign later confirmed was a heart attack. A World War II-era plane with 13 people aboard crashed and burned at an airport near Hartford, Connecticut, after encountering mechanical trouble on takeoff; seven people were killed. A Dallas jury sentenced white former police officer Amber Guyger to 10 years in prison, a day after convicting her of murder in the killing of her Black upstairs neighbor; she said she had mistaken his apartment for her own.
Today's Birthdays: Retired MLB All-Star Maury Wills is 88. Movie critic Rex Reed is 82. Singer-songwriter Don McLean is 75. Cajun/country singer Jo-el Sonnier (sahn-YAY') is 74. Actor Avery Brooks is 72. Fashion designer Donna Karan (KA'-ruhn) is 72. Photographer Annie Leibovitz is 71. Rock musician Mike Rutherford (Genesis, Mike & the Mechanics) is 70. Singer-actor Sting is 69. Actor Robin Riker is 68. Actor Lorraine Bracco is 66. Country musician Greg Jennings (Restless Heart) is 66. Rock singer Phil Oakey (The Human League) is 65. Rhythm-and-blues singer Freddie Jackson is 64. Singer-producer Robbie Nevil is 62. Retro-soul singer James Hunter is 58. Former NFL quarterback Mark Rypien (RIP'-ihn) is 58. Rock musician Bud Gaugh (Sublime, Eyes Adrift) is 53. Folk-country singer Gillian Welch is 53. Country singer Kelly Willis is 52. Actor Joey Slotnick is 52. Rhythm-and-blues singer Dion Allen (Az Yet) is 50. Actor-talk show host Kelly Ripa (TV: "Live with Kelly and Ryan") is 50. Rock musician Jim Root (AKA #4 Slipknot) is 49. Singer Tiffany is 49. Rock singer Lene Nystrom is 47. Actor Efren Ramirez is 47. Rhythm-and-blues singer LaTocha Scott (Xscape) is 47. Gospel singer Mandisa (TV: "American Idol") is 44. Actor Brianna Brown is 41. Rock musician Mike Rodden (Hinder) is 38. Former tennis player Marion Bartoli is 36. Actor Christopher Larkin is 33. Rock singer Brittany Howard (Alabama Shakes) is 32. Actor Samantha Barks is 30. Actor Elizabeth McLaughlin is 27.