Ledger/LCJ newsletter 10-30-2020
The Ledger/LCJ newsletter for Friday
Subscribe to the Ledger/LCJ newsletter for $50 a year and also receive the Ledger's newspaper and e-edition.
NEWS
Heavener School update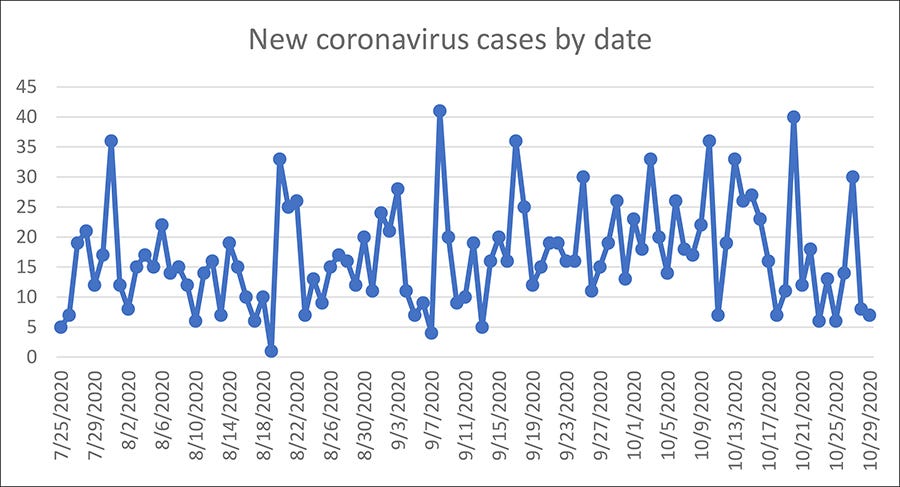 Coronavirus update 10-29-2020
LeFlore County had seven new coronavirus cases in Thursday's report by the Oklahoma Department of Health.
Poteau and Spiro both had two cases, Howe, Panama and Talihina each had one.
The county has 165 active cases, down three from Wednesday. LeFlore County has had 1,709 cases, 1,521 recoveries and 23 deaths from coronavirus or complications due to the virus.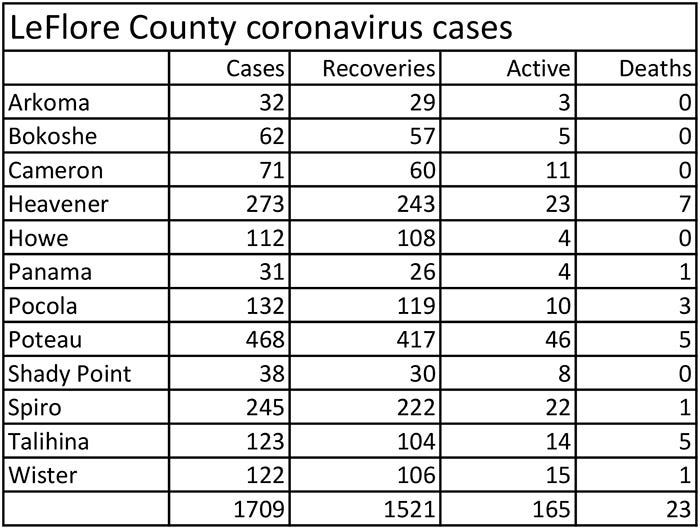 Oklahoma had 1,041 new cases, 20 deaths and 1,127 recoveries in Thursday's report. The state now has had 120,193 cases, 1,306 deaths and 103,919 recoveries. Active cases are 14,968, down 106 from Wednesday.
The United States had 78,981 new cases, 994 deaths and 30,474 recoveries. Overall, the nation has had 8,856,413 cases, 227,685 deaths and 3,518,140 recoveries. Active cases are 5,110,588, up 47,513 from Wednesday.
Talihina man injured in auto accident
A Talihina man was injured in an auto accident Thursday on Highway 1, approximately 8.5 miles west of Talihina in LeFlore County.
Danny Griffitts, 69, was driving a 2000 Ford truck eastbound when the vehicle departed the roadway, went 300 feet, struck a culvert, rolled one-half time and landed on its top.
He was transported by LeFlore County EMS to Choctaw Nation Hospital in Talihina with internal injuries. He was later taken by Life Flight to St. Francis Hospital in Tulsa, where he is in guarded condition for internal injuries.
The accident report said the cause of the accident was driving under the influence of alcohol.
He was not wearing a seatbelt. Airbags were equipped and deployed.
The accident was investigated by Trooper Ryan Williams, assisted by Choctaw Nation Tribal Police Department, LeFlore County EMS and the Talihina Fire Department.
SPORTS
Five county teams in action Friday
Only five LeFlore County football teams are scheduled to be in action for Week 9 games Friday night.
Spiro's game at Vian and Gans at Arkoma were both canceled.
Heavener (1-7 and 0-5) visits Pocola (1-7 and 0-5) for a game to decide the cellar dweller in District 2A-5 and seedings for the postseason if both teams choose to participate. This is the first game between the two county schools since 2011.
The Wolves lead the series, 17-9, which dates back to 1978.
Poteau (6-2 and 5-0) will be shooting for its 22nd straight district win when the Pirates host Fort Gibson (6-2 and 3-2), which has lost its two previous games. Poteau could clinch the District 4A-4 championship with a win and if Sallisaw defeats Broken Bow.
After two straights weeks against district heavyweights Cascia Hall and Vian, Panama (3-5, 2-3) hosts Keys (2-6, 2-3) in a contest which will help determine the postseason seedings. The Razorbacks still have a shot at finishing fourth, but must defeat the Cougars this week and win at Roland next week.
Talihina is looking for its first win as the Golden Tigers (0-3, 0-1) visit Central Sallisaw (2-5, 1-3) in another district contest. Talihina played last week for the first time since Sept. 11.
OTHER STORIES
Veterans Day parade set for Nov. 7
POTEAU - The annual Veterans Day parade is Nov. 7 in downtown Poteau.
The parade starts at 10 a.m. Line up begins at 9 a.m. at Carl Albert State College. Bands and walking groups will need to be at the Reynolds Center.
The theme is Veterans Answer the Call: Always and Forever. This year, the spotlight is on women veterans. All women veterans are invited to participate in the parade by riding in the float provided by Wanda Ludwig or you could use your own float or vehicle. All spectators are encouraged to wear a mask or social distance while supporting the veterans.
This year's grand marshals are Wanda Ludwig, Chapter Commander of the Disabled American Veterans Chapter #63, and Bonnie Prigmore, director of the LeFlore County Museum at Hotel Lowrey.
Ludwig joined the U. S. Navy in 1969, serving three years active duty at Quantico Marine Base Naval Hospital as a Medical Corp Field Medic. She then served three years reserve duty in Connecticut. She volunteered as a band mom for a number of years in Port Orchard, Washington and established the first Community Band – a band for all ages and they specialized in marching.
After serving her nation and raising a family, she and her husband moved to Poteau and in 2012 joined the local DAV Chapter. She has spent many hours helping other veterans receive the benefits they need. She helped start the first food truck delivery in southeastern Oklahoma. It continues to serve 125 plus people each quarter. She is active with the LeFlore County Veterans Parade Association and volunteers each year as a bell ringer for the Salvation Army.
Prigmore joined the U.S. Air Force in 1974 where she spent 4 ½ years at F. E. Warren AFB in Cheyenne, Wyoming as a Law Enforcement Specialist. After her time in the military, she completed her BA degree and raised her family. She then worked as the director for the Retired and Senior Volunteer Program in Amarillo, Texas. Bonnie moved back to the Poteau area in 2002 and took the job of Poteau Chamber of Commerce Director. During her time there, she worked with Jim Berngen to bring the Vietnam Veterans Moving Wall to Poteau. From that experience she helped form the LeFlore County Parade Association and continues to serve on their board.
She serves a Secretary/Treasurer with her church and serves as President of Maxey Cemetery Association. She serves on the advisory board of the EAST program at Kiamichi Technology Center.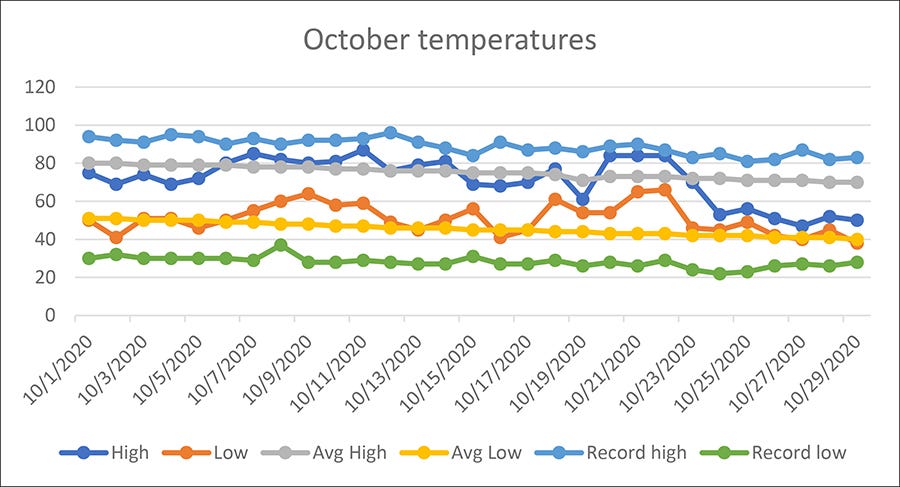 Warmer temperatures returning to LeFlore County
Partly cloudy skies and warmer temperatures during the day Friday in LeFlore County.
The high will be 64 degrees, 14 degrees warmer than Thursday, with a low of 38 degrees. The temperature for kickoff tonight at 7 is 54 with the temperatures dropping to 46 at 10.
Sunrise is at 7:37 with sundown at 6:25.
Thursday's high was 50 degrees with a low of 38 degrees.
Average highs for Oct. 30 are a high of 69 and a low of 40.
Records for the date were a high of 82 in 1978 and a low of 20 in 1980.
For the weekend, nice weather is expected both days with clear skies along with a high of 66 and low of 42 Saturday. On Sunday, a high of 60 and low of 30.
The long-term forecast shows no rain for the next week.
LeFlore County calendar of events
The LeFlore County calendar of events lists the upcoming events in the area. This is a free service so if you or your group have an event coming up and would like it added to the calendar, please send an email to craig@heavenerledger.com.
Friday
Memorial service for Misty Potter
Memorial service for Lynn Dees
Trick or treat celebration at Cecil Leachman Arena in Heavener
High school football: Heavener at Pocola; Fort Gibson at Poteau; Keys at Panama; Talihina at Sallisaw Central.
Saturday
Memorial service for Freddie Bennett
Funeral service for Jacqueline Camel
Halloween walk downtown Poteau 3 to 5 p.m.
Heavener FBC Hallelujah Carnival 5 to 7 p.m.
Monday
LeFlore County commissioners meet 9 a.m.
Memorial service for Jonnie Myers
Funeral service for Howard Cox
Heavener Lions Club meets 5 p.m. at Western Sizzlin
City of Poteau meetings 7 p.m.
Tuesday
General election
Poteau Evening Lions Club meet 6 p.m. CASC
High school basketball: Wister at LeFlore
Wednesday
Cross country: Heavener at state meet in Edmond Sante Fe
Poteau Rotary Club meets noon at EOMC
Thursday
Poteau Kiwanis Club meets noon at Western Sizzlin'
Heavener VFW bingo 6 p.m. Highway 59 north
HUA and City Council meets 6 p.m.
High school basketball: Wister at Clayton; Buffalo Valley at Whitesboro
High school football: Vian at Heavener.
Today in history for Oct. 30
By The Associated Press
Today is Friday, Oct. 30, the 304th day of 2020. There are 62 days left in the year.
Today's Highlight in History:
On Oct. 30, 2005, the body of Rosa Parks arrived at the U.S. Capitol, where the civil rights icon became the first woman to lie in honor in the Rotunda; President George W. Bush and congressional leaders paused to lay wreaths by her casket.
On this date:
In 1735 (New Style calendar), the second president of the United States, John Adams, was born in Braintree, Massachusetts.
In 1885, poet Ezra Pound was born in Hailey, Idaho.
In 1912, Vice President James S. Sherman, running for a second term of office with President William Howard Taft, died six days before Election Day. (Sherman was replaced with Nicholas Murray Butler, but Taft, the Republican candidate, ended up losing in an Electoral College landslide to Democrat Woodrow Wilson.)
In 1921, the silent film classic "The Sheik," starring Rudolph Valentino, premiered in Los Angeles.
In 1961, the Soviet Union tested a hydrogen bomb, the "Tsar Bomba," with a force estimated at about 50 megatons. The Soviet Party Congress unanimously approved a resolution ordering the removal of Josef Stalin's body from Lenin's tomb.
In 1974, Muhammad Ali knocked out George Foreman in the eighth round of a 15-round bout in Kinshasa, Zaire (zah-EER'), known as the "Rumble in the Jungle," to regain his world heavyweight title.
In 1975, the New York Daily News ran the headline "Ford to City: Drop Dead" a day after President Gerald R. Ford said he would veto any proposed federal bailout of New York City.
In 1984, police in Poland found the body of kidnapped pro-Solidarity priest Father Jerzy Popieluszko (YEHR'-zee pah-pee-WOOSH'-goh), whose death was blamed on security officers.
In 1985, schoolteacher-astronaut Christa McAuliffe witnessed the launch of the space shuttle Challenger, the same craft that would carry her and six other crew members to their deaths in Jan. 1986.
In 1995, by a razor-thin vote of 50.6 percent to 49.4 percent, Federalists prevailed over separatists in a Quebec secession referendum.
In 2001, Ukraine destroyed its last nuclear missile silo, fulfilling a pledge to give up the vast nuclear arsenal it had inherited after the breakup of the former Soviet Union.
In 2002, Jam Master Jay (Jason Mizell), a rapper with the hip-hop group Run-DMC, was killed in a shooting in New York. He was 37.
Ten years ago: President Barack Obama implored voters to resist a Republican tide, warning that if the GOP prevailed in midterm elections, all the progress of his first two years in office could be "rolled back." Comedians Stephen Colbert and Jon Stewart headlined a "Rally to Restore Sanity and/or Fear" in Washington attended by tens of thousands. The Texas Rangers beat San Francisco 4-2, cutting the Giants' World Series edge to 2-1.
Five years ago: The United States escalated its fight against the Islamic State in Syria, pledging the first open deployment of military boots on the ground. A fire broke out at a nightclub in Bucharest, Romania, killing 64 people. Character actor Al Molinaro, 96, died in Glendale, California. The New York Mets defeated the Kansas City Royals, 9-3, in Game 3 of the World Series, cutting the Royals' lead to 2-1.
One year ago: The Washington Nationals won the first World Series title in franchise history, capturing Game 7 over the Houston Astros by a score of 6-2; the team had rallied from behind to win five elimination games in the post-season and had achieved all four of their wins in the World Series in Houston's ballpark. Reacting to growing concern about the spread of misinformation on social media, Twitter banned all political advertising from its service. New York City lawmakers passed a bill banning restaurants and grocery stores from selling foie gras, the fattened liver of a duck or goose; animal welfare activists said the methods used to produce it were cruel.
Today's Birthdays: Movie director Claude Lelouch is 83. Rock singer Grace Slick is 81. Songwriter Eddie Holland is 81. Rhythm-and-blues singer Otis Williams (The Temptations) is 79. Actor Joanna Shimkus is 77. Actor Henry Winkler is 75. Broadcast journalist Andrea Mitchell is 74. Rock musician Chris Slade (Asia) is 74. Country/rock musician Timothy B. Schmit (The Eagles) is 73. Actor Leon Rippy is 71. Actor Harry Hamlin is 69. Actor Charles Martin Smith is 67. Country singer T. Graham Brown is 66. Actor Kevin Pollak is 63. Rock singer-musician Jerry De Borg (Jesus Jones) is 60. Actor Michael Beach is 57. Rock singer-musician Gavin Rossdale (Bush) is 55. Actor Jack Plotnick is 52. Comedian Ben Bailey is 50. Actor Billy Brown is 50. Actor Nia Long is 50. Country singer Kassidy Osborn (SHeDAISY) (sh-DAY'-zee) is 44. Actor Gael Garcia Bernal is 42. Actor Matthew Morrison is 42. Business executive and presidential adviser Ivanka Trump is 39. Actor Fiona Dourif is 39. Actor Shaun Sipos (SEE'-pohs) is 39. Actor Tasso Feldman is 37. Actor Janel (juh-NEHL') Parrish is 32. Actor Tequan Richmond is 28. Actor Kennedy McMann is 24.
OBITUARIES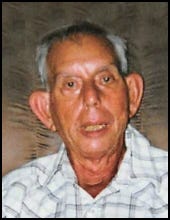 Obituary for Odis Nobles
HOT SPRINGS, Ark. - Odis Duane Nobles, 74, of Hot Springs, Arkansas, gained his wings on Wednesday, Oct. 21, 2020.

He was born Aug. 28, 1946, in Reichert, the son of Odis Athel Nobles and Velma Mae McLaughlin Nobles.
Graveside services were held Monday, Oct. 26, 2020, in the New Mount Pleasant Cemetery with Bro. George Vincent officiating.
Arrangements were under the direction of Davis-Smith Funeral Home of Hot Springs.
Odis was his daddy's sidekick from the time he was a young boy, roofing houses with both parents. He helped contribute to the construction of Hot Springs Village by hauling rocks and gravel and also worked for the forestry service for many years before retiring due to disabilities.

In his later years, he rode miles with his brother-in-law, looking for deer, something he loved to do, even though he didn't hunt. He loved fishing and riding in the boat. Odis also enjoyed spending time with his grand-niece and grand-nephews. He was loved by all who knew him and he never met a stranger.

Odis is survived by his mother, Velma Mae Nobles, of Hot Springs; his sister, Velma Jean Reichardt, of Hot Springs; his brother-in-law, Kenith Kelley, of Hot Springs; one niece, Melissa Black; three nephews Larry Kelley, Ricky Kelley and Cory Reichardt; two grand-nieces; four grand-nephews; numerous extended family members; and a host of wonderful friends.

He was preceded in death by his father; four grandparents; one infant sister; and his younger sister, Glenda Joyce Kelley.

Guest registry is at www.davis-smith.com.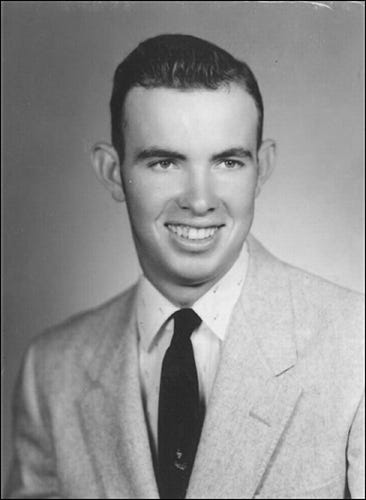 Services planned for Howard Cox
SPIRO - Funeral service for Howard Robert Cox, 82 of Spiro, is Monday at 1 p.m. at Mallory-Martin Funeral Home Chapel in Spiro with Rev. Danny Green officiating. Burial will follow at Spiro City Cemetery, under the direction of Mallory-Martin Funeral Home of Spiro.
He was born March 10, 1938 in Stoney Point to Viola Elvia (Shockley) Cox and Rudolph Oma Cox and passed away Oct. 28, 2020 in Fort Smith, Arkansas.
Survivors include his wife of 61 years, Sue Cox; daughter, Paula Cox; son David Cox and wife Vickie; grandchildren Felicia Cox and Sean Cox; great grandchildren, Caleb Cox, Aslyn Cox, Brendan Weindel and Ethan Weindel.
He was preceded in death by his parents; daughter, Kelly Cox; and brother, George Cox.
Viewing is Sunday from noon to 7 p.m. at the funeral home with family visitation from 2 to 4 p.m.
To sign his online guest book, visit www.mallorymartinfuneralhome.com.