Ledger/LCJ newsletter 8-21-2020
The Heavener Ledger/LCJ daily newsletter of LeFlore County, state and national news, sports, obits and more.
Thank you for visiting the Ledger/LCJ daily newsletter. Subscribe for a month for $5 or a year for $50 and also receive the Ledger's newspaper and e-edition. Plus, you help support local journalism and a locally owned and operated organization.
News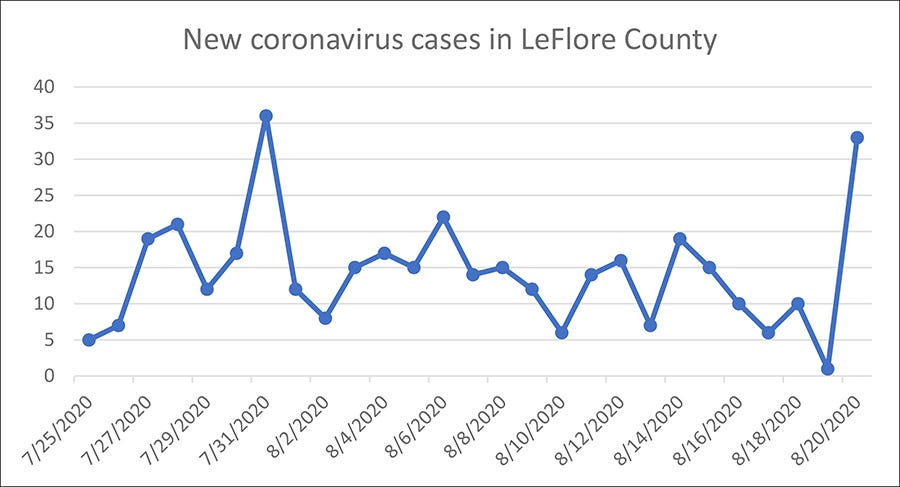 Coronavirus cases hit 33 Thursday
LeFlore County had the second most coronavirus cases in any day Thursday, according to the Oklahoma Department of Health.
The county had 33 new cases, trailing only the 36 cases on July 31.
Pocola and Poteau both had eight new cases, Spiro had five, Panama three, Bokoshe, Heavener, Talihina and Wister each had two while Howe had one.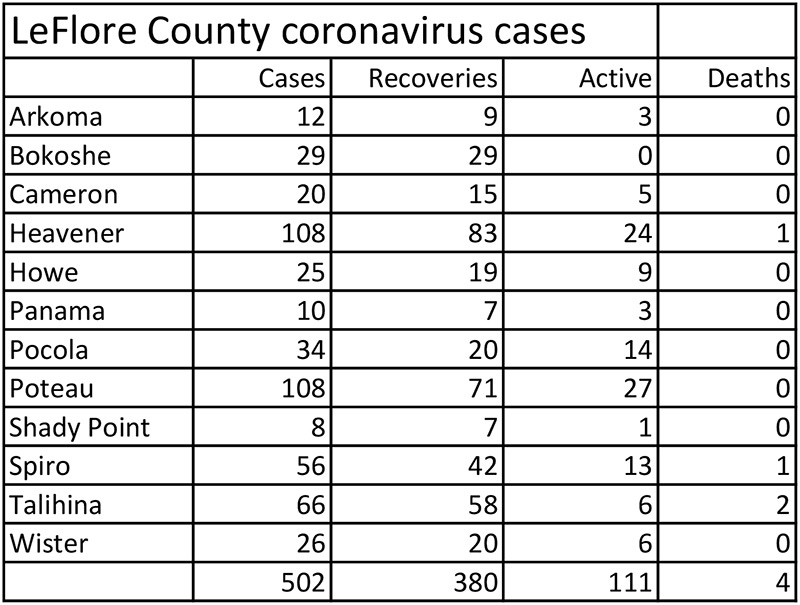 The county has 111 active cases with Poteau having 27, Heavener has 24, Pocola 14 and Spiro 13.
Oklahoma reported 746 new cases Thursday, 10 deaths and 648 recoveries. Overall, the state has now had 50,669 cases, 709 deaths and 42,695 recoveries. There are 7,265 active cases.
The deaths were a Cleveland County male in the 65 or older age group; a Lincoln County male and female in the 65 or older age group; four Oklahoma County males in the 65 or older age group; two Pittsburg County females in the 65 or older age group; and a Tulsa County male in the 50-64 age group.
New cases in the United States were 46,436, there were 1,356 deaths and 26,890 recoveries. The overall figures are 5,529,824 cases, 173,177 deaths and 1,925,049 recoveries. There are 3,431,598 active cases.
Heavener School update from Thursday
Sports
Area sports scoreboard 8-20-2020
Fast pitch softball
Heavener 5, Gore 0
Heavener 15, Okmulgee 0
Heavener 15, Capitol Hill 0
Heavener 5, Hulbert 1
Howe 7, Panama 5
Poteau 13, Spiro 5
Muldrow 15, Wister 3
LeFlore 9, Caney 2
Ripley 7, LeFlore 0
To add scores or information to any game involving area teams, send an email to craig@heavenerledger.com
Heavener goes 4-0 in tournament
OKMULGEE – Heavener went 4-0 in pool play at the Okmulgee Tournament Thursday.
The Lady Wolves (8-4) opened with a 5-0 win over Gore, defeated Okmulgee, 15-0, crushed Capitol Hill, 15-0, and scored a 5-1 victory over Hulbert in the final game.
In the opening game, Heavener avenged a loss to Gore Saturday in the Gore Tournament as Lainey Dyer threw a two-hitter. She struck out five and did not allow a walk.
Liz Chitwood went 2-3 with two runs to lead Heavener's offense.
In the win over Okmulgee, Heavener scored 12 runs in the first inning and cruised to the easy win.
Kinley Brand was the winning pitcher, allowing one hit in three innings with six strikeouts and no walks.
Destiny McGee doubled twice and was 3-3 with three RBI and three runs; Maggie Dawes doubled and went 2-2; Haley Dean also doubled while going 2-3 with two RBI and two runs; Marianna Garcia doubled and finished 2-2 with two RBI and a run; Chitwood went 2-2 with three runs and two RBI; and Dyer went 2-3 with two RBI and two runs.
Heavener scored 15 runs in the first inning against Capitol Hill. Garcie Morrison was the winning pitcher for Heavener as she gave up one hit in two runs while striking out four and walking two.
In the final win over Hulbert, Dyer picked up another win. She went all four innings, giving up five ehits and one earned run, with five strikeouts and no walks.
McGee was 2-2 with a run; Dyer doubled while going 1-2; and Dean also had a double in a 1-2 game with a run and a RBI.
Howe downs Panama in extra innings
PANAMA – Howe scored twice in the top of the 10th inning to edge Panama, 7-5, in fast pitch softball play Thursday.
Panama scored three runs in the bottom of the sixth to tie the score. Neither team was able to score again until Makaleah Lewis homered in the 10th inning to score Ashlynn Dalton with the winning run.
Lewis finished 3-5 with the home run, two RBI and two runs; Peyton Stubbs doubled while going 2-4 with two RBI; Dani Collins had a 2-5 outing with a run; and Kalan Nye doubled and was 1-5 with a RBI.
Kalan Nye pitched the final four innings in relief of Lewis to get the win. Lewis pitched the first six innings.
Kami Autrey took the loss for Panama, throwing the final seven innings in relief of ShayAnn Gould.
Kelcee Ward doubled twice and was 3-4 with a RBI and a run for Panama; Krista Dotson finished 3-5 with a run and a RBI; Aleah McKinney went 2-5; Sara Skelton was 2-4; and Shaelynn Bledsoe doubled and went 1-4 with a RBI and a run.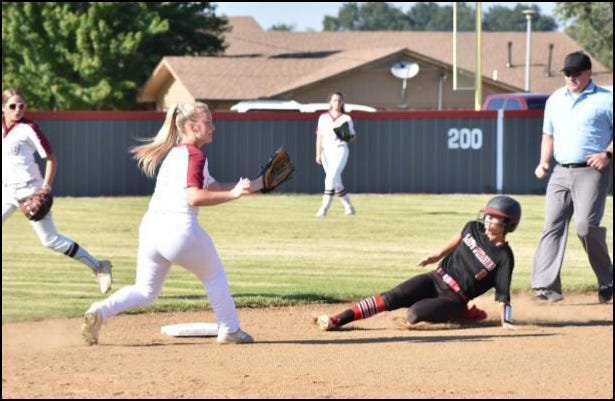 Poteau's Emmy Ford slides into second base before the ball arrives to Spiro's Carli Matthews.
Poteau rallies late to beat Spiro
SPIRO – Poteau broke a 2-2 with two runs in the sixth and six more in the seventh to defeat Spiro, 13-5, Thursday in fast-pitch softball.
Poteau (5-1) plays Heritage Hall at 6 p.m. and Chandler at 9 p.m. in the Kellyville Festival Friday.
The Lady Pirates used three pitchers in the win. Kylie Turner pitched two innings, giving up three hits and four runs, one earned, with two strikeouts and a walk; Rilee Dunigan threw 1.2 innings with four hits and one earned run while getting one strikeout and a walk; Annika Dill pitched 3.1 innings, allowing one hit with two strikeouts and no walks.
Parker Patterson tripled and was 2-4 with three RBI and two runs; Tori Morgan doubled while going 2-5 with two runs and a RBI; Kennedy Cox finished 2-3 with four RBI; Emmy Ford had a 2-3 game with three runs; Dill tripled and was 1-5 with two RBI and a run; and Jacie Perry doubled and went 1-1 with a run.
For Spiro, Remi West pitched five innings, giving up nine hits and eight runs, two earned, with four strikeouts and three walks. Kaylyn Upchurch tossed two innings, allowing five hits and six runs, four earned, with a strikeout and a walk.
Carli Matthews doubled while going 3-4 with four RBI and a run; West was 2-3 with three runs; and Madilyn Lovell had a 2-3 game with a run.
Muldrow gets win at Wister
WISTER – Muldrow jumped out to a 9-0 lead in the first inning and coasted to a 15-3 victory over Wister Thursday.
Wister is back in action Friday at Quapaw.
Kate Hammons tripled for Wister's only hit and finished 1-2 with two RBI and a run.
Jaelyn Covey was the losing pitcher. She threw all three innings, giving up 10 hits and the 15 runs, four earned, with one strikeout and no walks.
LeFlore splits with Caney, Ripley
LeFlore split a pair of fast pitch softball games Thursday, defeating Caney, 9-2, before falling to Ripley, 7-0.
In the opener, the Lady Savages trailed 2-0 before scoring four runs in the third inning and five more in the fifth.
Braxtyn McMillin pitched four innings to get the win. She allowed one hit and two runs, both unearned, while striking out four and walking one.
Alyssa Waits threw one inning. She did not allow a hit or run and struck out three.
Emma Lumen tripled and doubled for Wister while going 3-3 with a RBI and a run; Shadie Crase doubled twice and was 2-3 with two RBI and two runs; Lori Cogburn was 2-3 with two RBI and a run; Bryson Brown went 2-2 with a RBI; Lindsey Waits doubled and finished 1-4; and Braxtyn McMillin had a double in a 1-2 game with two runs and a RBI.
LeFlore was held without a hit in the loss to Ripley.
McMillin took the loss, giving up eight hits and seven runs, six earned, with two strikeouts and four walks.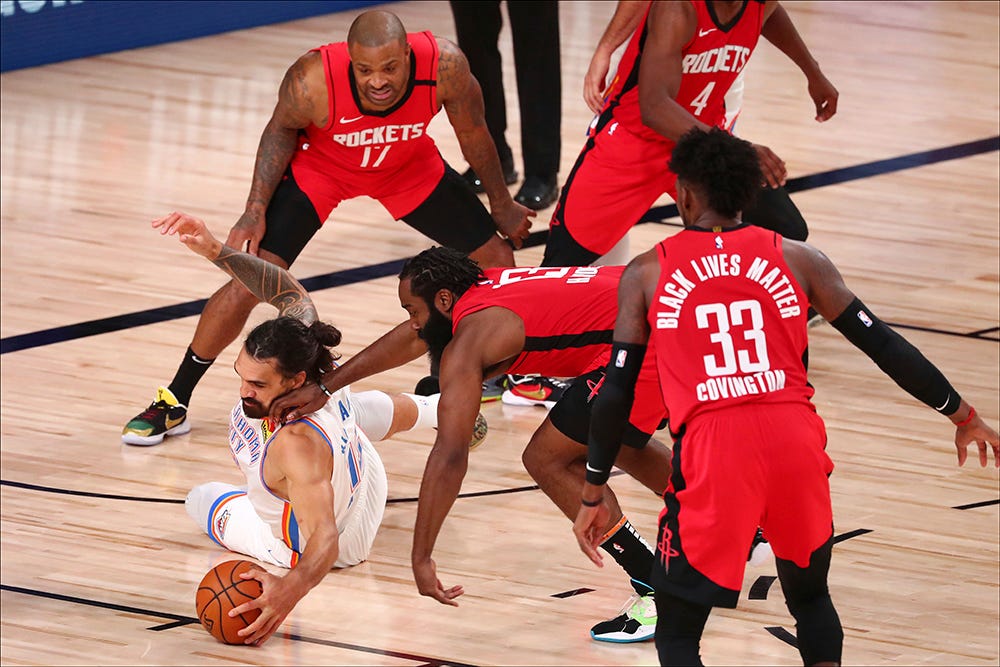 Houston Rockets guard James Harden (13) snd Oklahoma City Thunder center Steven Adams, left, go for the ball during the third quarter of Game 2 of an NBA basketball first-round playoff series, Thursday, Aug. 20, 2020, in Lake Buena Vista, Fla. (Kim Klement/Pool Photo via AP)
Rockets beat Thunder for 2-0 lead
LAKE BUENA VISTA, Fla. (AP) — James Harden had 21 points and nine assists and the Houston Rockets made 19 of an NBA-record 56 3-point attempts to beat the Oklahoma City Thunder 111-98 on Thursday for a 2-0 lead in the first-round Western Conference series.
For all the long-range shots, Harden said the Rockets actually won with defense. Houston held the Thunder to 39 points after the break.
"We played well," he said. "We didn't shoot the ball particularly well tonight. But I think defensively, especially in that second half, we did an unbelievable job just gearing in what they like to do and correcting our mishaps in that first half."
Former Thunder star Russell Westbrook was out for the Rockets again with a right quad strain, but plenty of other Houston players picked up the slack. Danuel House Jr. scored 19 points.
"It's not pride, it's just team energy," House said. "We want to make sure that guys are not caring about themselves so guys are showing great energy on the court and off the court."
Shai Gilgeous-Alexander scored 31 points for the Thunder, and Danilo Gallinari added 17.
Oklahoma City dominated the second quarter and led 59-53 at halftime. The Thunder shot 50% in the half. Houston missed its last 15 3-pointers in the second quarter, and Harden scored just eight points on 2-for-10 shooting in the half.
The Rockets went on a 13-0 run early in the second half to regain the lead. Gilgeous-Alexander, who had been cold in the bubble, made three straight 3-pointers to highlight an 11-0 run that put the Thunder ahead again. The Thunder held on and led 78-77 at the end of the third quarter.
Oklahoma City led 80-77 before the Rockets broke away with a 17-0 run, mostly with Harden on the bench.
"Unbelievable, man," Harden said. "That was the game right there. The guys just took it upon themselves to guard and we felt in the sense Oklahoma City was getting tired and we just kept pressing the gas on them."
While the Rockets kept the pressure on, Oklahoma City relaxed.
"I don't know if it was stagnant or slow, whatever it was, but we weren't necessarily playing with that same kind of force that we did in that first half," Thunder coach Billy Donovan said.
Oklahoma City's Chris Paul, the All-Star guard, blamed himself. He was held to 14 points on 6-for-15 shooting.
"I've got to do more," he said. "Straight up. It's that simple. That run they went on at the beginning of the fourth quarter -- that can't happen. Got to be better. I've got to be better."
TIP-INS
Rockets: Made 8 of 16 3-pointers in the first quarter, but just 2 of 19 in the second. ... Took 10 shots inside the 3-point line in the opening period. ... Harden had five assists in the first quarter. ... Did not have a turnover in the first half.
Thunder: Had nine turnovers in the third quarter. ... C Steven Adams had eight points and 11 rebounds. He made all four of his shots, but all were in the first half. He went scoreless after the break.
DORT RETURNS
Thunder guard Lu Dort returned to the starting lineup after missing Game 1 with a right knee sprain. He scored eight points in 25 minutes.
"He wasn't necessarily on a minutes restriction, but we wanted to watch his minutes tonight, just to make sure that he could not get set back," Donovan said.
QUOTABLE
Houston coach Mike D'Antoni, joking about the bubble situation and drawing a laugh from his players: "I just told the team all we did was defend home court. Now we have to go to Oklahoma City and play. So we have to come back third game with same kind of intensity, same kind of mentality and see what happens."
UP NEXT
Game 3 is Saturday.
Other stories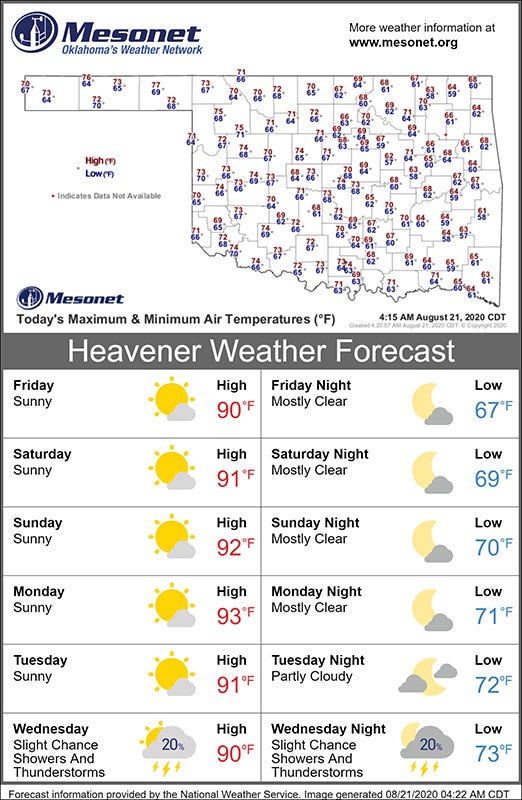 Warmer temperatures expected for county
Clear skies and warmer temperatures for Friday in LeFlore County.
The high will be 90 degrees with a low of 67 degrees.
Sunrise is at 6:43 a.m. with sunset at 7:58 p.m.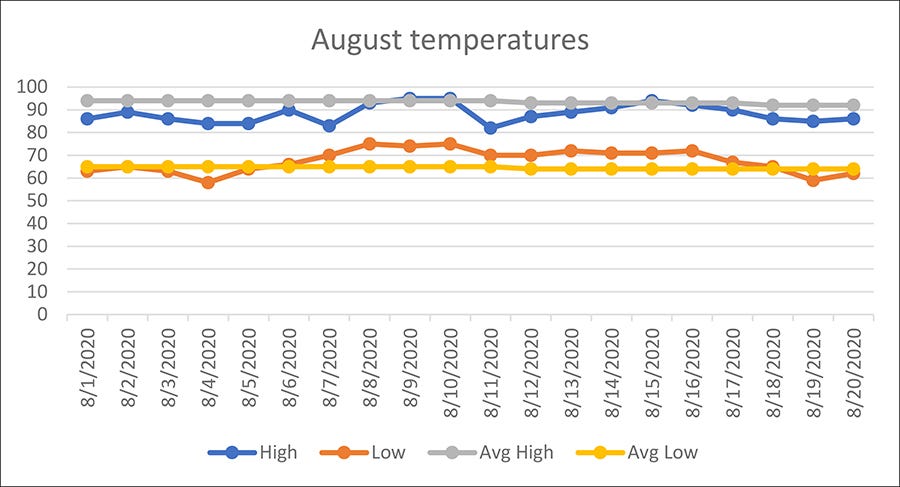 Thursday's high was 86 with a low of 62. Average temperatures for Aug. 21 are a high of 92 and low of 63. Records for the date were a high of 106 in 1980 and a low of 57 in 1970.
Area calendar of events
The Ledger/LCJ's calendar of events lists the upcoming events in the area. This is a free service so if you or your group have an event coming up and would like it added to the calendar, please send an email tocraig@heavenerledger.com.
Friday
Funeral service for Opal Brownfield
Funeral service for Vernie Pierce
Funeral services set for May Carr
High school softball: Heavener at Okmulgee Tournament; Howe, Whitesboro at Stillwater Festival; Wister at Quapaw; Poteau at Kellyville Festival
High school baseball: Cameron, Whitesboro at EOSC Tournament
High school football: Scrimmages Hartshorne at Heavener; Poteau at Checotah; Arkoma at Webbers Falls; Panama (Muldrow) at Wilburton; Canadian at Pocola; Spiro at Gore; Valliant at Talihina.
Positively Poteau Cruise Night
Saturday
Funeral service for Barbara Addison
Funeral services for Linda Long
High school softball: Heavener at Okmulgee Tournament; Howe, Whitesboro at Stillwater Festival; Poteau at Kellyville Festival
High school baseball: Howe at Bokoshe; Cameron, Whitesboro at EOSC Tournament
Monday
LeFlore County commissioners meet 9 a.m.
High school softball: Westville at Heavener; Red Oak, Quinton at Wister; Fort Gibson at Poteau; Bokoshe at Indianola
High school baseball: Indianola at Cameron; Whitesboro at Clayton
Poteau School Board special meeting
Tuesday
Runoff primary election
High school softball: Spiro, Smithville at Heavener; LeFlore at Wister; Whitesboro, Sequoyah Tahlequah at Wilburton
High school baseball: Bokoshe at Cameron; Boswell at Whitesboro
Poteau Evening Lions Club meet 6 p.m. CASC
Thursday
Poteau community blood drive 12:30 to 6 p.m. at Reynolds Center
Cross country: Heavener, Poteau at Tahlequah meet
High school softball: Heavener at Westville; Crowder at Wister; Wilburton at Panama; Whitesboro at McCurtain
Poteau Kiwanis Club meets noon at Western Sizzlin
High school baseball: Bokoshe at Indianola; Cameron, LeFlore at Whitesboro
Heavener VFW bingo 6 p.m. Highway 59
LeFlore County Republican party meeting 6:30 p.m. at Western Sizzlin'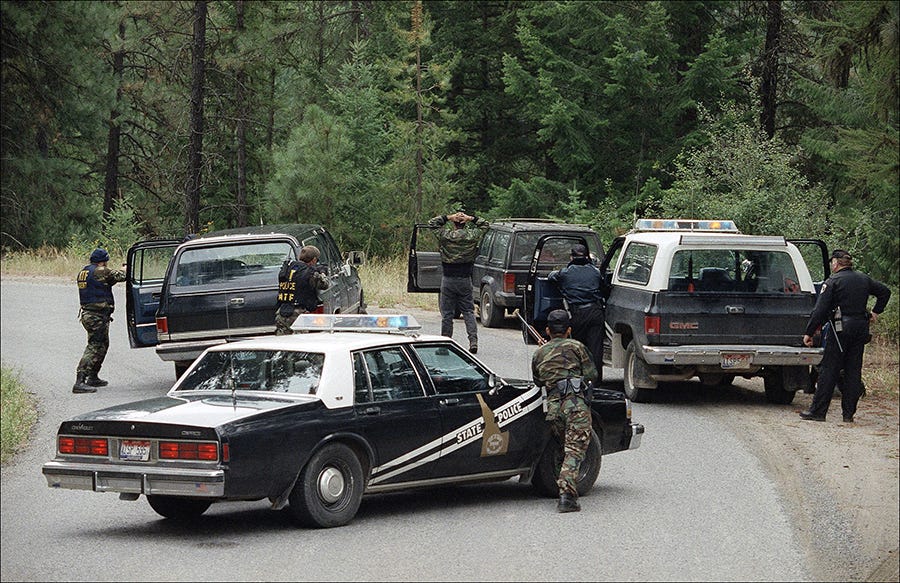 With guns drawn, agents of the Bureau of Alcohol Tobacco and Firearms and the Idaho State Patrol place the first of five neo-Nazis under arrest near Naples, Idaho, Aug. 25, 1992. Numerous weapons were found in the group's car (back, center) near a police barricade three miles from the site of a four-day standoff with white supremacist, Randy Weaver. The five faced weapons charges. (AP Photo/Mason Marsh)
Today in history for Aug. 21
By The Associated Press
Today is Friday, Aug. 21, the 234th day of 2020. There are 132 days left in the year.
Today's Highlight in History:
On August 21, 1831, Nat Turner launched a violent slave rebellion in Virginia resulting in the deaths of at least 55 whites. (Turner was later executed.)
On this date:
In 1609, Galileo Galilei demonstrated his new telescope to a group of officials atop the Campanile (kahm-pah-NEE'-lay) in Venice.
In 1911, Leonardo da Vinci's "Mona Lisa" was stolen from the Louvre Museum in Paris. (The painting was recovered two years later in Italy.)
In 1945, President Harry S. Truman ended the Lend-Lease program that had shipped some $50 billion in aid supplies to America's allies during World War II.
In 1961, country singer Patsy Cline recorded the Willie Nelson song "Crazy" in Nashville for Decca Records. (The recording was released in October 1961.)
In 1963, martial law was declared in South Vietnam as police and army troops began a violent crackdown on Buddhist anti-government protesters.
In 1983, Philippine opposition leader Benigno S. Aquino (beh-NEEG'-noh ah-KEEN'-oh) Jr., ending a self-imposed exile in the United States, was shot dead moments after stepping off a plane at Manila International Airport.
In 1987, Sgt. Clayton Lonetree, the first Marine court-martialed for spying, was convicted in Quantico, Va., of passing secrets to the KGB. (Lonetree ended up serving eight years in a military prison.)
In 1991, the hard-line coup against Soviet President Mikhail S. Gorbachev collapsed in the face of a popular uprising led by Russian Federation President Boris N. Yeltsin.
In 1992, an 11-day siege began at the cabin of white separatist Randy Weaver in Ruby Ridge, Idaho, as government agents tried to arrest Weaver for failing to appear in court on charges of selling two illegal sawed-off shotguns; on the first day of the siege, Weaver's teenage son, Samuel, and Deputy U.S. Marshal William Degan were killed.
In 1993, in a serious setback for NASA, engineers lost contact with the Mars Observer spacecraft as it was about to reach the red planet on a $980 million mission.
In 2000, rescue efforts to reach the sunken Russian nuclear submarine Kursk ended with divers announcing none of the 118 sailors had survived.
In 2014, Gov. Jay Nixon ordered the Missouri National Guard to begin withdrawing from Ferguson, where nightly scenes of unrest had erupted since a white police officer fatally shot a Black 18-year-old nearly two weeks earlier.
Ten years ago: Iranian and Russian engineers began loading fuel into Iran's first nuclear power plant, which Moscow promised to safeguard to prevent material at the site from being used in any potential weapons production. A Vincent van Gogh painting, "Poppy Flowers," was stolen in broad daylight from Cairo's Mahmoud Khalil Museum. (Although Egyptian authorities initially said they'd recovered the painting the same day at the Cairo airport, that report turned out to be erroneous; the painting remains missing.) Emmy-winning CBS News correspondent Harold Dow died at age 62.
Five years ago: A trio of Americans, U.S. Air Force Staff Sgt. Spencer Stone, National Guardsman Alek Skarlatos and college student Anthony Sadler, and a British businessman, Chris Norman, tackled and disarmed a Moroccan gunman on a high-speed train between Amsterdam and Paris. First Lt. Shaye Haver of Copperas Cove, Texas, and Capt. Kristen Griest of Orange, Connecticut, became the first female soldiers to complete the Army's rigorous Ranger School at Fort Benning, Georgia. Mike Fiers pitched the second no-hitter in the major leagues in nine days, leading the Houston Astros to a 3-0 victory over the Los Angeles Dodgers.
One year ago: Escalating an international spat, President Donald Trump said he had scrapped his trip to Denmark because the country's prime minister had made a "nasty" statement when she rejected his idea of buying Greenland as absurd. Trump signed an order erasing the hundreds of millions of dollars in federal student loan debt owed by tens of thousands of disabled military veterans.
Today's Birthdays: Actor-director Melvin Van Peebles is 88. Actor Clarence Williams III is 81. Rock-and-roll musician James Burton is 81. Singer Jackie DeShannon is 79. College and Pro Football Hall of Famer Willie Lanier is 75. Actor Patty McCormack is 75. Pop singer-musician Carl Giammarese (jee-ah mah-REE'-see) is 73. Actor Loretta Devine is 71. NBC newsman Harry Smith is 69. Singer Glenn Hughes is 68. Country musician Nick Kane is 66. Actor Kim Cattrall is 64. College Football Hall of Famer and former NFL quarterback Jim McMahon is 61. Actor Cleo King is 58. Retired MLB All-Star John Wetteland is 54. Rock singer Serj Tankian (TAN'-kee-ahn) (System of a Down) is 53. Figure skater Josee Chouinard is 51. Actor Carrie-Anne Moss is 50. MLB player-turned-manager Craig Counsell is 50. Rock musician Liam Howlett (Prodigy) is 49. Actor Alicia Witt is 45. Singer Kelis (kuh-LEES') is 41. Actor Diego Klattenhoff is 41. TV personality Brody Jenner is 37. Singer Melissa Schuman is 36. Olympic gold medal sprinter Usain (yoo-SAYN') Bolt is 34. Actor Carlos Pratts is 34. Actor-comedian Brooks Wheelan is 34. Actor Cody Kasch is 33. Country singer Kacey Musgraves is 32. Actor Hayden Panettiere (pan'-uh-tee-EHR') is 31. Actor RJ Mitte is 28. Actor Maxim Knight is 21.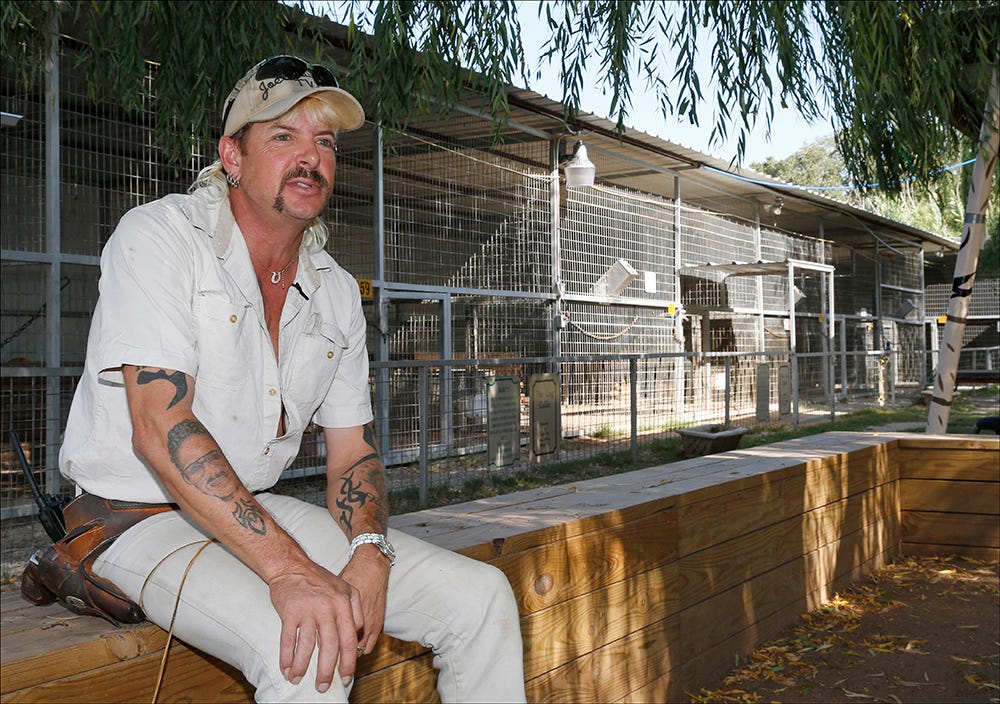 In this Aug. 28, 2013, file photo, Joseph Maldonado-Passage, also known as Joe Exotic, answers a question during an interview at the zoo he runs in Wynnewood. The Oklahoma zoo, featured in Netflix's "Tiger King" documentary, has closed after federal authorities investigated it for alleged maltreatment of animals and suspended its license. The Greater Wynnewood Exotic Animal Park closed to the public after the U.S. Department of Agriculture on Monday, Aug. 17, 2020, suspended the exhibitor license for current-owner Jeff Lowe for 21 days. (AP Photo/Sue Ogrocki, File)
'Tiger King' zoo closes after investigation
WYNNEWOOD (AP) — The Oklahoma zoo featured in Netflix's "Tiger King" documentary has closed after federal authorities investigated it for alleged maltreatment of animals and suspended its license.
The Greater Wynnewood Exotic Animal Park closed to the public after the U.S. Department of Agriculture on Monday suspended the exhibitor license for owner Jeff Lowe for 21 days.
The zoo, previously run by Joseph Maldonado-Passage —also known as Joe Exotic— became famous after being featured in Netflix's "Tiger King: Murder, Mayhem and Madness."
The Garvin County Sheriff's Office and USDA investigated the zoo after receiving a formal report that documented photos showing a lion with its ears covered in flies and another with the tips of its ears covered in blood.
But Lowe said in a statement Tuesday that his license was suspended over a "litany of falsehoods." He said he plans to open a new park for private filming for television and streaming services, KFOR-TV reported.
"Rest assured that all the animals will continue to have excellent care," Lowe said.
Officials at the animal rights organization People for the Ethical Treatment of Animals, referred to as PETA, say the photos included in the report show lions suffering from flystrike. In this condition, flies are usually attracted to uncleared animal waste, bite other animals and lay eggs on them, resulting in hatched maggots eating the skin.
"PETA looks forward to seeing every one of the long-suffering animals at the G.W. Zoo be transferred to an appropriate facility where it won't take federal intervention for a sick cat to receive veterinary care," said Brittany Peet, PETA Foundation Deputy General Counsel for Captive Animal Law Enforcement.
An Indiana district court recently ordered Lowe to provide veterinary records for the lions allegedly not being treated appropriately.