Ledger/LCJ newsletter 9-11-2020
The Heavener Ledger/LCJ daily newsletter
Subscribe to the Ledger/LCJ newsletter for a month for $5 or a year for $50 and also receive the Ledger's newspaper and e-edition.
News
Heavener School update 9-10-2020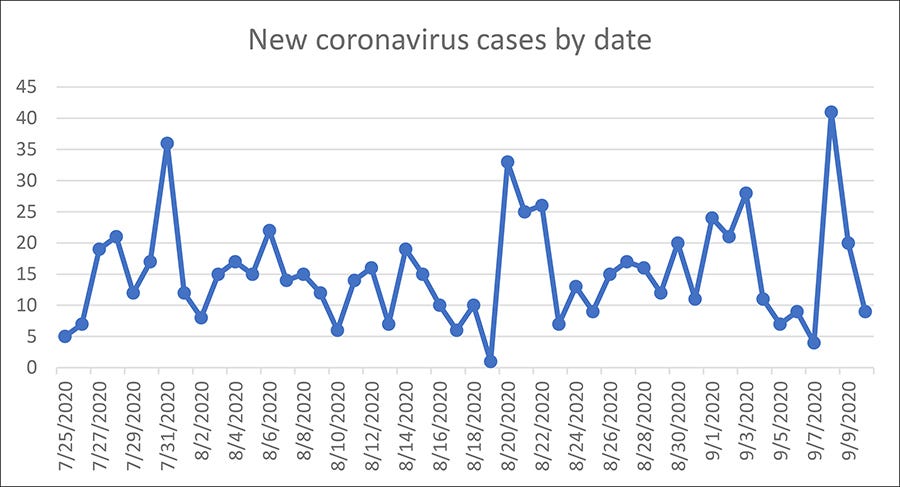 Pocola woman latest coronavirus victim
A Pocola woman is the 12th resident of LeFlore County to die from coronavirus, according to Thursday's report by the Oklahoma Department of Health.
The deceased was in the 65-and-older age group. No names are released. She is the third Pocola resident to die from coronavirus.
The county had nine new cases Thursday with two in Heavener and Pocola, and one in Bokoshe, Howe, Poteau, Shady Point and Spiro.
The county currently has 157 active cases. The overall total is 839 with 667 recoveries.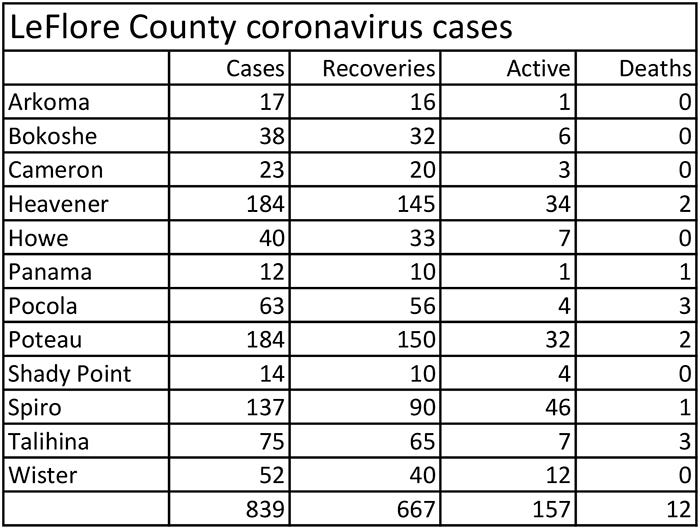 Oklahoma reported an additional 771 cases, 13 deaths and 1,126 recoveries in Thursday's report. The state has had 66,700 cases, 876 deaths and 56,531 recoveries. Current active cases are 9,293, down 3.8 percent from Wednesday.
The United States had 34,256 new cases, 1,206 deaths and 28,368 recoveries. The overall total is 6,361,265 cases, 190,859 deaths and 2,387,479 recoveries. Current active cases are 3,782,927, up .1 percent from the previous report.
Oklahoma jobless claims decline
OKLAHOMA CITY (AP) — Claims for unemployment benefits in Oklahoma are declining after reaching record levels during the coronavirus pandemic, the state Employment Security Commission reported Thursday.
First-time weekly claims for the week ending Sept. 5 totaled of 5,241, and continuing claims numbered 103,903, down from 6,019 initial claims and 119,571 continuing claims from a week earlier, according to the commission.
The OESC reported a record 93,885 initial claims in early May and more than 182,000 continuing claims in late June as the state reopened following Gov. Kevin Stitt's shutdown of many businesses in an effort to stem the spread of the virus.
The state's July unemployment rate was reported at 7.1%, according to the OESC, down from 14.7% in April, with August numbers scheduled to be released later this month.
Sports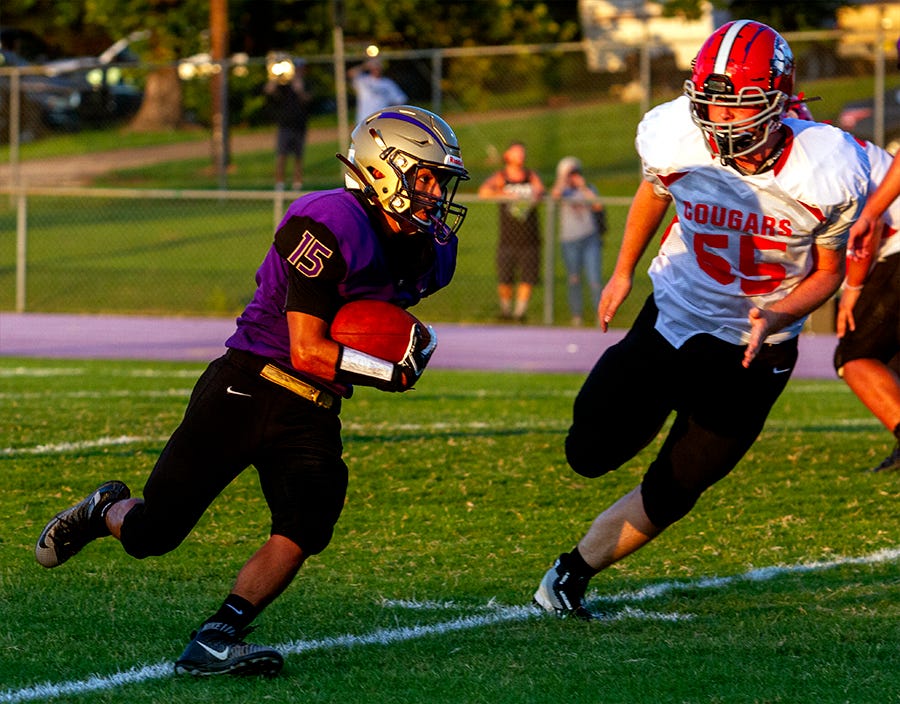 Heavener's Jonny Ardegmani picks up good yardage in the 22-6 win over North Rock Creek two weeks ago. The Wolves host Valliant Friday.
Six games scheduled for Friday night
It will be the biggest night of the 2020 football season so far for the LeFlore County teams Friday night.
Six of the seven teams are scheduled to be in action, barring any last minute cancellations.
Heavener hosts Valliant; Alma, Arkansas travels to Poteau; Panama crosses the state line to visit Hackett, Arkansas; Pocola is home against Central Sallisaw; Talihina goes to Atoka; and Arkoma is at home with Bowlegs.
Heavener is looking to go 2-0 for the first time since 2005 against the Bulldogs. The Wolves opened with a 22-6 win over North Rock Creek two weeks ago before having a bye last week. Valliant 0-1 after losing at Roland, 28-12, a week ago.
Poteau will try and put the skids on a two-week losing streak to open the season when the Pirates play Alma. The Pirates will have their home opener after losing at Bishop Kelley in Tulsa and Shiloh Christian in Springdale, Arkansas.
Everybody is encouraged to wear masks so the crowd size will not be reduced. The Pirates have a bye next before starting district play in two weeks.
Panama is trying to go to 2-0 when the Razorbacks visit Hackett. Panama opened with a 27-13 win over Central Sallisaw last week. Hackett ran up 68 points at Pocola last week, so the Razorbacks' defense will get a test.
After two losses, Pocola is trying to score its first win as the Indians play guests to Central Sallisaw. Pocola lost at Wilburton two weeks ago before getting outscored by Hackett last week.
Spiro is the only team sitting out the week. The Bulldogs had a game scheduled, but Sequoyah-Tahlequah decided to cancel all athletic competition for the first nine weeks.
After a blowout loss at home to Antlers last week, Talihina travels to face what should be a difficult Atoka team. The Wampus Cats made a complete turnaround last season and could be even better.
The final game of the night has Arkoma hosting Bowlegs. The Mustangs are 0-1 after losing to Midway last week. Bowlegs defeated Olive, 68-40, in its opener last week.
LeFlore County sports scoreboard 9-10-2020
LeFlore County sports scoreboard for Thursday and schedule for Friday.
Thursday's games
Fast pitch softball
Poteau 5, Tishomingo 2
Blanchard 5, Poteau 4
Webbers Falls 3, Whitesboro 0
Henryetta 5, Whitesboro 1
Friday's games
Football
Valliant at Heavener
Alma at Poteau
Central Sallisaw at Pocola
Panama at Hackett
Talihina at Atoka
Bowlegs at Arkoma
Fast pitch softball
Howe vs. Tishomingo, Davis at Silo Festival
Gore at Wister
Poteau vs. Red Oak, Silo at Silo Tournament
LeFlore at Kiowa Tournament
Cameron, Caney at Whitesboro
Fall baseball
Cameron at Clayton Tournament
Buffalo Valley at Howe
Whitesboro at Wister
To report scores or information on games involving LeFlore County teams, send an email to craig@heavenerledger.com.
Lady Pirates split in Silo Festival
SILO – Poteau split its two games at the fast pitch softball Silo Festival Thursday.
The Lady Pirates opened with a 5-2 win over Tishomingo before coming up short against Blanchard, 5-4.
Poteau (14-4) is back in action Friday in the Festival. The Lady Pirates take on Red Oak and Silo.
In the opener, Poteau defeated defending Class 3A state champion Tishomingo. It snapped a 23-game winning streak for Tishomingo.
Poteau took the lead with four runs in the bottom of the third inning and made it hold up as Kylie Turner threw a three hitter, giving up two unearned runs with a strikeout and three walks.
Tori Morgan homered and doubled while going 3-3 with three RBI and a run; Annika Dill doubled twice and finished 3-3 with two runs and a RBI; and Hailey Weaver doubled and went 2-3 with a RBI and a run
Poteau 5, Tishomingo 2
THS 0 0 0 1 0 1 0—2 3 0
PHS 0 0 4 0 1 0 x—5 10 2
In the second game, Blanchard broke a 4-4 tie with a run in the top of the sixth inning to get the win over the Lady Pirates.
Dill pitched two innings and gave up five hits and four runs, three earned, with three strikeouts and two walks. Turner threw three innings, allowing two hits, an unearned run with a strikeout.
Emmy Ford went 4-4 with two runs; Avery Prescott doubled while going 2-3; Dill doubled and was 1-2 with two runs and a RBI; and Morgan finished 1-3 with a double and a RBI.
Blanchard 5, Poteau 4
BHS 1 3 0 0 0 1—5 7 1
PHS 2 0 2 0 0 0—4 11 0
Whitesboro loses pair at Henryetta
HENRYETTA – Whitesboro lost a pair of fast pitch softball games at Henryetta Thursday.
The second-ranked Lady Bulldogs lost the opener to Henryetta, 5-1, and then fell to Webbers Falls, 3-0. Whitesboro (16-4) had a 12-game winning streak snapped in the opener.
In the first game, Henryetta scored three times in the bottom of the third to take a 4-0 lead and the Lady Bulldogs could not recover.
Linley Collins doubled and went 2-2 for Whitesboro whie Courtney Grey homered and was 1-2 with a RBI and a run.
Henryetta 5, Whitesboro 1
WHS 0 0 0 1 0—1 3 0
HHS 0 1 3 1 x—4 8 0
Against Webbers Falls, Whitesboro was held to two hits. Kinley Barron took the loss for Whitesboro, going all five innings while allowing five hits and three runs (two earned) with five strikeouts and three walks.
Cassie grey and Kayleigh Walker had the two hits for the Lady Bulldogs.
Webbers Falls 3, Whitesboro 0
WFH 1 0 1 1 0—3 5 1
WHS 0 0 0 0 0—0 2 1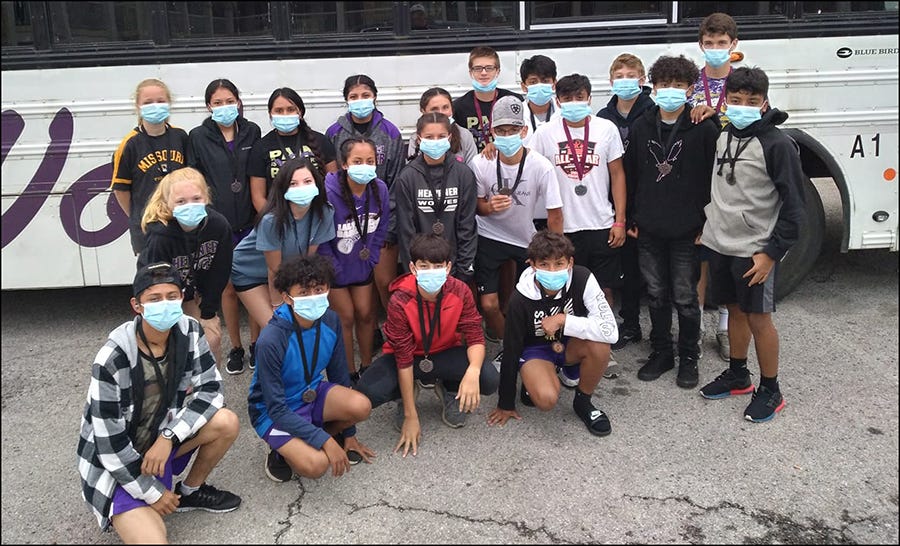 Heavener's cross country teams finished strong at the Foyil cross country meet Thursday.
Heavener finishes high in meet
FOYIL – Heavener's high school cross country teams had a big day at a meet at Foyil Thursday.
The Lady Wolves finished first and the Wolves were second.
Leticia Reyes led the Lady Wolves, finishing 11th. Heavener's boys were led by Elijah Cook, who was first, and Steven Cruz was second. Jesus Leyva was 10th.
The junior high boys were first as Isaac Cook was second, Chris Vasquez third and Seth Lynch ninth.
The junior high Lady Wolves were second as Julie Cook took eighth place.
Heavener goes to Acorn, Arkansas, for a meet Tuesday.
Other stories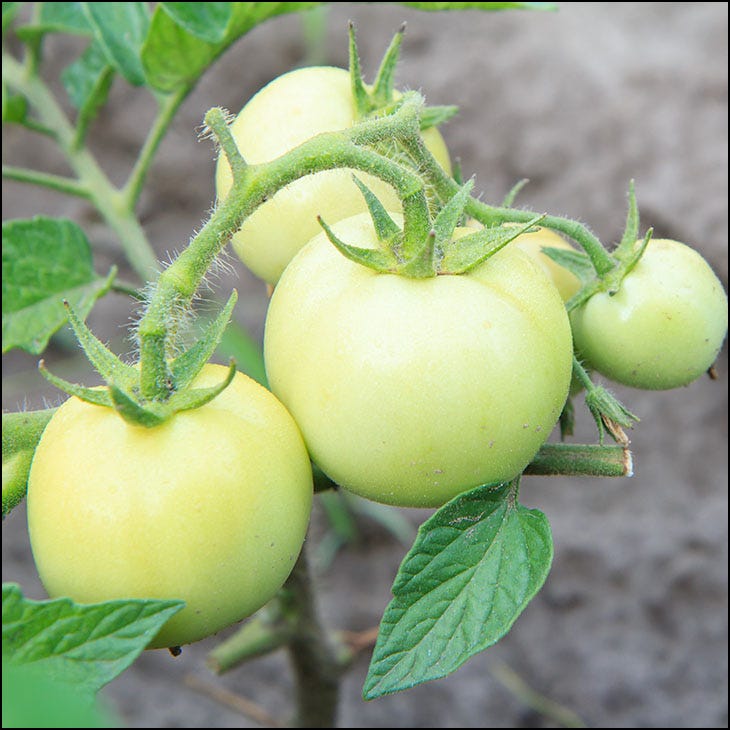 Oklahoma gardeners can enjoy the fresh taste of tomatoes after cold weather has set in by ripening them indoors. (Photo by Todd Johnson, Agricultural Communications Services)
Ripening tomatoes indoors extends flavor
By TRISHA GEDON
STILLWATER - There is nothing quite like the taste of a tomato picked fresh off the vine. But with the season quickly coming to a close, some gardeners may feel a little sad knowing that vine-fresh taste is fleeting.
Fortunately, gardeners do have the ability to extend the flavor of summer just a little longer, said David Hillock, Oklahoma State University Extension consumer horticulturist.
"We're just now starting to feel the chill in the air, and gardeners may be wondering what to do with all those green tomatoes still hanging on their plants," Hillock said. "Will they have time to ripen? It depends on when the state gets its first heavy frost."
When local weather forecasts indicate frost, gardeners will need to go ahead and harvest their green tomatoes. Collect all of them that are at least close to the size they are supposed to be, Hillock said. Go ahead and pick the small ones to use for pickled green tomatoes or green tomato chutney.
Once the green tomatoes are indoors, do not pop them in the refrigerator. Their red color will not develop at lower than 50 degrees Fahrenheit. Many gardeners are familiar with ripening tomatoes on the windowsill. If the just-harvested fruit has any redness to it, this is a great method to finish off the ripening process. Simply pick the tomatoes, wash and dry them, and set them out.
Hillock said that if the tomatoes are still fairly firm and not showing any red color at all, consider storing them in a box.
"Wash and dry the tomatoes, then wrap them in newspaper and store in a single layer in a box, making sure the tomatoes don't touch," he said. "Keep the box in a cool place such as an unheated basement or garage. Check the box on a regular basis for signs of ripening and remove the ones starting to change color. These you can now ripen on the counter or windowsill."
Another method to consider does not require picking the tomatoes. Simply pull up the entire plant, including the roots, and shake off as much dirt as possible. Hang the plant upside down in a cool area that gets indirect light. Allow the fruit to complete the ripening process. Make sure the plants are stored in an area that won't get above 80 degrees Fahrenheit.
"These tomatoes may not be quite as tasty as the vine-ripened ones picked earlier in the year, but they can help stretch that sweet taste of summer for a while longer," Hillock said.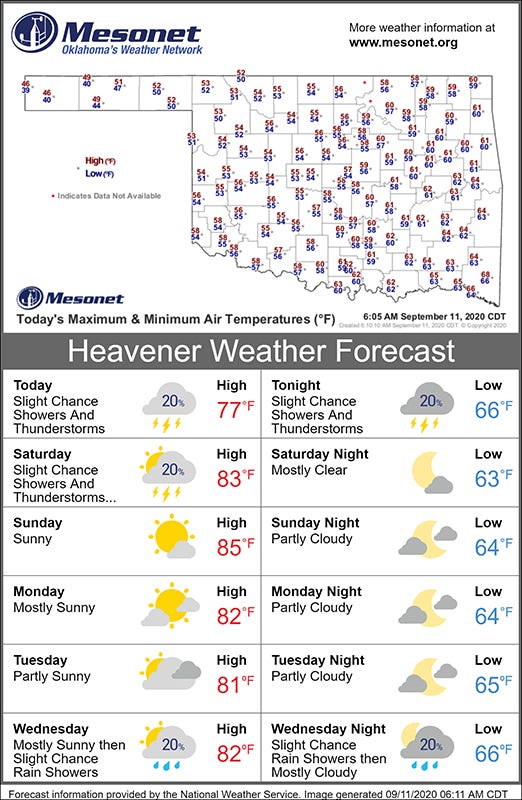 Partly cloudy skies, chance of rain Friday
Partly cloudy skies with another chance of rain Friday in LeFlore County.
A river flood warning is in effect for the Poteau River near Panama until Sunday.
Friday's high will be 77 degrees with a low of 66 degrees. There is a 20 percent chance of rain.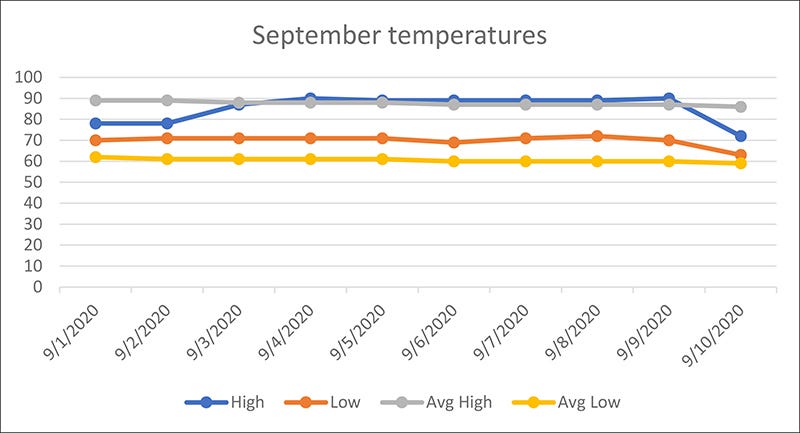 Thursday's high was 72 with a low of 63. A total of 1.70 inches of rain was recorded, bringing the monthly total to 6.58 inches. Average rainfall for September is 5.30 inches.
Average temperatures for Sept. 11 are a high of 86 and low of 59. Records for the date were a high of 100 in 1983 and a low of 35 in 1976.
LeFlore County calendar of events
The Ledger/LCJ's calendar of events lists the upcoming events in the area. This is a free service so if you or your group have an event coming up and would like it added to the calendar, please send an email tocraig@heavenerledger.com.
Friday
Graveside funeral services for Ola Bruesch
Funeral services for Betty Gedosh
Funeral service for Dorothy Lovell
Graveside funeral services for Margaret McCollom
Cross country: Poteau at Camp Gruber meet in Braggs
High school softball: Howe vs. Tishomingo, Davis at Silo Festival; Gore at Wister; Poteau at Silo Tournament; LeFlore at Kiowa Tournament; Cameron, Caney at Whitesboro
High school baseball: Cameron at Clayton Tournament; Buffalo Valley at Howe; Whitesboro at Wister
High school football: Valliant at Heavener; Alma at Poteau; Central Sallisaw at Pocola; Panama at Hackett; Talihina at Atoka; Bowlegs at Arkoma.
Saturday
LeFlore County Bass Club summer open at Wards Landing on Wister Lake
Funeral service for Daniel Culley
High school softball: Howe vs. Kingston at Silo Festival; Poteau at Silo Festival; LeFlore at Kiowa Tournament; Morris at Pocola
High school baseball: Cameron, Whitesboro at Clayton Tournament
Monday
LeFlore County commissioners meet 9 a.m.
High school softball: Central Sallisaw at Bokoshe; LCT; Arkoma at McCurtain
High school baseball: Clayton, Moyers at Cameron; Kiowa at Bokoshe; Smithville at Whitesboro
Heavener, Howe, LeFlore, Pocola and Poteau school boards meet
Tuesday
Cross country: Heavener at Acorn, Arkansas meet
High school softball: LCT
High school baseball: Wister at Cameron; Haileyville at LeFlore; Whitesboro at Red Oak
Thursday
Poteau Kiwanis Club meets noon at Western Sizzlin
Heavener VFW bingo 6 p.m. Highway 59
High school softball: LCT
High school baseball: Wister at Howe; Cameron at McCurtain; Bokoshe at Preston (New Lima); Battiest at Whitesboro
Heavener Utilities Authority and City Council meet 6 p.m.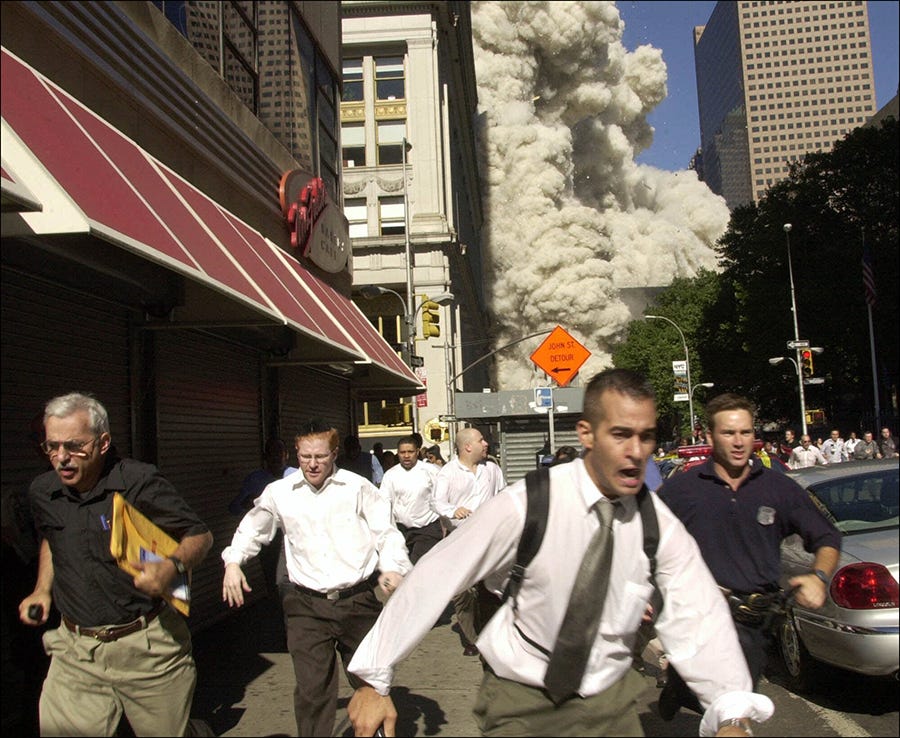 People run from the collapse of World Trade Center Tower in this Sept. 11, 2001, file photo, in New York. Charlie Ross is seen fourth from the left. This year will mark the fifth anniversary of the attacks. (AP Photo/Suzanne Plunkett/FILE)
Today in history for Sept. 11
By The Associated Press
Today is Friday, Sept. 11, the 255th day of 2020. There are 111 days left in the year.
Today's Highlight in History:
On September 11, 2001, nearly 3,000 people were killed as 19 al-Qaida hijackers seized control of four jetliners, sending two of the planes into New York's World Trade Center, one into the Pentagon and the fourth into a field in western Pennsylvania.
On this date:
In 1777, during the American Revolution, forces under Gen. George Washington were defeated by the British in the Battle of Brandywine.
In 1789, Alexander Hamilton was appointed the first U.S. Secretary of the Treasury.
In 1814, an American fleet scored a decisive victory over the British in the Battle of Lake Champlain in the War of 1812.
In 1885, author D.H. Lawrence was born in Eastwood, Nottinghamshire, England.
In 1936, Boulder Dam (now Hoover Dam) began operation as President Franklin D. Roosevelt pressed a key in Washington to signal the startup of the dam's first hydroelectric generator.
In 1941, groundbreaking took place for the Pentagon. In a speech that drew accusations of anti-Semitism, Charles A. Lindbergh told an America First rally in Des Moines, Iowa, that "the British, the Jewish and the Roosevelt administration" were pushing the United States toward war.
In 1972, the troubled Munich Summer Olympics ended. Northern California's Bay Area Rapid Transit system began operations.
In 1973, Chilean President Salvador Allende (ah-YEN'-day) died during a violent military coup.
In 2006, in a prime-time address, President George W. Bush invoked the memory of the victims of the 9/11 attacks as he staunchly defended the war in Iraq, though he acknowledged that Saddam Hussein was not responsible for the attacks.
In 2007, a new Osama bin Laden videotape was released on the sixth anniversary of 9/11; in it, the al-Qaida leader's voice is heard commemorating one of the suicide hijackers and calling on young Muslims to follow his example by martyring themselves in attacks.
In 2008, presidential candidates John McCain and Barack Obama put aside politics as they visited ground zero together on the anniversary of 9/11 to honor its victims.
In 2012, a mob armed with guns and grenades launched a fiery nightlong attack on a U.S. diplomatic outpost and a CIA annex in Benghazi, Libya, killing U.S. Ambassador Chris Stevens and three other Americans.
Ten years ago: Speaking at the Pentagon, President Barack Obama appealed to the nation to honor the memory of the September 11 victims by hewing to the values of diversity and tolerance. In New York, a morning ceremony of remembrance gave way to an afternoon of protests and counter-protests over a proposed Islamic center near ground zero. A gunman in rural eastern Kentucky killed five people before turning the shotgun on himself. Kim Clijsters won a second consecutive U.S. Open championship and third overall, easily beating Vera Zvonareva (zvahn-uh-RAY'-vuh) 6-2, 6-1. Actor Kevin McCarthy, 96, died in Hyannis, Massachusetts.
Five years ago: A crane collapsed onto the Grand Mosque in Mecca, killing 111 people ahead of the annual hajj pilgrimage. Former Texas Gov. Rick Perry ended his second bid for the Republican presidential nomination, becoming the first major candidate of the 2016 campaign to give up on the White House. Roberta Vinci stunned Serena Williams to end her Grand Slam bid in one of the greatest upsets in tennis history; the 43rd-ranked Italian won 2-6, 6-4, 6-4 in the U.S. Open semifinals.
One year ago: The Supreme Court allowed nationwide enforcement of a new Trump administration rule preventing most Central American migrants from seeking asylum in the United States; the policy was meant to deny asylum to anyone who passed through another country on the way to the U.S. without seeking protection there. Oil tycoon T. Boone Pickens died at his Dallas home; he was 91.
Today's Birthdays: Actor Earl Holliman is 92. Comedian Tom Dreesen is 81. Movie director Brian De Palma is 80. Singer-actor-dancer Lola Falana is 78. Rock musician Mickey Hart (The Dead) is 77. Guitarist Leo Kottke is 75. Actor Phillip Alford is 72. Actor Amy Madigan is 70. Rock singer-musician Tommy Shaw (Styx) is 67. Sports reporter Lesley Visser is 67. Actor Reed Birney is 66. Former Homeland Security Secretary Jeh (jay) Johnson is 63. Musician Jon Moss (Culture Club) is 63. Actor Scott Patterson is 62. Rock musician Mick Talbot (The Style Council) is 62. Actor/director Roxann Dawson is 62. Actor John Hawkes is 61. Actor Anne Ramsay is 60. Actor Virginia Madsen is 59. Actor Kristy McNichol is 58. Musician-composer Moby is 55. Syrian President Bashar al-Assad is 55. Business reporter Maria Bartiromo is 53. Singer Harry Connick Jr. is 53. Rock musician Bart Van Der Zeeuw is 52. Actor Taraji (tuh-RAH'-jee) P. Henson is 50. Actor Laura Wright is 50. Rock musician Jeremy Popoff (Lit) is 49. Blogger Markos Moulitsas is 49. Singer Brad Fischetti (LFO) is 45. Rapper Mr. Black is 43. Rock musician Jon Buckland (Coldplay) is 43. Rapper Ludacris is 43. Rock singer Ben Lee is 42. Actor Ryan Slattery is 42. Actor Ariana Richards is 41. Country singer Charles Kelley (Lady Antebellum) is 39. Actor Elizabeth Henstridge is 33. Actor Tyler Hoechlin (HEK'-lihn) is 33. Actor Mackenzie Aladjem is 19.