Ledger/LCJ newsletter 9-18-2020
The Heavener Ledger/LCJ daily newsletter
This is our free Friday content so everything is available to be read. Like what you see? Subscribe for only $50 a year and get the daily newsletter, our weekly newspaper and the e-edition.
NEWS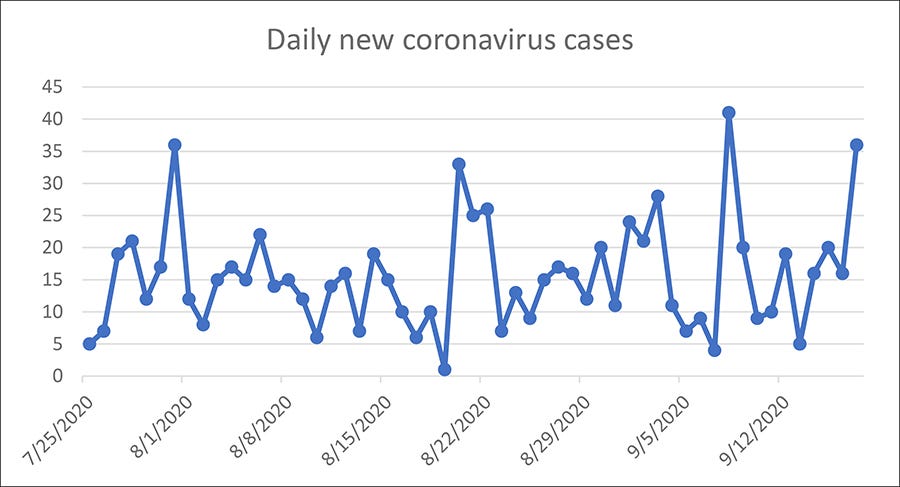 Coronavirus update 9-17-2020
LeFlore County had 36 new coronavirus cases Thursday, tying for the second most cases in a single day. There were 41 cases on Sept. 8.
Howe had 15 new cases, Bokoshe had six, Poteau four, Heavener and Spiro both with three, Cameron had two, while Shady Point and Wister each had one.
There are now 160 active cases, up .84 percent from Wednesday. The county has had 960 cases, 784 recoveries and 16 deaths from either the virus or complications from coronavirus.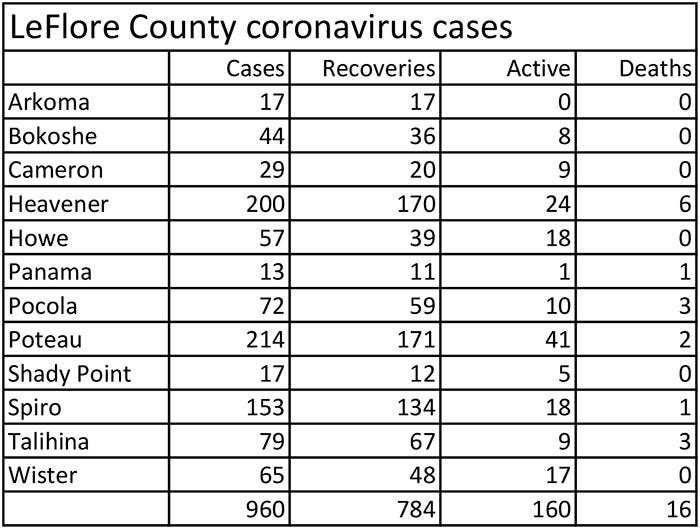 Oklahoma had 1,034 new cases, six deaths and 1,088 recoveries. Overall, the state now has had 73,318 cases, 930 deaths and 62,114 recoveries. Active cases are 10,274, down .6 percent from Wednesday.
The United States had 36,782 new cases, 977 deaths and 30,446 recoveries. The overall totals are 6,630,051 cases, 196,763 deaths and 2,525,573 recoveries. Active cases are 3,907,715, up .1 percent from Wednesday.
 Federal judge upholds Oklahoma election law
OKLAHOMA CITY (AP) — A federal judge on Thursday rejected the Oklahoma Democratic Party's lawsuit challenging the state's absentee voting rules.
In his ruling, U.S. District Judge John Dowell wrote that the state's absentee voting rules are "reasonable, nondiscriminatory and legitimate."
The state Democratic Party and the Democratic Congressional Campaign Committee had challenged as unnecessary barriers to voting state requirements that voters casting ballots by mail have their ballots notarized or include a copy of a photo identification.
But Dowell ruled the state's interest in preventing voter fraud outweigh any "minor burden" placed on voters.
Earlier this year, state lawmakers passed a law allowing voters to include a copy of their photo identifications as an alternative to having their ballot notarized if the election was within 45 days of an emergency declaration. In August, Gov. Kevin Stitt issued an executive order extending those provisions through the November election.
Oklahoma Attorney General Mike Hunter, whose office defended the law, applauded the judge's ruling.
"Judge Dowdell rightly concluded that the demands by these political groups would have caused confusion, delay, electoral disruption and increased risks of voter fraud," Hunter said.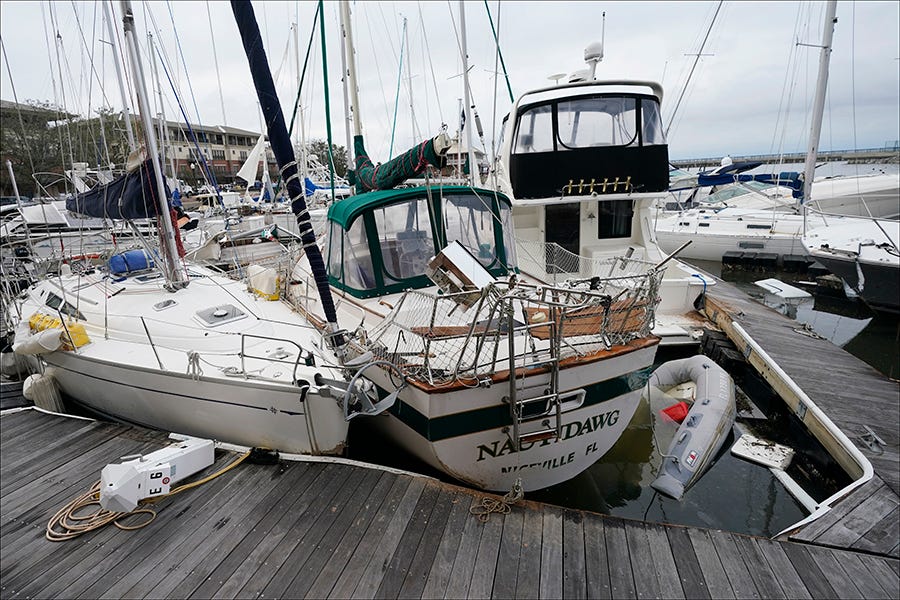 Storm damaged boats sit at the dock in a marina, Thursday, Sept. 17, 2020, in Pensacola, Fla. Rivers swollen by Hurricane Sally's rains threatened more misery for parts of the Florida Panhandle and south Alabama on Thursday, as the storm's remnants continued to dump heavy rains inland that spread the threat of flooding to Georgia and the Carolinas.(AP Photo/Gerald Herbert)
Rescuers reach people cut off by hurricane
By JAY REEVES, ANGIE WANG and BOBBY CAINA CALVAN Associated Press
PENSACOLA, Fla. (AP) — Rescuers on the Gulf Coast used boats and high-water vehicles Thursday to reach people cut off by floodwaters in the aftermath of Hurricane Sally, even as a second round of flooding took shape along rivers and creeks swollen by the storm's heavy rains.
Across southern Alabama and the Florida Panhandle, homeowners and businesses began cleaning up, and officials inspected bridges and highways for safety, a day after Sally rolled through with 105 mph (165 kph) winds, a surge of seawater and 1 to 2 1/2 feet (0.3 to 0.8 meters) of rain in many places before it began to break up.
Sally sped up late Thursday, moving at 15 mph compared to its previous crawl of 3 and 5 mph (5 and 8 kph), but was still dumping heavy rains in southeastern Virginia and eastern North Carolina, where forecasters also said there was a chance of tornadoes. The storm was expected to dump as much as 8 inches (20 centimeters) in parts of the Carolinas and southern Virginia, prompting warnings of flash flooding and moderate river flooding. As much as 8 inches of rain fell in central Georgia on Thursday.
In hard-hit Pensacola and surrounding Escambia County, where Sally's floodwaters had coursed through downtown streets and lapped at car door handles on Wednesday before receding, authorities went door-to-door to check on residents and warn them they were not out of danger.
"Please, please, we're not out of the woods even if we've got beautiful skies today," said Escambia County emergency manager Eric Gilmore.
Florida Gov. Ron DeSantis urged Panhandle residents not to let their guard down. "You're going to see the rivers continue to rise," DeSantis said after an aerial tour of the Panhandle.
Most rivers fed by the storm were cresting in Alabama and the Panhandle on Thursday, although the Shoal, in Florida was still rising, said Steve Miller of the National Weather Service in Mobile, Alabama. Near Crestview, Florida, portions of Interstate 10 and U.S. Highway 90 — the two main roadways running east to west through the Panhandle — were closed because of flooding from the Shoal, the Florida Highway Patrol said.
Crews carried out at least 400 rescues in Escambia County, Florida, by such means as high-water vehicles, boats and water scooters, authorities said. Rescuers focused their efforts Thursday on Innerarity Point, a narrow strip of land close to Pensacola that is home to waterfront homes and businesses. Floodwaters covered the only road out.
Richard Wittig and his family were among scores of people hemmed in by floodwaters on an island at the tip of the point. Two generators powered his house.
"If I didn't have a working generator, we'd be dead. Nobody can get to us," said Wittig, 77. He said he and his son rely on oxygen machines to stay alive.
The Florida National Guard said it had deployed about 500 soldiers and airmen to help local authorities evacuate 113 people, though it did not say when and where the rescues took place.
In Alabama, on both sides of Mobile Bay, National Guard soldiers from high-water evacuation teams used big trucks Thursday to rescue at least 35 people, authorities said.
A volunteer rescue group based on Marcos Island, Florida, known as the Marcos Patriots, received three calls for help, including from an 80-year-old woman in Gulf Shores, Alabama, whose roof had blown off.
When a rescue team arrived, "she was safe and sound with a neighbor but her house was destroyed," said group co-founder ErinMia Milchman.
About 35 miles (56 kilometers) inland, a swollen Murder Creek cut off access between the Alabama towns of Brewton and East Brewton, inundating a grocery store, a tobacco shop, a park and more. Residents behind a police roadblock gazed at the neighboring city across fast-moving water covering a bridge.
East Brewton resident Brenda Davenport said it took only four hours for the water to rise. "It could take two days for it to go down," she said.
In Orange Beach, Alabama, Janice Sullivan swore she would never ride out a hurricane again. She and her daughter huddled in a second-floor bathroom as Sally blew ashore.
"You could hear everything hitting the house," she said. "You could hear the house moving back and forth. It was literally moaning and cracking."
A few people cleaned up in Bristol Park, a creekside neighborhood where as much as 4 feet (1.2 meters) of water filled brick homes north of Pensacola.
Susan Cutts' parents fled rising water inside their home into the garage, where they desperately called for help on a dying cellphone until aid arrived.
"They were on top of their car when they got to them," Cutts said.
At least one death, in Alabama, was blamed on the hurricane. Nearly 400,000 homes and businesses were still without power Thursday night, mostly in Alabama and Florida.
A section of the main bridge between Pensacola and Pensacola Beach collapsed after it was hit by a barge that broke loose during the storm.
At a downtown marina, at least 30 sailboats, fishing boats and other vessels were clumped together in a mass of fiberglass hulls and broken docks. Some boats rested atop sunken ones.
Also on Thursday, the National Hurricane Center said a new tropical depression formed in the southwestern Gulf of Mexico. Forecasters said the depression could become a tropical storm as it moves slowly over the western Gulf during the next few days. Meanwhile, Hurricane Teddy strengthened to a powerful Category 4 storm in the Atlantic. The storm currently poses no threat to land.
SPORTS
Pocola wins the 2020 LCT
POTEAU – Pocola went undefeated and claimed the 2020 fast pitch softball LeFlore County Tournament with a 9-3 win over Howe in the championship game Thursday night.
The Lady Indians improve to 18-2. Howe, which defeated Poteau, 10-2, to advance to the championship game, is 17-9.
In the opening game of the day, Poteau rallied to defeat Whitesboro, 7-6.
Pocola trailed Howe, 3-2, going into the bottom of the fifth before scoring five runs to take the lead for good. The Lady Indians added two more runs in the sixth inning and held Howe scoreless.
Kena Chitwood got the win for Pocola, going all seven innings and allowing nine hits and three runs, all earned, with six strikeouts and a walk.
Emma Damato went 3-4 with a RBI and a run; Kail Chitwood doubled and was 2-4 with two runs; Madison Linker had a 2-4 game with two RBI and a run; and Bailey Lairamore was 1-2 with three RBI.
Makaleah Lewis took the loss for Howe. She pitched five innings and allowed five hits and seven runs (six earned) with a strikeout and seven walks. Kalan Nye went one inning, giving up two hits and two runs, both earned, with a walk.
Lewis tripled and was 3-4 with a run and Peyton Stubbs doubled while going 1-3 with a run.
Pocola 9, Howe 3
HHS 0 0 2 0 1 0 0—3 9 3
PHS 0 0 0 2 5 2 x—9 11 0
In Howe's win over Poteau, Abby Huie was 3-4 with three RBI and a run; Lewis homered twice and went 2-4 with three RBI and two runs; Karsyn Nye doubled while going 2-3 with two RBI and a run; Caitlyn Stacy had a 2-4 outing with a run; and Stubbs finished 2-4 with a run.
Maddi Nobles got the win over Howe. She went 5.1 innings and allowed four hits and two runs, one earned, with a strikeout and seven walks. Lewis pitched the final two outs with a strikeout.
For Poteau, Kylie Turner pitched two innings and gave up six hits and four runs, two earned) with two strikeouts. Rilee Dunigan threw three innings, allowing six hits and six runs (two earned) with a walk.
Hailey Weaver led Poteau's offense by going 2-3 with a run.
Howe 10, Poteau 2
PHS 0 0 0 0 0 2—2 4 4
HHS 0 2 2 2 0 4—10 14 1
In the first game of the day, Poteau scored six runs in the top of the fifth to take a 7-2 lead on Whitesboro. The Lady Bulldogs answered with four runs in the bottom of the fifth.
Poteau added an insurance run in the top of the sixth. Whitesboro scored once in the bottom of the seventh before Poteau ended the rally.
Turner got the win for Poteau. She went seven innings and gave up six hits and six runs (three earned) with four strikeouts and two walks.
Emmy Ford went 3-3 with two runs for the Lady Pirates; Turner had a 3-4 game with two RBI; Parker Patterson finished 2-4;  Annika Dill doubled and went 2-5 with a RBI and a run; Weaver doubled while going 1-4 with a run; and Tori Morgan doubled and was 1-3 with a RBI and a run.
Whitesboro used three pitchers. Madi Edwards went 2.1 innings and gave up five hits and an earned run with two walks, Kinley Barron threw 2.1 innings, allowing six hits and six runs, all earned, with a strikeout and a walk. Linley Collings went the final 2.1 innings, giving up four hits and one run with two strikeouts and a walk.
Courtney Grey tripled and doubled for Whitesboro while going 2-4 with two RBI and a run; Kimbri Huett homered and finished 1-3 with two RBI and a run.
Poteau 8, Whitesboro 7
PHS 1 0 0 0 6 1 0—8 14 4
WHS 0 2 0 0 4 0 1—7 7 1
Light night scheduled for Week 3
A fairly slow night of football for LeFlore County teams in Week 3 as only four of the seven county teams are in action.
Pocola and Poteau both have a bye while Talihina's game with Hartshorne was cancelled due to coronavirus.
This is the final non-district game for several county teams.
Heavener (1-1) will try to bounce back from last week's loss to Valliant when the Wolves travel to Central Sallisaw. It will be the first meeting between the two teams since 2011. The Tigers are 0-2 after losing at Panama and Pocola.
Panama will also attempt to bounce back after a loss at Hackett, Arkansas last week when the Razorbacks host Gore in the Pirates' first game of the season. Gore had its first two games cancelled due to coronavirus.
Spiro is also back in action Friday in the battle of Bulldogs against Muldrow. Spiro is 1-0 and was off last week due to Sequoyah-Tahlequah cancelling all sports first the first nine weeks of the season.
Arkoma will look to win its second game in a row after last week's blowout win over Bowlegs as the Mustangs travel to Quinton. Arkoma is 1-1 while Quinton is 2-0 with easy wins over Cave Springs and Gans.
LeFlore County sports scoreboard 9-17-2020
The LeFlore County sports scoreboard from Thursday and schedule for Friday.
Thursday's scores
Fast pitch softball
LCT
Pocola 9, Howe 3
Howe 10, Poteau 2
Poteau 7, Whitesboro 6
Regular season
Heavener 17, Westville 0
Vian 17, Heavener 4
Panama 5, LeFlore 2
Fall baseball
Wister 9, Howe 1
Preston 14, Bokoshe 0
Whitesboro 10, Battiest 6
Friday's schedule
Football
Heavener at Central Sallisaw
Panama at Gore
Muldrow at Spiro
Talihina at Hartshorne (cancelled)
Arkoma at Quinton
Fast pitch softball
Heavener at Tushka, Stroud at Firelake Festival in Shawnee; Whitesboro vs. Roff and Tushka at Red River Rumble
Fall baseball
Howe at Haileyville
Buffalo Valley at Cameron
Battiest at Whitesboro
Lady Wolves split district games
VIAN – Heavener split a pair of District 3A-7 softball games here Thursday.
The Lady Wolves bashed Westville in the opener, 17-0, before Vian took a 17-4 win over Heavener in the second game.
Heavener is 19-9 overall, 6-4 in district play. The Lady Wolves play Tushka and Stroud at the Firelake Festival Friday.
Against Westville, Heavener scored eight runs in the top of the third to put the game away.
Lainey Dyer got the win for Heavener, pitching all five innings with five hits and six strikeouts.
Destiny McGee went 2-5 with four RBI and two runs; Ava Cartwright had a 2-3 game with four runs; Dyer went 2-3 with two runs; and Paisley Stacy was 2-3 with three RBI and two runs.
Heavener 17, Westville 0
HHS 1 1 8 3 4—17 10 2
WHS 0 0 0 0 0—0 5 2
It was a totally different story against Vian. The Lady Wolverines held a 4-3 lead after four innings before scoring six runs in the fifth and seven in the sixth.
Vian had 16 hits and was aided by six Heavener errors.
Dyer went 3.1 innings, giving up 11 hits and 10 runs (eight earned) with two strikeouts. Kinley Brand went two innings and allowed four hits and seven runs (six earned) with two strikeouts and three walks. Gracie Morrison pitched the final two outs and gave up a hit.
McGee tripled and went 1-2 with two runs for Heavener.
Vian 17, Heavener 4
VHS 0 0 2 1 6 7—17 16 1
HHS 0 0 0 3 1 0—4 5 6
Panama gets win over LeFlore
PANAMA – Panama scored five runs in the second and third innings and made it hold up in a 5-2 win over LeFlore Thursday.
The Lady 'Backs improve to 10-10 and host Hulbert in a district game Monday. LeFlore is also 10-10 and hosts Sallisaw Monday.
Kami Autrey got the win for Panama. She went six innings and gave up four hits and two runs, both unearned, with two strikeouts. Krista Dotson pitched one inning with a walk.
Dotson doubled while going 1-2 with a run and Layla Sons also doubled and finished 1-3.
Braxtyn McMillin took the loss for LeFlore. She pitched six innings, giving up eight hits and five runs (three earned) with five strikeouts and five walks.
Panama 5, LeFlore 2
LHS 0 1 0 0 0 1 0—2 4 2
PHS 0 3 2 0 0 0 x—5 7 3
OTHER STORIES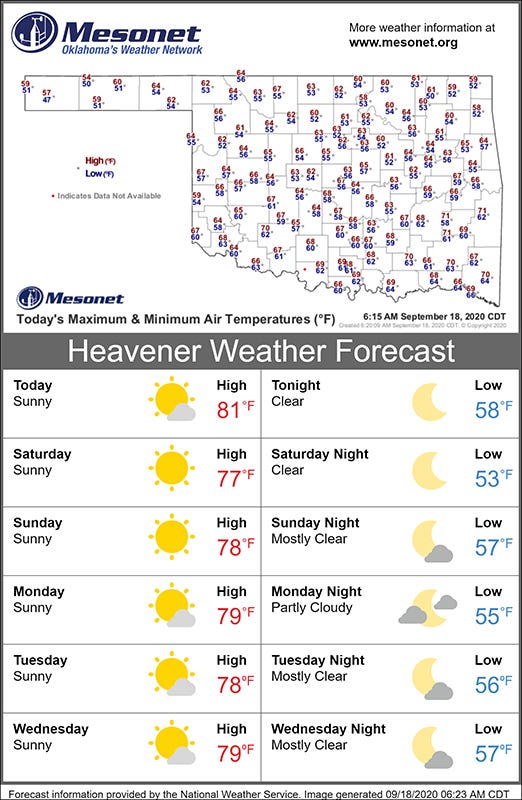 Beautiful weather continues Friday
Another beautiful day forecast for Friday in LeFlore County with clear skies, a high of 81 degrees and a low of 58 degrees.
Sunrise is at 7:03 a.m. with sunset at 7:19 p.m. Kickoff weather for Friday night football games is expected to be clear skies and 75 degrees.
Thursday's high was 82 with a low of 64. Average temperatures for Sept. 18 are a high of 84 and low of 57. Records for the date were a high of 98 in 1972 and a low of 32 in 1981. This is the first day of late summer to have hit the freezing mark.
Calendar of events
The LeFlore County calendar of events lists the upcoming events in the area. This is a free service so if you or your group have an event coming up and would like it added to the calendar, please send an email tocraig@heavenerledger.com.
Friday
5th annual Poteau Valley Humane Society Putt for Paws golf tournament 10 a.m. at Wolf Ridge Country Club
High school football: Heavener at Central Sallisaw; Muldrow at Spiro; Gore at Panama; Talihina at Hartshorne (cancelled); Arkoma at Quinton.
High school softball: Heavener at Firelake Festival in Shawnee;
High school baseball: Howe at Haileyville; Buffalo Valley at Cameron; Battiest at Whitesboro
Saturday
Cross country: Poteau at Holland Hall meet
High school softball: Heavener, Howe at Firelake Festival in Shawnee; Eufaula at Spiro; Whitesboro at Oklahoma Union Tournament
High school baseball: Whitesboro at Buffalo Valley.
Monday
LeFlore County commissioners meet 9 a.m.
High school softball: Pocola at Heavener; Howe at Wilburton; Warner at Wister; Hartshorne at Poteau; Whitesboro at Clayton; Spiro at Okmulgee; Talihina at Quinton
High school baseball: Battiest at Howe; Bokoshe, Moyers at Clayton; Whitesboro at Crowder
Tuesday
Cross country: Heavener at UA Rich Mountain meet in Mena, Arkansas
Spiro Mounds Autumnal Equinox walks
High school softball: Heavener at Pocola; Howe at Chouteau; Webbers Falls at Wister; Poteau at Broken Bow; Talihina at Hugo; Talihina at Hugo
High school baseball: Cameron at Red Oak; Bokoshe (Pittsburg) at Haileyville
Thursday
Poteau Kiwanis Club meets noon at Western Sizzlin
Heavener VFW bingo 6 p.m. Highway 59
High school softball: Heavener at Smithville; Panama at Howe; Poteau at NSU Tournament
Today in history for Sept. 18
By The Associated Press
Today is Friday, Sept. 18, the 262nd day of 2020. There are 104 days left in the year.
Today's Highlight in History:
On Sept. 18, 1850, Congress passed the Fugitive Slave Act, which created a force of federal commissioners charged with returning escaped slaves to their owners.
On this date:
In 1759, the French formally surrendered Quebec to the British.
In 1793, President George Washington laid the cornerstone of the U.S. Capitol.
In 1927, the Columbia Phonograph Broadcasting System (later CBS) made its on-air debut with a basic network of 16 radio stations.
In 1947, the National Security Act, which created a National Military Establishment and the position of Secretary of Defense, went into effect.
In 1959, during his U.S. tour, Soviet leader Nikita Khrushchev visited Wall Street, the Empire State Building and the grave of President Franklin D. Roosevelt; in a speech to the U.N. General Assembly, Khrushchev called on all countries to disarm.
In 1961, United Nations Secretary-General Dag Hammarskjold (dahg HAWM'-ahr-shoold) was killed in a plane crash in northern Rhodesia.
In 1965, the situation comedies "I Dream of Jeannie" and "Get Smart" premiered on NBC.
In 1970, rock star Jimi Hendrix died in London at age 27.
In 1975, newspaper heiress Patricia Hearst was captured by the FBI in San Francisco, 19 months after being kidnapped by the Symbionese Liberation Army.
In 2001, a week after the Sept. 11 attack, President George W. Bush said he hoped to "rally the world" in the battle against terrorism and predicted that all "people who love freedom" would join. Letters postmarked Trenton, N.J., that later tested positive for anthrax were sent to the New York Post and NBC anchorman Tom Brokaw.
In 2007, O.J. Simpson was charged with seven felonies, including kidnapping, in the alleged armed robbery of sports memorabilia collectors in a Las Vegas casino-hotel room. (Simpson, sentenced to nine to 33 years in prison, was released on parole in October 2017.)
In 2014, voters in Scotland rejected independence, opting to remain part of the United Kingdom in a historic referendum. The Royal and Ancient Golf Club at St. Andrews, Scotland, ended years of male-only exclusivity as its members voted overwhelmingly in favor of inviting women to join.
Ten years ago: Despite Taliban rocket strikes and bombings, Afghans voted for a new parliament in the first election since a fraud-marred ballot cast doubt on the legitimacy of the embattled government. During his visit to Britain, Pope Benedict XVI apologized to five people who'd been molested by priests as children in his latest effort to defuse the sex abuse crisis shaking the Roman Catholic Church.
Five years ago: The Environmental Protection Agency said Volkswagen had intentionally skirted clean air laws by using software that enabled about 500,000 of its diesel cars to emit fewer smog-causing pollutants during testing than in real-world driving conditions; the EPA ordered VW to fix the cars at its own expense. President Barack Obama announced he would nominate longtime Pentagon official Eric Fanning to be the Army's new secretary; Fanning became the nation's first openly gay leader of a military service.
One year ago: President Donald Trump named Robert O'Brien, his chief hostage negotiator, as his new national security adviser; O'Brien became the fourth person in two years to hold the job. President Donald Trump said his administration was revoking California's authority to set auto mileage standards stricter than those issued by federal regulators; the state challenged the decision in court. Figures released by the Guttmacher Institute, a research group that supports abortion rights, showed that the number and rate of abortions across the United States had plunged to their lowest levels since the procedure became legal nationwide in 1973.
Today's Birthdays: Singer Jimmie Rodgers is 87. Actor Robert Blake is 87. Gospel singer Bobby Jones is 82. Singer Frankie Avalon is 80. Actor Beth Grant is 71. Rock musician Kerry Livgren is 71. Actor Anna Deavere Smith is 70. The U.S. Secretary of Housing and Urban Development, Ben Carson, is 69. Basketball Hall of Fame coach Rick Pitino is 68. College Football Hall of Famer and retired NFL player Billy Sims is 65. Movie director Mark Romanek is 61. Baseball Hall of Famer Ryne Sandberg is 61. Alt-country-rock musician Mark Olson is 59. Singer Joanne Catherall (Human League) is 58. Actor Holly Robinson Peete is 56. Rhythm-and-blues singer Ricky Bell (Bell Biv Devoe and New Edition) is 53. Actor Aisha Tyler is 50. Former racing cyclist Lance Armstrong is 49. Opera singer Anna Netrebko is 49. Actor Jada Pinkett Smith is 49. Actor James Marsden is 47. Actor Emily Rutherfurd is 46. Actor Travis Schuldt is 46. Rapper Xzibit is 46. Comedian-actor Jason Sudeikis is 45. Actor Sophina Brown is 44. Actor Barrett Foa is 43. Talk show host Sara Haines (TV: "GMA3: Strahan, Sara & Keke") is 43. Actor/comedian Billy Eichner is 42. Actor Alison Lohman is 41. Designer Brandon Maxwell is 36. Congressman and former NFL player Anthony Gonzalez, R-Ohio, is 36. Actors Brandon and Taylor Porter are 27. Actor Patrick Schwarzenegger is 27. Country singer Tae Dye (Maddie and Tae) is 25. Actor C.J. Sanders is 24.
OBITUARIES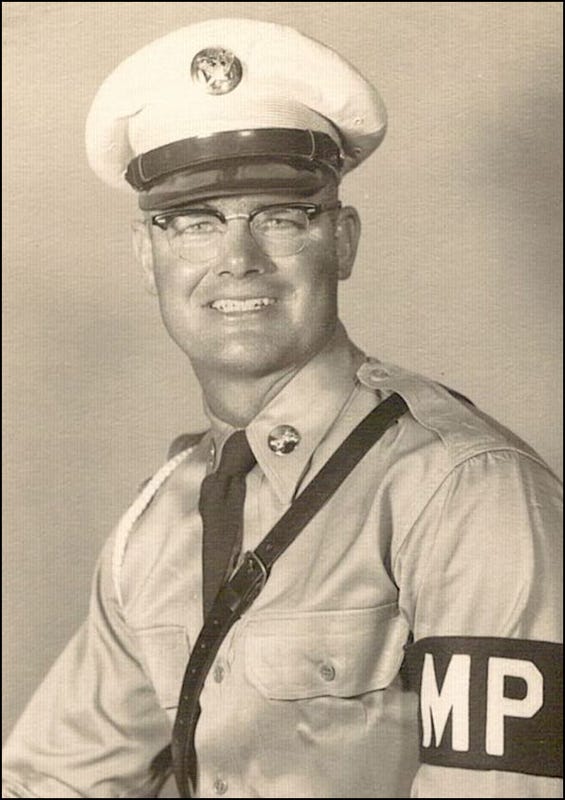 Obituary for Clay Costner
WHITTIER, Calif. - Clay Elbert Costner passed away in Whittier, California, July 19, 2020. 
He was born June 11, 1931 in Panama, the youngest and only son of Elbert L. and Jewell (Thomas) Costner. 
Clay graduated from Poteau High School in 1949. He was a veteran of the U.S. Army, serving as a military policeman. After his service, Clay received his BA degree from Central State College, a MA from OU, and a PhD from Peabody College in Nashville, Tennessee.
Following his parents into a career in education, Clay taught and coached in the Midwest City schools before returning to Poteau and becoming an instructor at CASC.  He was known as an avid tennis player and coach.  Relocating in California, Clay became an instructor/teacher in the Department of Corrections for the state of California, from which he retired. 
Clay was preceded in death by his parents; and three sisters Wanda Gammell, Wilma (Costner, Ervin) Lee, and Winona Selkirk.
He is survived by his son, Julian Vo; granddaughter, Melina Vo, both of California; grandson, Julian Vo Jr. of Mexico; nephews, Jim Ervin and wife Judy of Poteau, and Larry Selkirk and wife Linda of Fort Collins, Colorado; as well as other family & friends.
Clay was interred at the National Cemetery in Riverside, California.