Ledger/LCJ newsletter 9-25-2020
Ledger/LCJ daily newsletter
Subscribe to the Ledger/LCJ newsletter for a month for $5 or a year for $50 and also receive the Ledger's newspaper and e-edition.
The Ledger/LCJ podcast for Friday: https://www.spreaker.com/episode/41117596
NEWS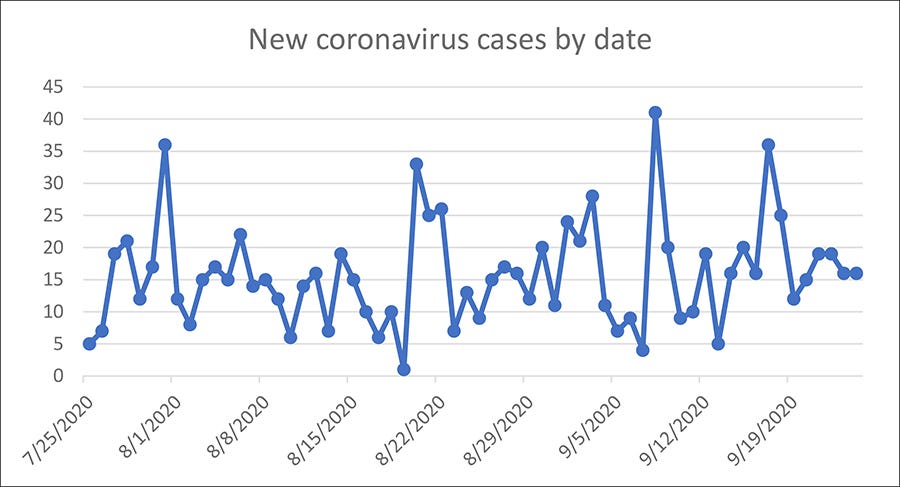 Coronavirus update 9-24-2020
LeFlore County had 16 new coronavirus cases in Thursday's report by the Oklahoma Department of Health.
Poteau had nine cases while Bokoshe, Cameron, Howe, Panama, Spiro and Wister each had one.
Active cases are now 189, up from 183 Thursday. The county has had 1,079 cases with 873 recoveries and 17 deaths from the virus or complications due to coronavirus.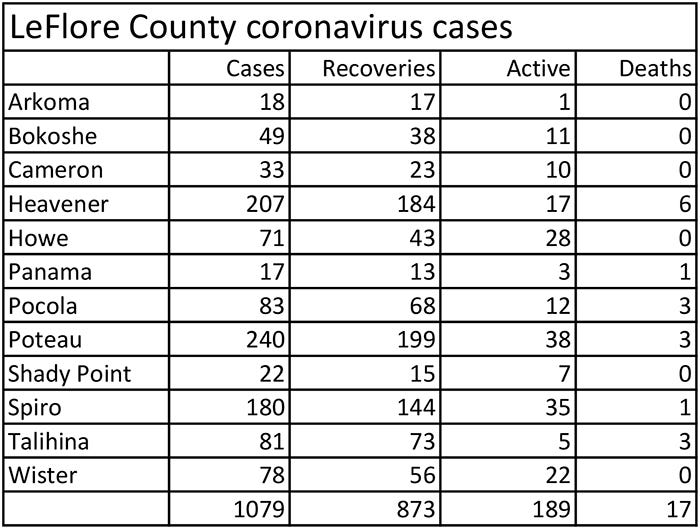 Oklahoma had 1,083 new coronavirus cases Thursday with 11 deaths and 1,028 recoveries. The overall total is now 81,244 cases, 981 deaths and 67,807 recoveries. There are currently 12,456 active cases, up .4 percent from Wednesday.
The United States had 37,330 new cases, 1,098 deaths and 23,297 recoveries. The totals are 6,933,548 cases, 201,884 deaths and 2,670,256 recoveries. Active cases are 4,061,408, up .3 percent from Wednesday.
Girl dead, family members hurt in house explosion
OKLAHOMA CITY (AP) — A girl was killed and her parents and brother were injured when their home in Oklahoma City exploded Thursday morning, fire officials said.
The ages of the girl or her brother were not immediately released, but both are younger than 18, according to District Fire Chief Benny Fulkerson. The boy and the parents were taken to a hospital with burn injuries in undisclosed condition, Fulkerson said.
No names were released. The explosion does not appear intentional, Fulkerson said.
The explosion occurred just before 7 a.m. in northeast Oklahoma City and destroyed the home while also damaging at least three nearby houses, Fulkerson said.
"When we arrived there was no active fire, it was a completely leveled home with debris up and down the street," Fulkerson said.
The cause wasn't known, but Fulkerson said the home had propane, not natural gas.
SPORTS
LeFlore County sports scoreboard 9-24-2020
The LeFlore County sports scoreboard for Thursday.
Fast pitch softball
Class A district
Gans 13, Arkoma 0
Class B district
LeFlore 9, Smithville 1
LeFlore 12, McCurtain 1
Regular season
Pocola 6, Heavener 0
Pocola 2, Heavener 1
Howe 11, Chouteau 1
Howe 7, Chouteau 5
Panama 23, Central 0
Poteau 5, Glenpool 0
Hilldale 11, Poteau 3
Fall baseball
Class B districts
Red Oak 14, Bokoshe 0
McCurtain 15, Bokoshe 0
Caney 7, LeFlore 1
LeFlore 23, Coleman 0
To report scores or information on games involving LeFlore County teams, send an email to craig@heavenerledger.com.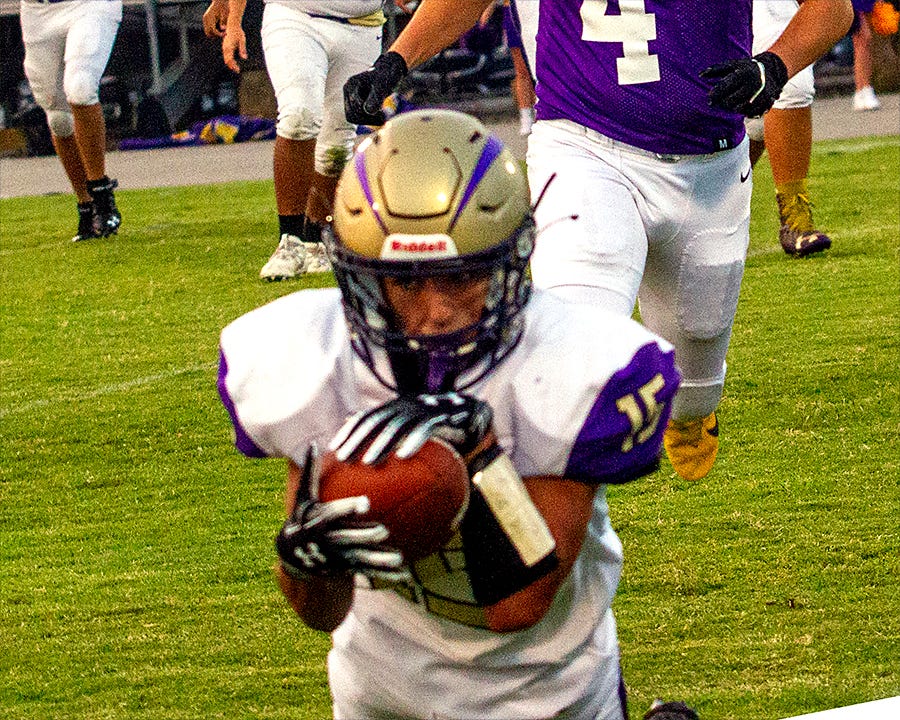 Heavener's Jonny Ardemagni tries to come up with a diving catch in last week's game at Central Sallisaw. The Wolves open district play at home Friday against Cascia Hall.
District play starts Friday night
It will be a big night for LeFlore County football teams as district play starts for most of the county squads.
Talihina's game with Porter was cancelled due to coronavirus while Arkoma (2-1) visits Porum (1-2) in a non-district game. Other games have Cascia Hall at Heavener, Hilldale at Poteau, Panama at Spiro and Pocola at Roland.
There are four district games for LeFlore County teams.
Heavener (1-2) will try to snap a two-game losing streak when the Wolves host Cascia Hall (2-1) in the 2A-5 district opener for both teams. Cascia Hall is expected to contend for the district championship. This is only the second meeting between the two schools as Heavener lost at Cascia Hall, 25-6, in a second-round playoff game in 1991.
Poteau plays Hilldale in the 4A-4 opener for both teams. The Pirates are 1-2 after a brutal non-district schedule while the Hornets are 3-0. Poteau won at Hilldale last year, 48-0, en route to a district championship.
The Pirates have won 14 straight district games. The last district loss was on Nov. 3, 2017 when Poteau lost to Hilldale, 48-28, which was coached by current Poteau head coach Greg Werner.
Spiro (2-0) is looking to stay undefeated against Panama, which is 1-2. The Bulldogs prevailed over the Razorbacks, 48-0, in last year's game.
The final district game features Pocola (1-2) going for its second straight win at Roland, which is 2-1 after losing to Wilburton last week.
Pocola wraps up district championship
POCOLA – Pocola wrapped up the District 3A-7 championship by sweeping Heavener Thursday.
The Lady Indians won the two games, 6-0, and 2-1. Pocola improves to 20-2 overall, 10-0 in district play. Heavener is 19-14 and 6-6.
In the opener, Pocola's Kena Chitwood threw a three-hitter to get the shutout. She struck out four and walked one.
Bailey Lairamore doubled and was 2-2 with two runs and a RBI; Kylee Smith was 2-2; Emma Damato doubled while going 1-2 with a run; and Kenzie Tuck doubled in a 1-2 game with two RBI and a run.
Lainey Dyer took the loss for Heavener, giving up seven hits and six runs, one earned, with a strikeout.
Pocola rallied late for two runs to win the second game. Maci Maxwell was the winning pitcher for Pocola, allowing no hits with five strikeouts and a walk.
Lairamore doubled and went 1-2 with a RBI for Pocola.
Kinley Brand took the loss for Heavener, giving up four hits and two runs, both earned, with two strikeouts and two walks.
Howe sweeps Chouteau
CHOUTEAU – Howe's fast pitch softball team stayed perfect in District 2A-5 play by sweeping a doubleheader over Chouteau Thursday.
The Lady Lions improve to 19-11 overall, 11-0 in district play. Chouteau drops to 14-14 and 7-5.
Howe won the opener, 11-1, then held on to take the second game, 7-5.
In the opener, Howe took control by scoring seven runs in the fourth inning and ended the game early by run-rule.
Kalan Nye was the winning pitcher. She gave up three hits and one run with eight strikeouts and three walks.
Gracie Lute doubled and was 2-4 with a RBI for Howe; Nye had a double while going 2-4 with a RBI; Peyton Stubbs had a 2-4 game with two RBI; and Caitlyn Stacy doubled and finished up 1-3 with two runs and a RBI.
Howe 11, Chouteau 1
HHS 0 1 0 7 3—11 11 0
CHS 1 0 0 0 0—1 3 6
In the second game, Howe built up a 7-1 lead and had to hold off Chouteau late.
Maddi Nobles got the win for Howe, going 6.2 innings and allowing four hits and three runs, one earned, with six strikeouts and one walk. Makaleah Lewis got the save, throwing one out with a hit and two runs, both unearned, while striking out one and walking one.
Lewis was 2-4 with a run; Nye went 2-4 with two runs; Abby Huie had a 2-3 game with a RBI and a run; and Dani Collins finished 2-3.
Howe 7, Chouteau 5
CHS 0 0 0 1 0 4 0—5 5 0
HHS 1 0 0 3 3 0 x-7 11 4
Poteau splits in NSU Tournament
TAHLEQUAH – Poteau split a pair of fast pitch softball games at the Northeastern State University Tournament Friday.
The Lady Pirates (19-11) lost to Hilldale, 11-3, before bouncing back to down Glenpool, 5-0.
Kylie Turner pitched one inning, giving up three hits and three runs, one earned. Annika Dill went four innings, allowing six hits and eight runs, five earned, with a strikeout and five walks.
Tori Morgan homered for Poteau and went 1-2 with three RBI and a run.
Hilldale 11, Poteau 3
HHS 3 0 2 3 3—11 9 0
PHS 0  0 3 0—3 5 4
In the win over Glenpool, Turner threw a two-hitter for Poteau. She struck out two and didn't issue any walks.
Morgan Hagen doubled and was 1-1 with a RBI and Hailey Weaver doubled while going 1-3 with a RBI and a run.
Poteau 5, Glenpool 0
GHS 0 0 0 0 0 0—0 2 1
PHS 1 0 0 2 2 x—5 8 2
LeFlore takes two in district tournaments
LeFLORE – LeFlore went 2-0 in a fast pitch softball Class B district tournament Thursday.
The Lady Savages improved to 17-13 with a 9-1 win over Smithville and a 12-1 victory over McCurtain.
In the opener against McCurtain, LeFlore put the game away early, scoring all 12 runs in the first three innings.
Braxtyn McMillin picked up the win for LeFlore, going four innings and allowing one hit with eight strikeouts. Alyssa Waits allowed one run with four walks.
Waits was 2-2 with two runs and a RBI; Harley Robinson had a 2-2 game with a RBI and a run; and Shadie Crase doubled while going 1-1 with three RBI and two runs.
LeFlore 12, McCurtain 1
MHS 0 0 1 0—1 1 3
LHS 5 1 5 x—12 8 1
The Lady Savages also got off to a good start in the win over Smithville, building an 8-0 lead after two innings.
McMillin also picked up the win in the second game. She went five innings and gave up two hits and one run with eight strikeouts and three walks.
Lindsey Waits doubled and was 2-3 with three runs; Jenna Woodall finished 2-4 with a RBI; and Alyssa Waits had a 2-3 outing with two RBI.
LeFlore 9, Smithvile 1
SHS 0 0 0 1 0—1 2 2
HHS 3 5 0 0 1—9 11 0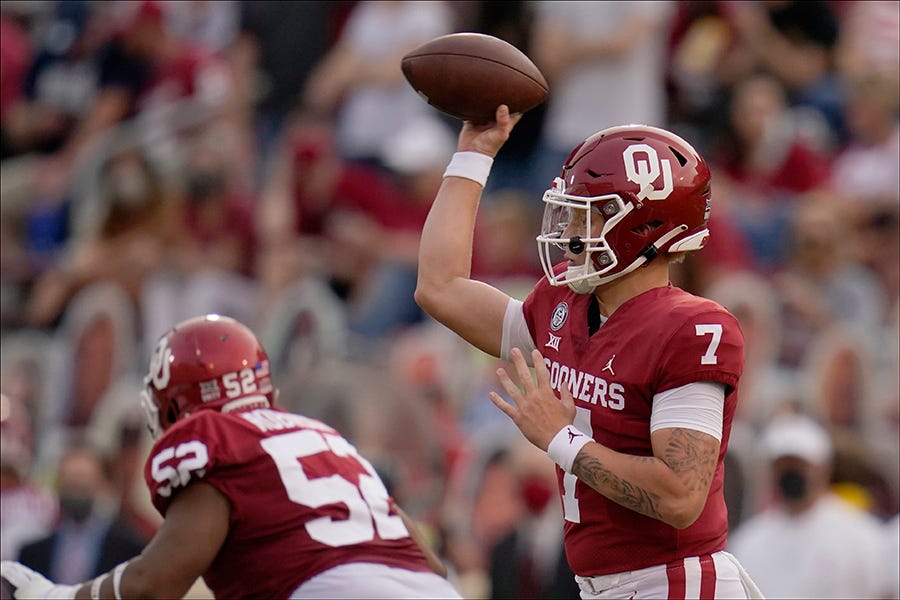 Oklahoma quarterback Spencer Rattler (7) passes in the first half of an NCAA college football game against Missouri State Saturday, Sept. 12, 2020, in Norman, Okla. (AP Photo/Sue Ogrocki, Pool)
OU seeks payback against Kansas State
By The Associated Press undefined
Kansas State (0-1, 0-0 Big 12) at No. 3 Oklahoma (1-0, 0-0), Saturday at 11 a.m. CST (FOX).
Line: Oklahoma by 28.
Series record: Oklahoma leads 76-20-4.
WHAT'S AT STAKE?
Oklahoma nearly had its College Football Playoff hopes derailed with an upset loss to Kansas State last year. A loss this year would again put the Sooners on the edge of elimination. Kansas State is at risk of a tailspin after opening the season with a loss to Arkansas State. Oklahoma quarterback Spencer Rattler, a redshirt freshman who is getting some early Heisman Trophy buzz, can build on a strong performance against Missouri State.
KEY MATCHUP
Rattler vs. Kansas State's defensive line. Rattler looked dynamic against Missouri State, but he wasn't pressured. Kansas State has a solid defensive front, led by defensive end Wyatt Hubert, a preseason All-Big 12 selection. Hubert led the Wildcats last season with 12.5 tackles for loss and 7.0 sacks.
PLAYERS TO WATCH
Kansas State: RB Deuce Vaughn. He led the Wildcats with 47 yards rushing and caught a pass for 24 yards against Arkansas State. He became the first true freshman in school history to score a touchdown in a season opener. The 5-foot-5, 168-pounder plays behind Harry Trotter, but it appears Kansas State is committed to working him into the offense.
Oklahoma: WR Charleston Rambo. He caught two touchdown passes from Rattler in the opener and nearly pulled in a third. Kansas State surrendered 330 yards passing against Arkansas State.
FACTS & FIGURES
Kansas State ended Oklahoma's 22-game road winning streak last season. ... Oklahoma leads the nation in total defense and scoring defense. ... Rattler leads the nation in passing efficiency. ... Oklahoma freshman running back Seth McGowan had 98 yards and two touchdowns from scrimmage in his debut. ... Kansas State nickelback Will Jones blocked a punt and intercepted a pass against Arkansas State in his first career start.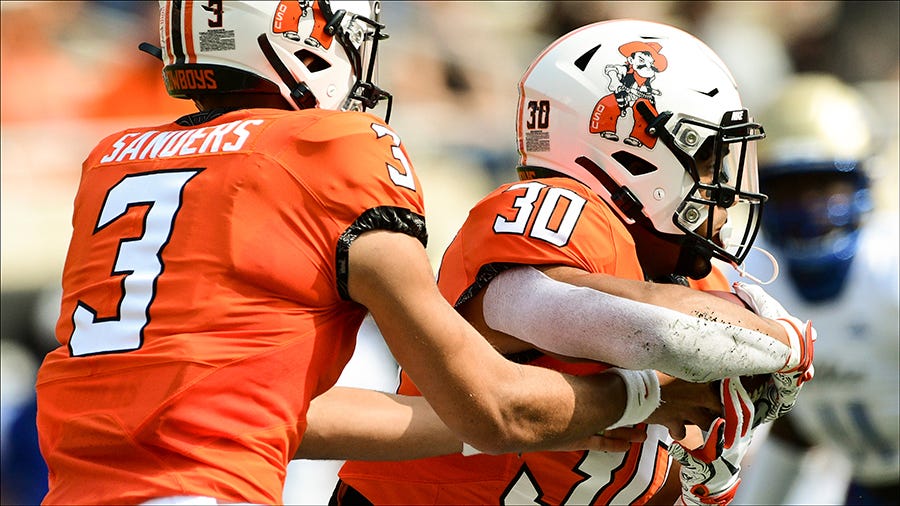 Oklahoma State quarterback Spencer Sanders (3) hands the ball off to running back Chuba Hubbard (30) duyring the first half of an NCAA college football game against Tulsa, Saturday, Sept. 19, 2020, in Stillwater, Okla. (AP Photo/Brody Schmidt)
OSU opens Big 12 slate vs. West Virginia
By The Associated Press
West Virginia (1-0) at No. 15 Oklahoma State (1-0), Saturday at 3:30 p.m. ET (ABC).
Line: Oklahoma State by 7.
Series record: Oklahoma State leads 7-4.
WHAT'S AT STAKE?
Oklahoma State entered the season with high hopes but nearly slipped in its opener against Tulsa and took a dive in the AP poll. The Cowboys can't afford another shaky performance if they want to be viewed as elite. West Virginia was picked to finish eighth in the Big 12, so a road win against Oklahoma State would be significant for the program.
KEY MATCHUP
Oklahoma State RB Chuba Hubbard vs. West Virginia's defense. Hubbard ran for 93 yards and a touchdown last Saturday against Tulsa, but he didn't rip off the kind of long runs he's become known for. West Virginia will need to keep him from getting loose in the running and passing games. In last year's game against the Mountaineers, Hubbard ran for 106 yards on 26 carries and had seven receptions for 88 yards.
PLAYERS TO WATCH
West Virginia: RB Leddie Brown. He rushed for 123 yards and two touchdowns and caught a 15-yard touchdown pass in the season opener against Eastern Kentucky. His 12.3 yards per carry leads the nation.
Oklahoma State: WR Tylan Wallace. He had four catches for 94 yards last week against Tulsa in his first game since going down with an ACL injury last season. He was dynamic when the Cowboys threw in his direction, drawing penalties and making highlight-reel catches.
FACTS & FIGURES
Oklahoma State quarterback Spencer Sanders was injured early against Tulsa, and the Cowboys haven't made it clear who will start. Freshman Shane Illingworth, junior college transfer Ethan Bullock or both would step in if Sanders can't play. ... Running back Thurman Thomas will become the first inductee into the Oklahoma State football Ring of Honor on Saturday. ... West Virginia quarterback Jarret Doege threw for 307 yards against Oklahoma State last season in his second start after transferring from Bowling Green.
OTHER STORIES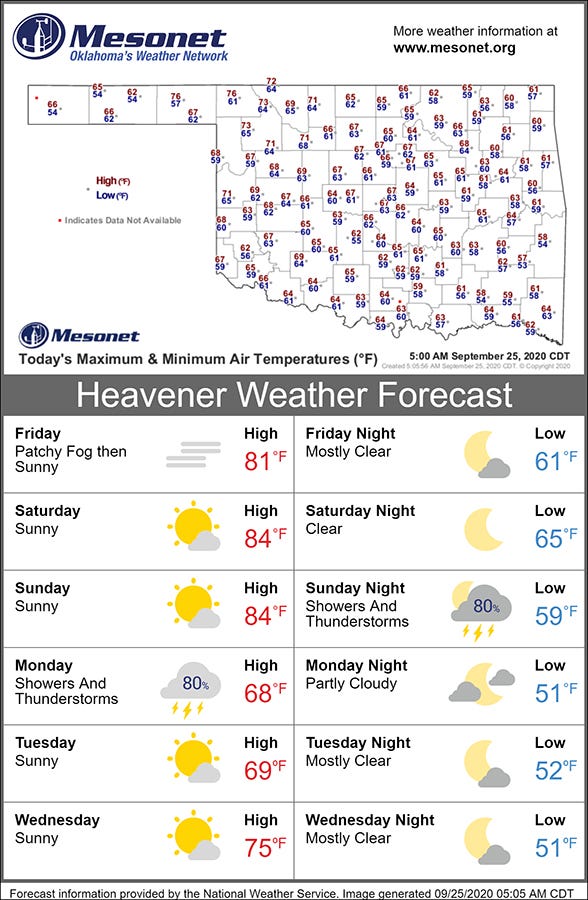 LeFlore County weather 9-25-2020
Here is your Ledger/LCJ weather forecast for Friday, brought to you by Mel Brand's Shelter Insurance.
We will have partly cloudy skies and slightly warmer temperatures Friday in LeFlore County.
The high will be 81 degrees with a low of 61 degrees. Your kickoff weather for Friday's football games is clear skies with 72 degrees.
Sunrise is at 7;08 with sunset at 7:09.
Thursday's high was 77 with a low of 61.
Average temperatures for Sept. 25 are a high of 82 and a low of 54. Records for the date were a high of 91 in 1977 and a low of 40 in 1975.
Calendar of events
The LeFlore County calendar of events lists the upcoming events in the area. This is a free service so if you or your group have an event coming up and would like it added to the calendar, please send an email to craig@heavenerledger.com.
Friday
Jeff Shockley Memorial Golf Tournament 9 a.m. at Wolf Ridge
Funeral service for Paul Foster
Cross country: Heavener at CASC meet in Poteau
Old Frisco Trail Fall Festival
Old Frisco Trail 5k glow run 8:30 p.m.
Funeral service for Neil Brannon
Funeral service for Jimmie Johnson
Graveside services for Pat Colbert
High school softball: Poteau at NSU Tournament
High school football: Cascia Hall at Heavener; Hilldale at Poteau; Panama at Spiro; Pocola at Roland; Arkoma at Porum.
Positively Poteau Cruise Night 7 p.m.
Saturday
Old Frisco Trail ½ marathon
Sunrise yoga class with Kelly Falkner
River Valley Rumble Bike Show
Old Frisco Trail Fall Festival
Cross country: Poteau at pre-state meet in Edmond
Funeral services for Holli Bourne
Sunday
LeFlore County Bass Club championship tournament at Wards Landing on Wister Lake
Monday
LeFlore County commissioners meet 9 a.m.
High school softball: Wister at Stilwell; Broken Bow at Poteau; Class 3A bi-district TBD at Heavener; Class 2A bi-district at Howe
High school baseball: Rattan at Whitesboro
Tuesday
Cross country: Heavener, Poteau, Wister at Wister
High school softball: Wilburton at Heavener; Red Oak at Poteau
Pocola Board of Adjustment meeting 1 p.m.at Pocola Town Hall
Thursday
Poteau Kiwanis Club meets noon at Western Sizzlin'
Heavener VFW bingo 6 p.m. Highway 59 north
Heavener Utilities Authority and City Council meet 6 p.m. at Heavener City Hall
Today in history for 9-25-2020
By The Associated Press
Today is Friday, Sept. 25, the 269th day of 2020. There are 97 days left in the year.
Today's Highlight in History:
On Sept. 25, 1957, nine Black students who'd been forced to withdraw from Central High School in Little Rock, Arkansas, because of unruly white crowds were escorted to class by members of the U.S. Army's 101st Airborne Division.
On this date:
In 1789, the first United States Congress adopted 12 amendments to the Constitution and sent them to the states for ratification. (Ten of the amendments became the Bill of Rights.)
In 1904, a New York City police officer ordered a female automobile passenger on Fifth Avenue to stop smoking a cigarette. (A male companion was arrested and later fined $2 for "abusing" the officer.)
In 1911, ground was broken for Boston's Fenway Park.
In 1919, President Woodrow Wilson collapsed after a speech in Pueblo, Colo., during a national speaking tour in support of the Treaty of Versailles (vehr-SY').
In 1956, the first trans-Atlantic telephone cable officially went into service with a three-way ceremonial call between New York, Ottawa and London.
In 1962, Sonny Liston knocked out Floyd Patterson in round one to win the world heavyweight title at Comiskey Park in Chicago.
In 1974, Los Angeles Dodgers pitcher Tommy John underwent an experimental graft reconstruction of the ulnar collateral ligament in the elbow of his throwing arm to repair a career-ending injury; the procedure, which proved successful, is now referred to as "Tommy John surgery."
In 1978, 144 people were killed when a Pacific Southwest Airlines Boeing 727 and a private plane collided over San Diego.
In 1981, Sandra Day O'Connor was sworn in as the first female justice on the Supreme Court.
In 1992, NASA's Mars Observer blasted off on a $980 million mission to the red planet (the probe disappeared just before entering Martian orbit in August 1993).
In 2016, golf legend Arnold Palmer, 87, died in Pittsburgh. Jose Fernandez, 24, ace right-hander for the Miami Marlins, was killed in a boating accident with two friends off Miami Beach.
In 2018, Bill Cosby was sentenced to three to 10 years in state prison for drugging and molesting a woman at his suburban Philadelphia home. President Donald Trump denounced the "ideology of globalism" and praised his own administration's achievements in a speech to the U.N. General Assembly that drew headshakes and even laughter from fellow world leaders.
Ten years ago: President Barack Obama, in his weekly radio and Internet address, said the Republicans' plan to slash taxes and cut spending if the GOP were to retake the House in November was no more than "an echo of a disastrous decade we can't afford to relive." Three crew members, including American astronaut Tracy Caldwell-Dyson, touched down safely, although a day late, in Kazakhstan aboard their Soyuz capsule following a six-month stay aboard the International Space Station.
Five years ago: House Speaker John Boehner abruptly announced his resignation. President Barack Obama laid out a fresh threat of sanctions for economic espionage emanating from China, even as he and President Xi Jinping pledged their countries would not conduct or support such hacking. During a visit to New York City, Pope Francis offered comfort to 9/11 victims' families at ground zero, warnings to world leaders at the United Nations and encouragement to schoolchildren in Harlem. International leaders at the United Nations approved an ambitious 15-year plan to tackle the world's biggest problems, from eradicating poverty to preserving the planet.
One year ago: The White House released a rough transcript of President Donald Trump's July 25 call with Volodymyr Zelenskiy, confirming that Trump had pushed Ukraine's leader to work with Trump's personal lawyer Rudy Giuliani and Attorney General William Barr to investigate Joe Biden and his son. Members of Congress were able for the first time to review the secret whistleblower complaint involving Trump that had triggered an impeachment effort in the House.
Today's Birthdays: Broadcast journalist Barbara Walters is 91. Folk singer Ian Tyson is 87. Polka bandleader Jimmy Sturr is 79. Former Defense Secretary Robert Gates is 77. Actor Josh Taylor is 77. Actor Robert Walden is 77. Actor-producer Michael Douglas is 76. Model Cheryl Tiegs is 73. Actor Mimi Kennedy is 72. Movie director Pedro Almodovar is 71. Actor-director Anson Williams is 71. Actor Mark Hamill is 69. Basketball Hall of Famer Bob McAdoo is 69. Actor Colin Friels is 68. Actor Michael Madsen is 62. Actor Heather Locklear is 59. Actor Aida Turturro is 58. Actor Tate Donovan is 57. TV personality Keely Shaye Smith is 57. Actor Maria Doyle Kennedy is 56. Basketball Hall of Famer Scottie Pippen is 55. Actor Jason Flemyng is 54. Actor Will Smith is 52. Actor Hal Sparks is 51. Actor Catherine Zeta-Jones is 51. Rock musician Mike Luce (Drowning Pool) is 49. Actor Bridgette Wilson-Sampras is 47. Actor Clea DuVall is 43. Actor Robbie Jones is 43. Actor Joel David Moore is 43. Actor Chris Owen is 40. Rapper T. I. is 40. Actor Van Hansis is 39. Actor Lee Norris is 39. Actor/rapper Donald Glover (AKA Childish Gambino) is 37. Actor Zach Woods is 36. Actor Jordan Gavaris is 31. Olympic silver medal figure skater Mao Asada is 30. Actor Emmy Clarke is 29.
OBITUARIES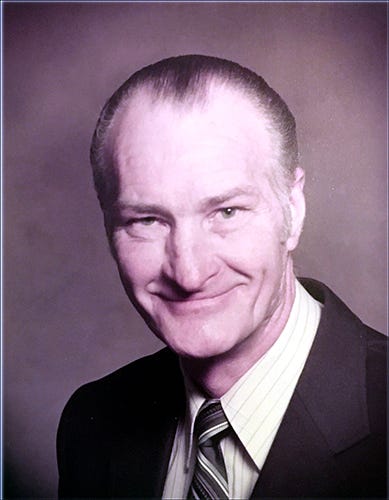 Service planned for Paul Foster
SPIRO - Funeral service for Paul Leslie Foster, 86 of Spiro, is Friday at 11 a.m. at the Mallory-Martin Funeral Home Chapel in Spiro.
Burial will follow at Garland Cemetery in Stigler, under the direction of Mallory-Martin Funeral Home of Spiro.
He was born July 6, 1934 in Stigler to Gracie Gladys (DeVore) Foster and Walter Branch Foster and passed away Sept. 22, 2020 in Spiro.
He was a member of First Baptist Church in Spiro.
Survivors include his sister Ruby Peoples and husband Robert.
He was preceded in death by his parents; brothers Leslie James Foster, James Walter Foster and Joe David Foster; and sister, Edith Ann Foster.  
Active Pallbearers will be his nieces and nephews.
To sign his online guest book, visit www.mallorymartinfuneralhome.com.