We hope you enjoy this free preview of the Ledger's morning newsletter. The newsletter is free until Nov. 1. At that time, the cost is only $5 per month or $50 per year and you also get our newspaper and two e-editions.
News
38 people cited for violations in Clinton email probe
By MATTHEW LEE and MARY CLARE JALONICK Associated Press
WASHINGTON (AP) — The State Department has completed its internal investigation into former Secretary of State Hillary Clinton's use of private email and found violations by 38 people, some of whom may face disciplinary action.
The investigation, launched more than three years ago, determined that those 38 people were "culpable" in 91 cases of sending classified information that ended up in Clinton's personal email, according to a letter sent to Republican Sen. Chuck Grassley this week and released on Friday. The 38 are current and former State Department officials but were not identified.
Although the report identified violations, it said investigators had found "no persuasive evidence of systemic, deliberate mishandling of classified information." However, it also made clear that Clinton's use of the private email had increased the vulnerability of classified information.
The Associated Press sent an email seeking comment to a Clinton representative.
The investigation covered 33,000 emails that Clinton turned over for review after her use of the private email account became public. The department said it found a total of 588 violations involving information then or now deemed to be classified but could not assign fault in 497 cases.
For current and former officials, culpability means the violations will be noted in their files and will be considered when they apply for or go to renew security clearances. For current officials, there could also be some kind of disciplinary action. But it was not immediately clear what that would be.
The report concluded "that the use of a private email system to conduct official business added an increased degree of risk of compromise as a private system lacks the network monitoring and intrusion detection capabilities of State Department networks."
The department began the review in 2016 after declaring 22 emails from Clinton's private server to be "top secret." Clinton was then running for president against Donald Trump, and Trump made the server a major focus of his campaign.
Then-FBI Director James Comey held a news conference that year in which he criticized Clinton as "extremely careless" in her use of the private email server as secretary of state but said the FBI would not recommend charges.
The Justice Department's inspector general said FBI specialists did not find evidence that the server had been hacked, with one forensics agent saying he felt "fairly confident that there wasn't an intrusion."
Grassley started investigating Clinton's email server in 2017, when he was chairman of the Senate Judiciary Committee. The Iowa Republican has been critical of Clinton's handling of classified information and urged administrative sanctions.
---
Tropical Storm Nestor forms, threatening US Gulf Coast
By BRENDAN FARRINGTON Associated Press
TALLAHASSEE, Fla. (AP) — Tropical Storm Nestor bore down on the northern Gulf Coast with high winds, surging seas and heavy rains Saturday, threatening to hit an area of the Florida Panhandle devastated one year ago by Hurricane Michael.
But unlike with Michael, a powerful October 2018 storm that left thousands homeless and nearly wiped out the Panhandle city of Mexico Beach, Florida wasn't bracing for catastrophe. Nestor was forecast to hit the area Saturday morning without strengthening into a hurricane.
"We've done very little preparation only because there's nothing really to prepare for," said Mexico City Beach Mayor Al Cathey, whose city is still recovering. "We haven't seen any alarm at all."
The state had activated its emergency operations center, but only at its lowest level. In an area that's recently gone weeks without rain, the storm was seen more as a welcome sight.
"You have to keep it in perspective: 75 percent of our city was destroyed," Cathey said. "A little rain is welcome. Hopefully it won't be something crazy, but if that's all it is, I can deal with that. There's nothing in this system that I've seen that tells me Mexico Beach needs to be alarmed."
The National Hurricane Center said high winds and dangerous storm surge were likely along parts of the northern Gulf Coast. And heavy rains had already begun pelting parts of the coastline, welcome relief for a parched region dealing with a drought. The system could dump from 2 to 4 inches (5 to 10 centimeters) of rain from the central Gulf Coast to the eastern Carolinas and as much as 6 inches (15 centimeters) in spots, forecasters said.
Seawater pushed inland by the storm could rise as much as 5 feet (1.5 meters) as storm surge in Florida's Big Bend region, much of which is less-developed than the rest of the state's coast.
Forecasters said Nestor was centered early Saturday about 80 miles (128 kilometers) south-southwest of Panama City, Florida. It had top sustained winds of 50 mph (80 kph) and was moving to the northeast at 17 mph (27). Its center is expected to make landfall about midday Saturday.
A tropical storm warning was in effect from the line between Okaloosa and Walton counties east to Yankeetown, Florida. A previous warning west of the county line was discontinued by Saturday morning. A storm surge warning is in effect for Indian Pass, Florida, to Clearwater Beach, Florida.
The hurricane center said Nestor was expected to head inland across the Panhandle on Saturday morning and cross parts of the Southeast over the weekend before moving into the Atlantic off North Carolina by late Sunday.
Forecasters expect blustery winds and heavy rain in parts of Alabama, Georgia and northern Florida, reaching the Carolinas and Virginia by Sunday.
The Coast Guard said 20-foot (6-meter) seas were possible around Panama City, and dangerous rip currents were possible along beaches during what is still a busy tourism period.
In New Orleans, winds hampered crews that were trying to place explosives to topple to damaged construction cranes towering over a partially collapse hotel project at the edge of the French Quarter. Officials delayed plans to bring down the structures before Nestor approached.
"We're working as fast as possible," said Fire Chief Tim McConnell.
____
Associated Press writer Jay Reeves in Birmingham, Alabama, contributed to this report.
Sports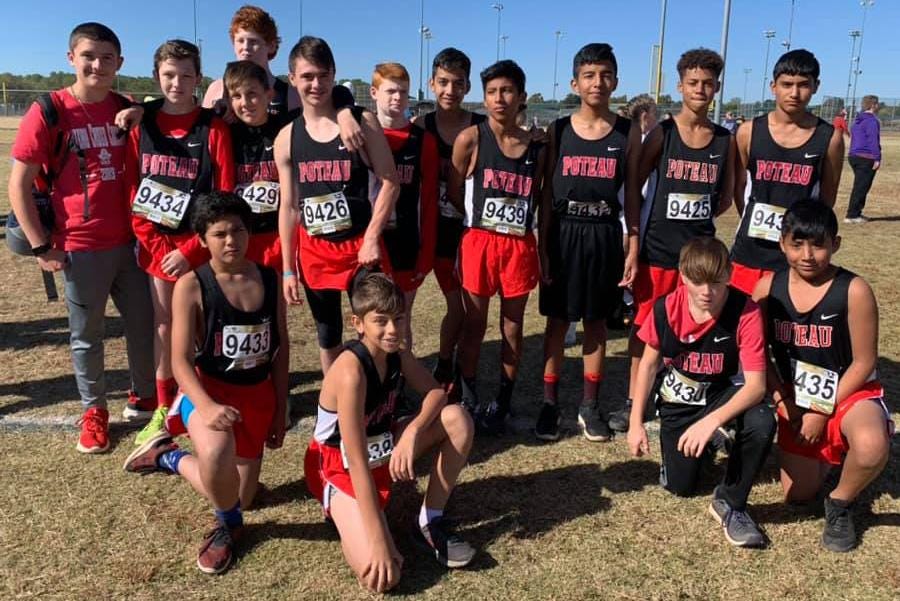 PKMS wins state meet
CHICKASHA – The Pansy Kidd Middle School Pirates won the Class 4A All-Star Cross Country Meet, which took place Thursday at Chickasha Sports Complex.
The Pirates won with 61 points, finishing 31 points ahead of Madill (92 points).
Three PKMS runners placed in the top 10. Romero Lucero was runner-up (12:06.53), Jentry Boehme was eighth (12:32.53) and Bryan Valvides was 10th (12:35.41).
As for other PKMS Pirates, Tyler Baker was 19th (12:53.45), Sam Tecla was 32nd (13:07.53), Terrence Genevie was 43rd (13:29.58), Alex Martinez was 56th (14:00.2), Triton McKenzie was 70th (14:33.69), Darius Masterson was 79th (15:26.86), John Gastelum was 97th (16:22.78), Louis Sandoval was 99th (16:38.49), Jorge Medina was 102nd (16:43.95), Nick Silva was 107th (17:15.73) and Darrick Cagle was 116th (19:32.34).
Three PKMS Lady Pirates ran the course. Kyja Jenkins was 53rd (10:54.3), Dominique Zielinski was 68th (11:08.83) and Ariel Neal was 83rd (11:33.02).
The Heavener Wolves were third in the Class 3A boys race with 136 points.
The highest finisher for Heavener was Steven Cruz, who was seventh (12:03.13). Tony Adkins was 20th (12:51.55), Jesus Leyva was 27th (13:01.65), Gilberto Perez was 43rd (13:38.58), Seth Lynch was 45th (13:41.32), Marco Venegas was 64th (14:25.29), Enrique Antonio was 65th (14:27.63) and Isaac Cook was 95th (15:54.13).
Two Heavener Lady Wolves participated in Thursday's meet. Jada Neece was 82nd (11:33.36) and Brylie Wheeler was 90th (11:53.82).
---
Kendall returns with West Virginia to face Oklahoma
By MURRAY EVANS Associated Press
NORMAN (AP) — Quarterback Austin Kendall always wanted to lead his football team onto Oklahoma's Owen Field, seeking a win over a Big 12 Conference rival before another sellout crowd. He will, though he will be wearing a West Virginia jersey while doing so.
Kendall, who spent the past three years as an understudy to Baker Mayfield and Kyler Murray at Oklahoma, transferred to West Virginia when it became clear he probably wouldn't move into a starting role with the Sooners. He will get a shot at his former team Saturday when the Mountaineers (3-3, 1-2 Big 12) visit No. 5 Oklahoma (6-0, 3-0).
It almost didn't happen. Kendall suffered a chest injury early during last Saturday's loss to Iowa State. West Virginia coach Neal Brown listed Kendall as questionable for most of the week before saying Thursday that Kendall indeed would start against the Sooners.
He has started every game for the Mountaineers this season. Kendall was Mayfield's backup in 2016, then redshirted in 2017, when Mayfield won the Heisman Trophy. Murray won Oklahoma's starting job last season and also went on to win the Heisman. In his two non-redshirt seasons with the Sooners, Kendall played in seven games and completed 28 of 39 passes for 265 yards and three TDs without an interception.
For West Virginia, he's completed 66% of his passes (126 of 191) for 1,247 yards and nine touchdowns with seven interceptions.
Oklahoma coach Lincoln Riley — who initially blocked Kendall's transfer to West Virginia before relenting — said it's an odd feeling to face one of his former quarterbacks.
"Guy was recruited and was here with us for three years, so it definitely feels a little strange," Riley said. "I've got to see bits and pieces of him. Obviously had a chance to study him a little bit more here this week. He's had some games where he's played really, really well.
"I'm sure he's champing at the bit to get back for this one. I would expect nothing less. I certainly hope he is healthy and always wish him the best."
HURTS LOOKS TO REBOUND
Quarterback Jalen Hurts — whose transfer to Oklahoma led to Kendall's transfer to West Virginia — mostly has excelled in his first season with the Sooners after three years at Alabama. But he committed two costly red-zone turnovers (one interception, one fumble) in the first half against Texas that kept the game closer than the Sooners would have liked. Oklahoma still beat the Longhorns 34-27, but Hurts wasn't satisfied with that performance, saying he "just made a couple of bad decisions and put the team in bad situations."
It's something Riley has discussed with Hurts.
"Your bad decisions can't be turnovers," Riley said. "They've got to be incomplete passes. He knows he's got to be better there."
O-FER
Since joining the Big 12 with the 2012 season, West Virginia has beaten every league opponent except for Oklahoma. The closest the Mountaineers have come were in 2012 (a 50-49 Oklahoma win) and last season, when the Sooners won 59-56 in Morgantown. Oklahoma leads the series 9-2.
West Virginia's last win over the Sooners came in the 2008 Fiesta Bowl, a 48-28 decision. The Mountaineers' other win in the series was in 1982, an upset of the ninth-ranked Sooners in Norman, 41-27.
NOT DISCOURAGED
Consecutive home losses to Texas and Iowa State have dampened the excitement surrounding West Virginia's 3-1 start, but Brown said the Mountaineers aren't discouraged heading into a tough stretch, with back-to-back games against Oklahoma and No. 18 Baylor.
"We're disappointed, but it's not doom-and-gloom in this building," Brown said. "We're not down and out. We've lost to three really good teams. We're playing 21 freshmen and sophomores right now. We're looking forward to finishing strong and it starts this week with a tremendous challenge but a great opportunity when we go to Norman."
CEEDEE FOR TDs
Oklahoma receiver CeeDee Lamb has at least one touchdown catch in eight consecutive games, the longest active streak in the Football Bowl Subdivision.
With three touchdowns last week against Texas, Lamb - a junior - now ranks third on Oklahoma's receiving touchdowns career list with 28, trailing only Ryan Broyles (45) and Mark Clayton (31), both of whom played four seasons for the Sooners.
STREAKS
Oklahoma has scored at least 34 points in 16 straight games, the longest such streak in school history, and in 27 of the last 28 games. The 15-game streak is tied for the second-longest nationally since at least 1980, behind Oregon (23 in 2011-12) and Florida State (16 in 2013-14). The last team to hold the Sooners under 34 points was Army, which lost 28-21 in overtime to the Sooners on Sept. 22, 2018.
---
After big OT win, Baylor is underdog at OSU
By JOHN TRANCHINA Associated Press
STILLWATER (AP) — After its come-from-behind, 33-30 double-overtime victory over Texas Tech, No. 18 Baylor is a four-point underdog at Oklahoma State.
That doesn't bother Baylor coach Matt Rhule, who is eager to see how his Bears (6-0, 3-0 Big 12) respond.
"They're coming off a bye week, we're going to their homecoming, there's a lot of things that are stacked against us, and we'll just to try to play football and try to have fun doing it," Rhule said. "People think we won't be able to handle the noise and they've had two weeks off. The pageantry and everything else that's around it, I love it. It's a hard place to win. But we like challenges and we're going to do our best."
Oklahoma State (4-2, 1-2 Big 12) is coming off a 45-35 loss at Texas Tech, followed by a bye week. Coach Mike Gundy is eager for a strong performance.
"This is a big week for Oklahoma State, obviously, with the largest homecoming in the country," Gundy said. "We are guesstimating 60, 70,000 people back in town. It is a really exciting time. It has been a great tradition that has carried on here for forever. The most difficult part for me is tickets. Everybody wants tickets - former players, pro players, but it is a good problem to have. We will have a full house and it will be a perfect time in the afternoon for some college football."
NEXT MAN UP
The season-ending knee injury suffered by Baylor linebacker Clay Johnston diminishes the impact of the Bears' defense. Besides leading the team with 58 tackles (28 ahead of any teammate), including eight tackles for loss, 2.5 sacks and one interception, the senior was also a key leader on and off the field. Rhule will rely on other players, particularly Johnston's backup, Terrel Bernard, to step up and help fill the void.
"Clay'll still be able to lead, he'll still be around," Rhule said. "Terrel's an excellent player so he'll go out and play at a high level."
RUNNING DOWN HILL
Despite being off last week, Oklahoma State running back Chuba Hubbard still leads the nation in rushing by 268 yards, having piled up 1,094 yards and 13 touchdowns (which ranks second). He has three 200-yard games this season, including the top two individual rushing performances in the FBS.
BACK ON TRACK
After rushing for just 92 yards on 27 carries (a 3.4-yard average), along with eight receptions for 34 yards, over the first four games, Baylor running back JaMycal Hasty has gained 167 yards on 18 touches the last two outings. That includes the game-winning, 5-yard touchdown run in the second overtime against Texas Tech last week.
SANDERS REBOUND
After turning the ball over five times in the last game (three interceptions and two fumbles), Oklahoma State redshirt freshman quarterback Spencer Sanders would like a stronger game. He was also sacked seven times against Texas Tech after going down just six times in the previous five games combined. Still, Ruhle is concerned about him.
"I think Sanders is unbelievably special," Rhule said. "You have to account for him on every play."
SACK ATTACK
After sacking Texas Tech quarterback Jett Duffey five times last week, the Bears have 23 this season, ranking eighth in the nation. Defensive tackle James Lynch, who had 2.5 sacks last week, leads the way with 8.5, which is tied for second in the country. His 11.5 tackles for loss ranks fifth, while the team's total of 52 sits seventh. With 17.0 career sacks, Lynch is just 0.5 sacks shy of the Baylor all-time record set by Shawn Oakman (2013-15).
LeMahieu, Hicks lift Yanks over Astros
By RONALD BLUM AP Baseball Writer
NEW YORK (AP) — James Paxton was filled with nerves, and so were New York Yankees fans, worried the season was slipping away.
Tension only surged when the top of the first featured a little grounder that got away, a passed ball and a run-scoring wild pitch.
No worries.
Boom! DJ LeMahieu drove Justin Verlander's second pitch over the wall to tie the score.
Clang! Aaron Hicks hit a three-run homer off the foul pole later in the inning.
Just like that, the Bronx Bombers were back — in the game, and in this matchup of powerhouses.
A day after a brutal loss, and with little margin for more errors, the Yankees played like a 103-win team. Paxton chilled Houston's bats and the bullpen followed with shutdown relief to beat the Astros 4-1 Friday night, cutting New York's AL Championship Series deficit to 3-2.
"I wasn't ready to go home yet," Paxton said, "so I wanted to go out and give my team everything I had and just battle away."
Now the teams rush to Texas, where the series resumes Saturday night without a day off. With pitching plans disrupted by a rainout earlier this week, both teams plan all-bullpen efforts in Game 6. But Gerrit Cole, 19-0 since May, looms as the Astros' starter on Sunday if New York manages to extend the matchup to the seven-game limit.
"We've just got to go back home and finish the job," Houston's Carlos Correa said.
Paxton, a fishing aficionado born outside Vancouver in Ladner, British Columbia, wore three-quarter-length sleeves on a night with a game-time temperature of 52 degrees. That was the coldest for a Verlander start since last year's ALCS opener at Boston, according to STATS — he had on long sleeves and half of Houston's fielders had hoodies or balaclavas.
After lasting just 2 1/3 innings in Game 2, Paxton struck out nine in six innings, allowing four hits and four walks. Punching his pitching hand into his glove after big strikeouts, he saved his biggest emotion for his 112th and final pitch. Manager Aaron Boone had just made a trip to the mound, unsure whether he would make a change.
"He just said, 'Are you ready? Do you have anything more left in the tank?'" Paxton said.
"And I said, 'Yeah, let's go. I want this.'"
Robinson Chirinos hit a first-pitch fastball that Brett Gardner caught in front of the left-field scoreboard with a runner on.
"When it first left the bat: 'Oh, no!'" Boone remembered thinking to himself.
After Tommy Kahnle allowed George Springer's one-out single in seventh and walked José Altuve, Zack Britton retired Michael Brantley and Alex Bregman. Britton struck out two in a perfect eighth, and Aroldis Chapman finished with a 1-2-3 ninth for the save.
Paxton outpitched Verlander, an eight-time All-Star and former AL MVP and Cy Young Award winner, on a night when each team had five hits.
Verlander opened with a JV first inning — not Justin vintage, but junior varsity. He allowed a pair of first-inning homers for the first time in 28 postseason starts and gave up four runs in an inning for the first time since Houston acquired him from Detroit in August 2017.
"Fastball command wasn't very good, and the slider was just hanging," Verlander said.
Verlander retired 10 in a row after Hicks' homer and wound up allowing five hits in seven innings with nine strikeouts and no walks.
"We took advantage of his missed locations when he was a little vulnerable," LeMahieu said. "And that's the difference in the game."
A night after the Yankees made four errors in one of their messier games this season during an 8-3 loss, Paxton fell behind after 14 pitches. Springer reached on an infield hit, took second on Gary Sánchez's passed ball, advanced on a groundout and scored when Paxton bounced a breaking ball off Sánchez's glove for a wild pitch.
"A lot of nerves," Paxton said. "I was just overthrowing a little bit early."
New York came out swinging against Verlander, who had been 4-0 with a 2.38 ERA against the Yankees in seven postseason starts.
LeMahieu fouled off a pitch, then drove a fastball 355 feet to right-center for New York's first postseason leadoff homer since Derek Jeter in the 2009 ALCS against the Angels.
"Woke up the building," Astros manager AJ Hinch said.
Aaron Judge singled and Gleyber Torres doubled. Verlander struck out Giancarlo Stanton, who went 0 for 3 with two strikeouts after missing three games with a strained right quadriceps.
Hicks was sidelined for more than two months by a right elbow injury that made him wonder whether he would need Tommy John surgery, then made a surprise return for the ALCS and re-entered the starting lineup for Game 3.
He fell behind 0-2, took three straight balls and sent a chest-high slider down the right field line. He dropped his bat, turned and watched the ball, took a half-dozen slow steps toward first and started jogging after it clanked off the pole for his first home run since July 24.
"It curved a lot more than I thought it would," Hicks said.
New York had never hit a pair of first-inning homers in 404 previous postseason games. Verlander could only crouch on the infield grass as Hicks circled the bases.
Hicks ended a stretch of 15 straight hitless at-bats for the Yankees with runners in scoring position. New York has relied on the long ball, scoring 12 of its 17 runs against the Astros on seven homers.
"We just always fight back," Judge said. "That's what we talked about in our meeting today. Let's go back to being ourselves."
FIRSTS
This was the 1,609th postseason game in major league history, and the first in which both teams scored in the first inning and neither scored the rest of the game.
SABATHIA
CC Sabathia dislocated his left shoulder while pitching in Game 4 and was replaced on the Yankees active roster by RHP Ben Heller. That ended the 19-season career of the 39-year-old left-hander, who is retiring. He was given a big ovation when shown on the video board in the sixth and waved to fans from the dugout.
UP NEXT
Neither team announced a Game 6 starter. Rookie RHP José Urquidy is Houston's most likely option, and New York could go with RHP Chad Green as an opener or start LHP J.A. Happ. New York would start RHP Luis Severino in a Game 7.
---
Cincinnati tries to extend momentum vs Tulsa
By JOE KAY AP Sports Writer
CINCINNATI (AP) — Coach Luke Fickell was in Columbus in 2009, getting Ohio State ready for the bowl season, while Cincinnati was knocking off Pitt and wrapping up an undefeated regular season.
"I watched that entire game and realized what people were saying: There's another team in the state that might be better than anybody," Fickell said.
The 21st-ranked Bearcats (5-1, 2-0 American Athletic) will honor that team Saturday when they host Tulsa (2-4, 0-2), looking back to one of their best years while trying to extend a winning streak that's put them in line for another championship. They've won four in a row and grabbed the edge in the American Athletic East.
"Where we're sitting right now, it's kind of falling a bit in line with that plan," Fickell said. "You say no matter what, you've got to play your best ball at the end."
They've been pretty good lately, especially on defense. Fickell has been using 22 players on defense to keep them fresh, an approach that's paid off late in games. Cincinnati went 11-2 last season with a roster that wasn't nearly as deep.
"Right now, with the amount of people we're playing, I think that's why we have a better chance at the end of the year," Fickell said. "Last year we were playing well, but there were a lot of guys that were beat up and wore out."
Tulsa is looking to catch its breath at the midpoint of a challenging schedule. The Golden Hurricane is playing a ranked team for the third time, having lost to No. 18 Michigan State and No. 24 SMU. Tulsa is coming off a 45-17 loss to Navy.
"They're frustrated and I'm frustrated," coach Philip Montgomery said. "We knew we had a tough schedule in front of us. We knew we'd have to play extremely well. We've had opportunities that you just can't let slip by. We know our schedule doesn't get any easier."
Some things to watch Saturday at Nippert Stadium:
GET THE BALL
Cincinnati has forced nine turnovers in its last two games — seven interceptions and two fumble recoveries. The Bearcats picked off UCF's Dillon Gabriel three times, returning one of the interceptions for a touchdown, during their 27-24 upset. Last week, safety Ja'Von Hicks had a pair of interceptions and a fumble recovery in a 38-23 win at Houston, earning the league's award as defensive player of the week.
STEADY SMITH
Tulsa's Zach Smith is third in the league with 269.7 yards passing per game. He'll get a good test on Saturday against a defense that doesn't wear down.
"He's done it with a lot of pressure," Montgomery said. "He continues to grow, and I think he's been a real bright spot."
THE RANKINGS
Fickell talked to his players this week about being in the Top 25 for the second straight week, which has brought the program more attention from opponents.
"Sometimes there's that elephant in the room you've got to be able to address so we're not wondering what's going through these guys' heads," Fickell said.
STEADY RIDDER
Desmond Ridder threw for 263 yards and three touchdowns and ran for 50 yards with another touchdown at Houston last week.
TEN YEARS AGO
Cincinnati is bringing back members of Brian Kelly's 2009 team that won the Big East with a 12-0 mark before losing to Tim Tebow's Florida team 51-24 in the Sugar Bowl. Kelly left for Notre Dame before the bowl game.
---
Other stories
Organization recognizes CASC's McCroskey
Carl Albert State College's director of Marketing and Community Relations, Shannen McCroskey, has recently been named one of Oklahoma's 2019 NextGen Under 30 Award Recipients.
The NextGen Under 30 Leadership and Award Recognition Program was founded in 2010 and has received more than 7,000 nominations since its inception. The mission of NextGen Under 30 is to identify and honor young adult 'over-achievers' in Oklahoma and encourage them to keep their talents and abilities within the state.
McCroskey, a Poteau native, was awarded in the Adult & Higher Education category, making her one of four individuals representing the community college system among 2019 award recipients.
In her role with CASC, McCroskey is responsible for the institution's branding, marketing, advertising, external communications, public relations efforts, photography, and copywriting, while serving as the top communications consultant to the president and Development Foundation.
The NextGen Under 30 organization recognizes and encourages the next generation of innovative, creative, and inspiring individuals who are known to push the boundaries of leadership and professionalism beyond their years. Recipients are selected from a host of selection criteria focused on professional achievement and contribution within their respective communities.
The pool of award recipients is generated by nominations and candidacy application. In 2019 approximately 300 individuals were selected from more than 1,000 qualified applicants.
"Shannen McCroskey is a successful leader in higher education," said Dr. Jay Falkner, CASC president, "and community outreach due to her prolific work ethic and passion for people."
McCroskey attended a luncheon and keynote address from Oklahoma's Lt. Gov. Matt Pinnell at the Oklahoma State Capitol and will be honored at the NextGen Under 30 Awards Ceremony in Norman on Nov. 15.
---
Light rain possible Saturday morning
Light rain showers possible Saturday morning with partly cloudy skies in the afternoon. The high will be 75 degrees with a low of 53 degrees.
Sunrise is 7:23 a.m. with sunset at 6:39 p.m.
Average temperatures for Oct. 19 are a high of 74 and low of 44. Records for the date were a high of 83 in 1982 and a low of 26 in 1975.
Friday's high was 74 with a low of 46.
---
Calendar of events for the next week
The calendar of events lists the upcoming events in the area. This is a free service so if you or your group have an event coming up and would like it added to the calendar, please send an email tocraig@heavenerledger.com.
Saturday
Poteau Balloon Fest
Funeral service for Vernard Knight
Cross country: Heavener, Poteau, Wister at regionals
Football: Ozark at Heavener Wolf Pups
Monday
LeFlore County commissioners meet 9 a.m.
Job fair Heavener City Hall for Census Bureau workers
Tuesday
Poteau Evening Lions Club meets 6 p.m. at Carl Albert
Wednesday
Poteau Rotary Club meets at noon at EOMC
Thursday
Poteau Kiwanis Club meets at noon
Howe Public Schools to hold JOM, Indian Education Committee meeting
Poteau Valley Genealogy Society meeting, 5:30 p.m., PVGS room at Patrick Lynch Public Library, Poteau.
Bingo at Heavener VFW hall
CASC to host "The Western District"
Friday
CASC to host the "Western District"
Football: Heavener at Hugo; Poteau at Broken Bow; Pocola at Spiro; Panama at Keys; Savanna at Talihina; Arkoma at Keota
Today in history for 10-19-19
By The Associated Press undefined
Today in History
Today is Saturday, Oct. 19, the 292nd day of 2019. There are 73 days left in the year.
Today's Highlight in History:
On Oct. 19, 1987, the stock market crashed as the Dow Jones Industrial Average plunged 508 points, or 22.6 percent in value (its biggest daily percentage loss), to close at 1,738.74 in what came to be known as "Black Monday."
On this date:
In 1765, the Stamp Act Congress, meeting in New York, adopted a declaration of rights and liberties which the British Parliament ignored.
In 1781, British troops under Gen. Lord Cornwallis surrendered at Yorktown, Virginia, as the American Revolution neared its end.
In 1814, the first documented public performance of "The Star-Spangled Banner" took place at the Holliday Street Theater in Baltimore.
In 1944, the U.S. Navy began accepting black women into WAVES (Women Accepted for Volunteer Emergency Service).
In 1960, the United States began a limited embargo against Cuba covering all commodities except medical supplies and certain food products.
In 1977, the supersonic Concorde made its first landing in New York City.
In 1982, automaker John Z. DeLorean was arrested by federal agents in Los Angeles, accused of conspiring to sell $24 million of cocaine to salvage his business. (DeLorean was acquitted at trial on grounds of entrapment.)
In 1994, 22 people were killed as a terrorist bomb shattered a bus in the heart of Tel Aviv's shopping district.
In 2001, U.S. special forces began operations on the ground in Afghanistan, opening a significant new phase of the assault against the Taliban and al-Qaida.
In 2005, a defiant Saddam Hussein pleaded innocent to charges of premeditated murder and torture as his trial opened under heavy security in the former headquarters of his Baath Party in Baghdad.
In 2008, retired Gen. Colin Powell, a Republican who was President George W. Bush's first secretary of state, broke with the party and endorsed Democrat Barack Obama for president, calling him a "transformational figure" during an appearance on NBC's "Meet the Press."
In 2017, Puerto Rico Gov. Ricardo Rossello, meeting with President Donald Trump at the White House about a month after Hurricane Maria, described the situation in the island territory as "catastrophic"; Trump rated the White House response to the disaster as a "10."
Ten years ago: The Justice Department issued a new policy memo, telling prosecutors that pot-smoking patients or their sanctioned suppliers should not be targeted for federal prosecution in states that allowed medical marijuana. Actor Joseph Wiseman, 91, who played the sinister Dr. No in the first James Bond feature film, died in New York City. Mass killer Howard Unruh, who took 13 lives during a 1949 rampage in Camden, New Jersey, died in a Trenton nursing facility at age 88.
Five years ago: Pope Francis beatified Pope Paul VI, concluding a remarkable meeting of bishops debating family issues that drew parallels to the tumultuous reforms of the Second Vatican Council which Paul oversaw and implemented. An Associated Press investigation found that dozens of Nazis war criminals and SS guards had collected millions in U.S. Social Security pension payments after being forced out of the United States. Peyton Manning broke Brett Favre's NFL record of 508 touchdown career passes as he threw four TD passes in Denver's 42-17 victory over the San Francisco 49ers.
One year ago: In the first federal case alleging foreign interference in the 2018 midterm elections, U.S. authorities accused a Russian woman of helping oversee the finances of a sweeping effort to sway American public opinion through social media. On the same day, U.S. intelligence agencies asserted that Russia, China, Iran and other countries were engaged in continuous efforts to influence American policy and voters in the upcoming elections and beyond. A speeding train ran over a crowd watching fireworks during a religious festival in northern India, killing at least 60 people. No ticket matched all six numbers for an estimated $1 billion prize in the Mega Millions lottery drawing, sending the jackpot toward a record $1.6 billion for the next drawing four days later.
Today's Birthdays: Author John le Carre (luh kah-RAY') is 88. Actor Tony Lo Bianco is 83. Artist Peter Max is 82. Author and critic Renata Adler is 82. Actor Michael Gambon is 79. Actor John Lithgow (LIHTH'-goh) is 74. Feminist activist Patricia Ireland is 74. Singer Jeannie C. Riley is 74. Rock singer-musician Patrick Simmons (The Doobie Brothers) is 71. Actress Annie Golden is 68. Talk show host Charlie Chase is 67. Rock singer-musician Karl Wallinger (World Party) is 62. Former Republican National Committee Chairman Michael Steele is 61. Singer Jennifer Holliday is 59. Retired boxer Evander Holyfield is 57. Host Ty Pennington (TV: "Extreme Makeover: Home Edition") is 55. Rock singer-musician Todd Park Mohr (Big Head Todd and the Monsters) is 54. Actor Jon Favreau is 53. Amy Carter is 52. "South Park" co-creator Trey Parker is 50. Comedian Chris Kattan is 49. Rock singer Pras Michel (The Fugees) is 47. Actor Omar Gooding is 43. Country singer Cyndi Thomson is 43. Writer-director Jason Reitman is 42. Actor Benjamin Salisbury is 39. Actress Gillian Jacobs is 37. Actress Rebecca Ferguson is 36. Rock singer Zac Barnett (American Authors) is 33. Singer-actress Ciara Renee (TV: "Legends of Tomorrow") is 29. Actress Hunter King is 26.
Thought for Today: "Dream in a pragmatic way." — Aldous Huxley, English author (1894-1963).
Copyright 2019, The Associated Press. All rights reserved.